Chicken Recall 2019: Nearly 2,000 Pounds of Meat Recalled for Failing to Declare Wheat Allergens
Creative Food Processing has issued a class II recall on more than 1,900 pounds of raw chicken products produced between April 16, 2019 and November 6, 2019 and shipped to California.
According to a notice published by the U.S. Department of Agriculture (USDA) on November 13, 2019, the recall is due to problems with misbranding and undeclared allergens—specifically, that the product did not disclose the fact it contains wheat.
The USDA is advising anyone who has purchased a "Green Meadows Premium Meat Cuts Savory Chicken Boti Kebab" with a use or freeze by date between May 1, 2019 to November 20, 2019 to throw it away or return it to the place where it was purchased.
These products can be identified by the establishment number (P-6052) found inside the USDA mark of inspection.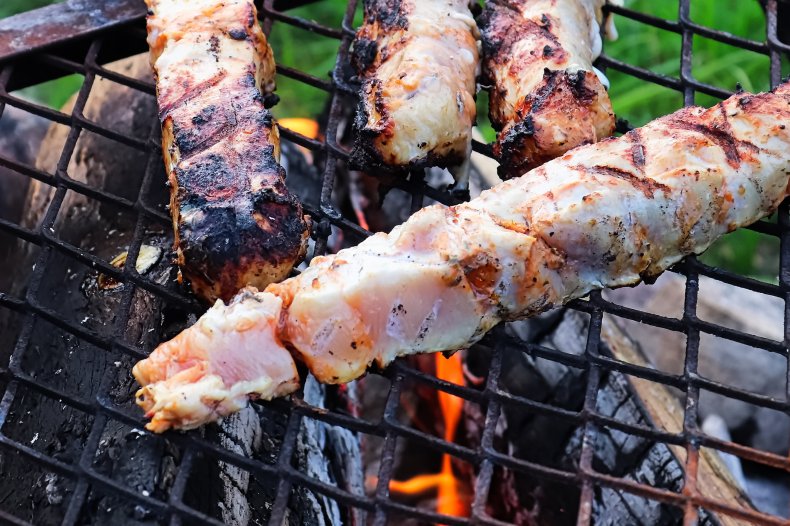 Wheat allergies can cause hives, stomach aches and various other symptoms to develop after a person eats cereal, bread, pasta or any other products that contain wheat—including less obvious products such as hot dogs, ice cream, and soy sauce, states the Mayo Clinic. Skin rash, nausea, vomiting, sneezing, stuffy or runny nose, headaches, asthma, indigestion and other gastrointestinal problems can also develop.
In extreme cases, wheat allergies may trigger anaphylaxis, described by the American College of Allergy, Asthma and Immunology (ACAAI) as "potentially life-threatening reaction that can impair breathing and send the body into shock."
According to the Asthma and Allergy Foundation of America (AAFA), studies have shown that around one in 50 people in the U.S. has one or more severe allergies that can cause anaphylaxis but many professionals believe the true number is closer to one in 20.
People are more likely to develop a wheat allergy if there is a family history of allergies and allergic diseases, including asthma or eczema, and if they are young. According to ACAAI, almost two thirds of children allergic to wheat will outgrow the allergy by the time they hit their teens.
Although there is some confusion between the two, a wheat allergy is different from a gluten allergy or celiac disease. The latter is an autoimmune disorder affecting approximately 1 percent of healthy Americans that can trigger diarrhea, bloating, fatigue, constipation, weight loss, iron-deficiency anemia as well as osteoporosis, infertility, neurological conditions, other autoimmune conditions and cancer, if left untreated.
The medical consensus is that gluten allergies don't exist but people may experience symptoms—including bloating and gastrointestinal problems—that are associated with gluten intolerance or gluten sensitivity if they eat wheat, barley, rye and other gluten-containing foods.