Chicken Salad Recall as Willow Tree Poultry Farm Products May Contain Nuts
Willow Tree Poultry Farm is recalling approximately 6,890 pounds of ready-to-eat chicken salad products for containing nuts, announced the U.S. Department of Agriculture's Food Safety and Inspection Service (FSIS) Thursday.
The chicken salad contains walnuts, which is an allergen, but did not declare the ingredient on the product label.
The mistake may be down to a mix-up in products as the product is labeled "Classic Chicken Salad" but may actually contain "White Meat Cranberry Walnut Chicken Salad."
The recalled product comes in a 15-oz. clear, plastic container labeled as "Willow Tree Premium White Meat CHICKEN SALAD Classic." It was produced on September 2, 2020, and has a sell-by date of September 30, 2020, and a time stamp of 1 p.m.—5 p.m. on the cellophane lid.
The chicken salad product that has been recalled has the establishment number "EST. P-8827" inside the USDA mark of inspection.
These mislabeled items were shipped to retail locations in Connecticut, the District of Columbia, Maine, Maryland, Massachusetts, New Hampshire, Rhode Island, Vermont, and Virginia.
The problem with the chicken salad was discovered when a customer complained that walnuts and cranberries were found in a container of what was labeled as a "classic" chicken salad.
While there have been no confirmed reports of any adverse reactions relating to these products, anyone concerned about an illness should contact a healthcare provider.
FSIS is concerned that some of this product may be in retailers' and consumers' refrigerators. Retailers who have these products are urged not to sell them and consumers who have purchased these products are urged not to consume them. These products should be thrown away or returned to the place of purchase.
This is a Class 1 recall which means there is a high health risk and that: "This is a health hazard situation where there is a reasonable probability that the use of the product will cause serious, adverse health consequences or death."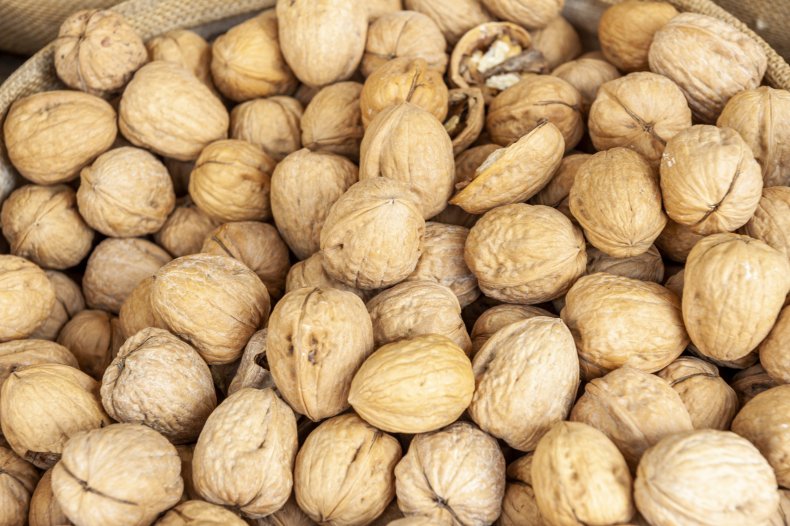 According to the Anaphylaxis Campaign, someone with a primary food allergy means that a person becomes allergic to walnuts through direct contact with walnuts or products derived from them, like walnut oil. This kind of allergy can potentially cause a severe, life-threatening allergic reaction (anaphylaxis), which can cause breathing difficulty.
It is also possible to have a secondary food allergy which means that someone is allergic to pollen and then develops an allergy to walnuts due to cross-reactivity. This happens because pollen and walnuts share similarities in their protein.
A person with this kind of allergy will typically have a milder reaction which can include itching and swelling in the mouth. People could also have mild reactions to hazelnuts, almonds, certain kinds of pipped fruit (such as apples) stoned fruits (such as peaches, cherries), and raw vegetables (such as carrots and celery).