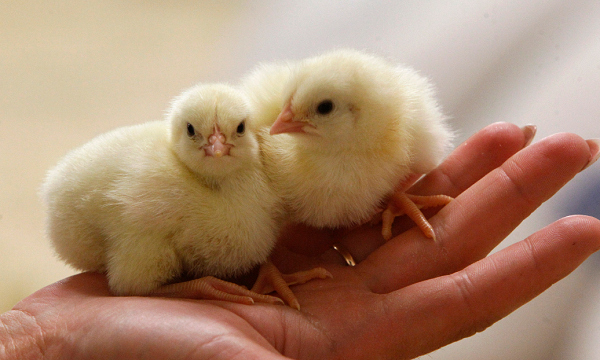 Baby chicks are terribly cute—they're tiny and fuzzy (the best attributes snuggle buddies can have)—so it's not hard to understand why people who own the backyard birds just can't seem to keep their hands off of them. But one thing is not so adorable about the birds, which have become one of America's favorite pets in recent years: They have been causing hundreds of people in the U.S. to fall ill from salmonella poisoning.
More than 370 people have been infected with salmonella so far this year the Centers for Disease Control (CDC) said in a recent warning. The department pointed to eight separate outbreaks across 47 states between January and May. The majority of the cases documented by the CDC stemmed from people petting and having close contact with backyard chickens. Eighty-three percent of the people infected with salmonella had contact with live poultry just a week before reporting symptoms associated with salmonella.
Symptoms of poisoning include abdominal cramps, fever, nausea, vomiting and diarrhea, which can last anywhere between four to seven days. The CDC says most cases go untreated, and people can typically recover from the sickness on their own, but people with weakened immune systems as well as the elderly and small children have a higher risk of developing serious illnesses if salmonella poisoning goes untreated. Severe cases of salmonella can lead to death.
Although no deaths have been reported this year linked to the salmonella outbreak, 71 people have been hospitalized in connection to the infection, 36 percent of whom the CDC said were children under the age of 5.
Last year, a record number of people—895—were infected with salmonella, and 209 individuals had to seek hospital treatment, including three people who died.
In a survey conducted following the 2016 outbreak, the CDC found almost half of the people infected with salmonella admitted to "snuggling" chicks and ducklings regularly, while 46 percent of patients said they let their poultry inside their homes.
There aren't any real statistics on the number of people keeping chickens as pets, but in 2016 a popular vendor told The New York Times it shipped more than 3,000 birds to New York City within the last three years. Despite backyard chickens' popularity, they are still considered disease traffickers. The CDC warned bird keepers not to allow live poultry in areas where food is prepared, because chickens can easily transfer germs from their feathers to food.
The CDC suggested that people who frequently touch live poultry or fresh eggs, which can also carry bacteria, should wash their hands or use hand sanitizer regularly after interacting with birds. However, the department advised bird owners not to wash eggs, because bacteria could be pushed inside when eggs come in contact with cold water. Instead, fresh eggs should be wiped off or brushed.