Chief Economist Issues Dire Warning About Looming Recession
Moody's chief economist Mark Zandi is warning Congress of a potential recession if they fail to raise the nation's debt limit.
A compromise between the Biden administration and House Republicans has been difficult to reach, as the latter have demanded steep spending cuts.
An agreement is needed before the Treasury Department runs out of money in June.
The chief economist at Moody's Analytics is sounding the alarm to congressional lawmakers, warning that a recession is on the horizon if they fail to raise the nation's debt limit.
On Tuesday, Moody's Mark Zandi will testify before a Senate subcommittee on economic policy about the financial consequences of failing to raise the nation's borrowing cap.
Zandi's analysis, which was obtained by the New York Times ahead of the hearing, shows that he and his colleagues anticipate a loss of seven million jobs and a financial crisis that all but mirrors 2008's crash.
Since taking back the House, Republicans, led by Speaker Kevin McCarthy, have demanded steep spending cuts in exchange for raising the debt ceiling—a compromise the Biden administration has been staunchly opposed to making. The debate will likely escalate even closer to another round of fiscal brinkmanship later this week, when Biden releases his latest budget proposal on Thursday.
The U.S. hit its technical debt limit on January 19, forcing the Treasury Department to begin using "extraordinary measures" to continue paying its bills, which experts have warned could be exhausted as early as June.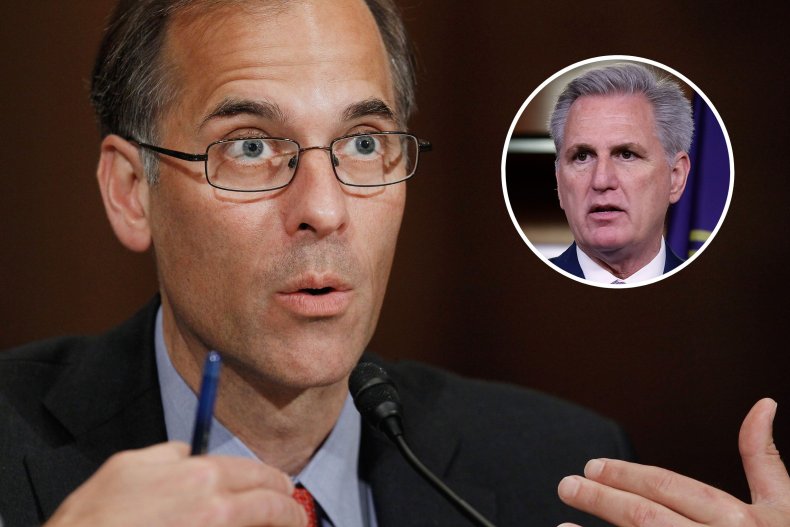 "The only real option is for lawmakers to come to terms and increase the debt limit in a timely way. Any other scenario results in significant economic damage," Zandi told the Times ahead of his testimony. "The economy is very vulnerable. Even without the debt-limit drama, the recession risks are high. It won't take much to push us in, and this is certainly a lot more than 'much.'"
Doug Holtz-Eakin, the president of American Action Forum and former economic adviser to President George W. Bush, told Newsweek that while Zandi's warning should be taken seriously, it should not be taken literally.
He explained that financial models typically envision lawmakers sitting idly by while markets meltdown. But because we can't predict how Congress will react to a debt default, the disruption could be smaller than forecasters predict.
"Suppose we miss one payment, and financial markets start fluctuating dramatically, which they probably would, then I would say that the House and Senate will rushing in in their pajamas and suspend the debt limit as fast as they can," Holtz-Eakin, who will also testify before the subcommittee on Tuesday, said.
At the same time, Holtz-Eakin said the the 2011 debt-ceiling crisis, in which President Barack Obama signed an agreement hours before the U.S. was expected to default, is not to be forgotten.
"This is a carbon copy of 2011," he said. "There's nothing new under the sun."
"Back in 2011, as we tip-toed toward what look like the drop-dead date, markets got very volatile and interest rates crept up," Holtz-Eakin recalled. "There was a lot of pressure on people to acknowledge the reality and they raised the debt limit, but not before we were downgraded and not before there was some some small fallout."
Moody's figures estimate that this time around, the deadline will fall on August 15.
Despite warnings from economic forecasters, House Republicans have repeatedly pointed to the national debt, which has grown to $31.4 trillion, and repeatedly blamed Biden and his party for the accumulating debt, even though spending increases have been passed across two Republican administrations and two Democratic administrations.
On Sunday, Biden tweeted, "I'm not going to sit and be lectured by MAGA Republicans in Congress about fiscal responsibility."
Some Republicans have noted that it's not only Democrats who are to shore up the blame for the ballooning debt.
Over the weekend, Nikki Haley, the former South Carolina governor and 2024 GOP candidate, told conservative donors, "The last two Republican presidents added more than $10 trillion to the national debt."
"Think about that," she said during her speech at the Club for Growth's retreat. "A third of our debt happened under just two Republicans."
Zandi and Holtz-Eakin will appear before the Senate panel on Tuesday at 2:30 p.m. ET.