Chief Justice Roberts Pens Touching Tribute to 'Dear Friend' Stephen Breyer
As Washington prepares for a likely partisan fight over replacing retiring Supreme Court Justice Stephen Breyer, the chief justice of the nation's highest court praised him as an "energetic jurist and dear friend" who has an extensive collection of knock-knock jokes.
In a glowing statement issued Thursday, Chief Justice John Roberts said Breyer had enriched the court's deliberations "with pragmatism, encyclopedic knowledge, and varied government experience."
"And his fanciful hypotheticals during oral argument have befuddled counsel and colleagues alike," Roberts said in the statement. "Justice Breyer's optimism and profound love of country, expressed through word and deed, have inspired countless others. He is a tireless and powerful advocate for the rule of law—in the United States and abroad."
The statement also provided a behind-the-scenes glimpse at the court. Roberts called Breyer "a reliable antidote to dead airtime at our lunches, moving seamlessly from modern architecture to French cinema, to old radio shows, to a surprisingly comprehensive collection of riddles and knock-knock jokes."
Breyer was nominated to the court in 1994 by former President Bill Clinton after serving 42 years as a federal judge. Considered part of the court's liberal wing, Breyer officially announced on Thursday that he was retiring at the end of his term in October.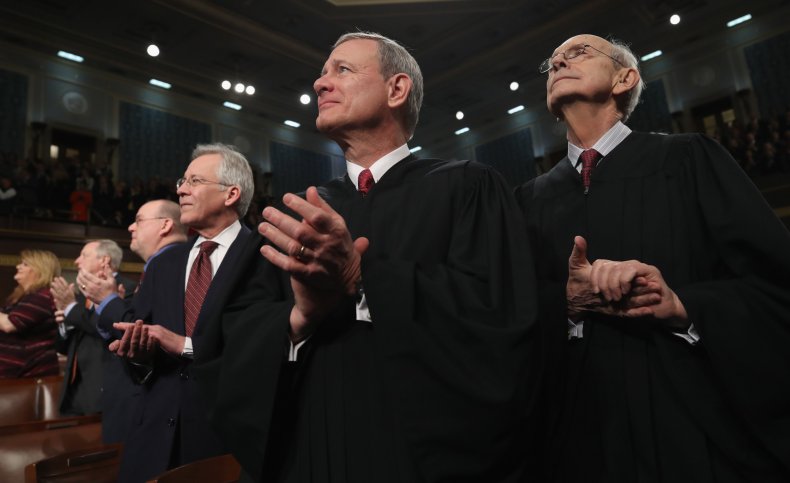 The Supreme Court has attracted heightened attention in recent years for its rulings on hot-button topics such as voting rights, abortion and vaccine mandates. A Gallup poll in September found the court's approval hit a new low of 40 percent.
Brett Kavanaugh, nominated to the court by then-President Donald Trump in 2018, faced a rancorous confirmation process over accusations of previous sexual misconduct. With President Joe Biden set to pick Breyer's replacement, conservative politicians and advocacy groups are calling for the nominee to receive similar treatment.
NPR reported last week that the court has seen increased personal frictions between justices as its now-dominant conservative wing has taken hold. Justice Neil Gorsuch, a conservative, was criticized for reports he refused to wear a mask around Justice Sonia Sotomayor, whose type 1 diabetes puts her at greater risk of a severe COVID-19 case.
However, the justices last week swatted down the report they were squabbling, saying they are "warm colleagues and friends."
That friendliness was on display Thursday.
Every member of the court issued statements with kind words for Breyer and his wife, Joanna, saying they will remain friends with the departing justice and will miss his sense of humor and collegiality.
Sotomayor and Justice Elena Kagan, another of the court's liberals, praised Breyer for working to find common ground on the court. More conservative members also thanked him for his insights, even when they disagreed.
"Both in print and in person, Steve aims to persuade through exuberance rather than bite," Justice Amy Coney Barrett, nominated by Trump in 2020, said in her statement. "He is a model of civility."