Chief Justice Roberts Sides With Liberal Justices, as Supreme Court Rules Against Challenge to State Limits on Church Attendance
In a 5-4 decision from the U.S. Supreme Court on Friday, a request from a California church that challenged the state restrictions on attendance at religious services during the coronavirus pandemic was rejected.
Conservative Chief Justice John Roberts joined the court's four liberals, turning away the appeal brought by the South Bay United Pentecostal Church in Chula Vista, California.
The church argued the California Governor Gavin Newsom's state limits on the number of people who could attend church service violated their constitutional right to religious freedom.
On May 25, Newsom issued an order that houses of worship "limit attendance to 25 percent of building capacity or a maximum of 100 attendees, whichever is lower." The church said they were expecting 200 to 300 people to gather for their Sunday service.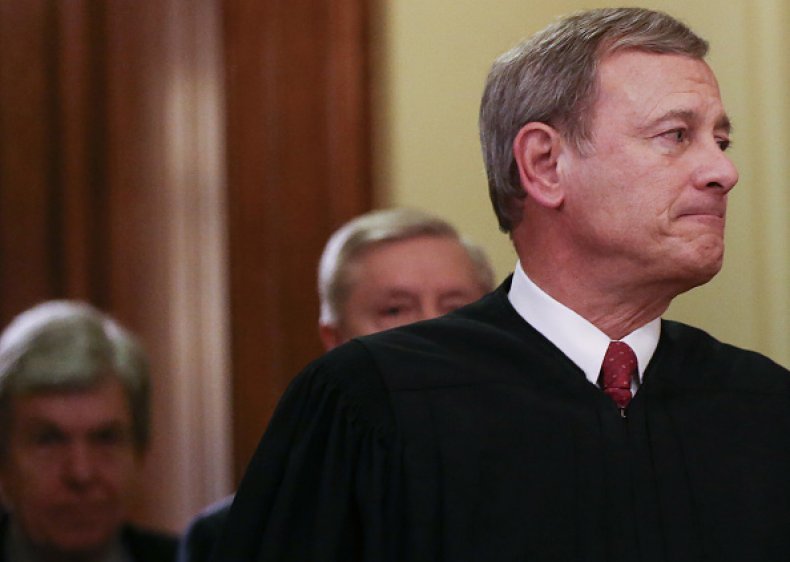 The court's ruling was its first attempt at balancing religious freedom during the public health crisis. The Supreme Court has ruled in a number of cases challenging state responses to the coronavirus, including the primary elections in Wisconsin and relocation of prisoners in Texas and Ohio.
"Although California's guidelines place restrictions on places of worship, those restrictions appear consistent with the free exercise clause of the First Amendment," Roberts wrote in a concurring opinion.
He said the limits in place were similar and less severe in comparison to "secular gatherings, including lectures, concerts, movie showings, spectator sports and theatrical performances, where large groups of people gather in close proximity for extended periods of time."
In a dissenting opinion, Justice Brett M. Kavanaugh said that the restrictions violated the First Amendment by discriminating places of worship.
"The church and its congregants simply want to be treated equally to comparable secular businesses," Kavanaugh wrote.
Quoting from an appeals court decision in a different case, Kavanaugh wrote: "The state cannot 'assume the worst when people go to worship but assume the best when people go to work or go about the rest of their daily lives in permitted social settings.'
Lower courts in California had also previously turned down the church's request.
The brief, filed May 23, asked the Supreme Court to block a ruling from the United States Court of Appeals for the Ninth Circuit, in San Francisco. In an unsigned opinion, the majority of the three-judge panel wrote: "We're dealing here with a highly contagious and often fatal disease for which there presently is no known cure."
The Supreme Court also rejected an second case from two churches in Chicago that argued Illinois Governor J.B. Pritzker's limit of 10 worshipers at religious services discriminated houses of worshipers.
Newsweek reached out to the U.S. Supreme Court for comment but did not hear back before publication.