Chief Justise: Why Duke's Justise Winslow Should be NBA Draft's Top Pick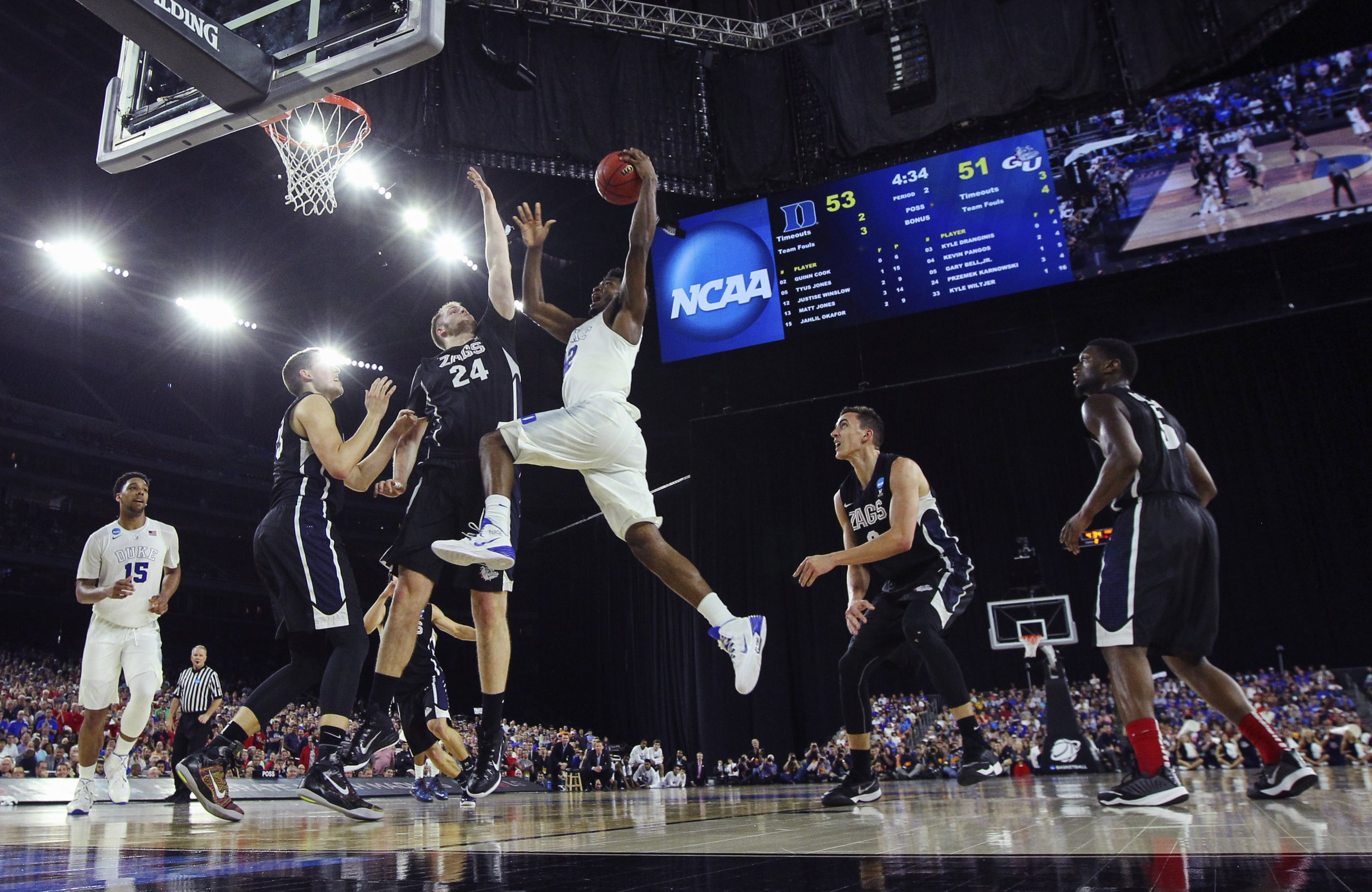 In every sport, some players garner our appreciation while others, a select few, merit our infatuation. In the NFL, for example, DeMarco Murray of the Dallas Cowboys led the league in rushing last season. But it was Marshawn Lynch of the Seattle Seahawks who inspired awe because his runs are often the gridiron equivalent of a primal scream.
DeMarco Murray is gifted. Marshawn Lynch is feral.
In the Nate Silver/KenPom/Moneyball stats-addled sports universe in which we now live, those traits that are not easily quantifiable are often quickly dismissed. The spreadsheet gurus have so far been unable to graph human nature, and so they ignore it. And yet to disregard the fact that the players who step onto the court or the gridiron or between the white lines do not all have the same will to win (or the same will to not fail)—and that this inequality of wills affects performance—is to ignore one of the greatest variables of them all.
Which is a fancy way of saying: Sometimes you can be so smart you're stupid.
My current object of sports infatuation is Duke freshman forward Justise Winslow. Between now and the NBA draft in late June you will probably not hear one expert refer to this 6-foot-6 Adonis as the most talented player in the draft. But you may hear a few souls, myself and Grantland's Mark Titus, a former bench-sitter at Ohio State, among them, tout Winslow as a worthy No. 1 overall pick in the draft.
In case you are not familiar with Winslow, he just turned 19 years old last week. When he arrived on campus in Durham last summer, he was considered the third-best freshman on the Blue Devil roster. Tyus Jones was considered the best first-year point guard in the nation, while center Jahlil Okafor was thought to be the No. 1 overall player in the country and projected to be the top overall pick in next June's draft.
When the season dawned last November, Winslow may have been the third-best freshman/player on coach Mike Krzyzewski's roster. Nearly five months later, though, he has evolved into a primal force of nature, a Maximus of the hardwood, a fitting antidote to ESPN's I Hate Christian Laettner documentary. Like Jordan or Kobe Bryant or, before them, Magic Johnson—again, all comparisons here refer to will and not statistics—Winslow does not simply play games; he attacks them.
In last weekend's two South regional contests (in Winslow's hometown of Houston), he averaged 18.5 points and 7.5 rebounds per game. The 6-foot-11 Okafor, whom many still regard as, at worst, the second pick in the draft, averaged 7.5 points and eight rebounds. True, Okafor was often double-teamed, but if you just allowed the games to wash over you, as opposed to refreshing your computer screen for updated stats, you noticed how much Winslow imparted his will on the proceedings: blocking shots from behind, grabbing defensive rebounds and leading fast breaks (very Magic-like), or even shooting five of eight from beyond the arc.
Yes, it's a two-game sample. But if you have been watching college basketball all season (which is to say "since the Super Bowl ended," which is to say "since the Seahawks coaching staff got too smart for its own good and failed to hand the ball to Lynch from one yard away for a second consecutive Vince Lombardi Trophy"), you've noticed that Winslow has steadily closed the gap in the disparity between his talent and his will.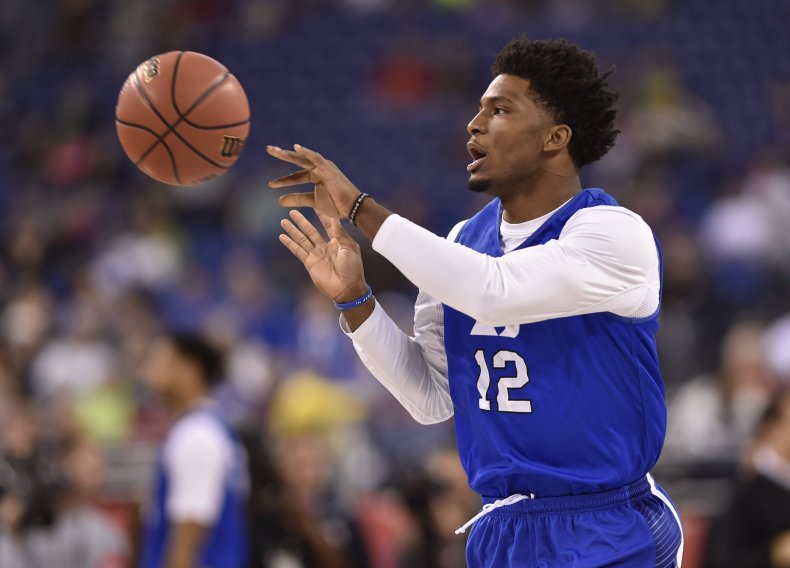 I first sat up and noticed Winslow in a game from Cameron Indoor Stadium on the Saturday following the Super Bowl. The Blue Devils, who had lost at Notre Dame not a fortnight earlier, were hosting the Fighting Irish. While Okafor sat on the bench for 12 minutes of the first half due to foul trouble, Winslow led an assault on the Domers. At one point, against a team that would later take Kentucky to a final shot, the Blue Devils led 43-13.
It was love at first sight for me. I loved Winslow's grit. Loved his charisma. Loved his physique. I even loved his name ("And Justise for all!"). This, as others before me have noted, was a Dookie that even those who loathe Duke had no trouble rooting for.
The New York Knicks have the best chance at landing the No. 1 overall pick, and general manager Phil Jackson will be under tremendous pressure to select either Okafor or Kentucky's gifted 7-footer, Karl-Anthony Towns. Both are supremely gifted, and very tall. However, I believe Winslow will be the more transformative pick.
Look around. In its first 30 or so seasons, the NBA was a big man's league. The teams that won the NBA Finals almost always had dominant centers: George Mikan's Minneapolis Lakers begat Bill Russell's Boston Celtics, which begat the Wilt Chamberlain versus Kareem era. The Portland Trail Blazers won an NBA championship with Bill Walton and would have won more if Big Red's feet had not blazed an unwanted trail of chronic injuries.
Then two things happened: 1) the introduction of the three-point arc and 2) the advent of the Magic versus Larry era. While there have certainly been dominant centers since 1980 or so—Moses Malone, Hakeem Olajuwon, Shaquille O'Neal and Tim Duncan, most notably—the game ceased to find itself under the tyranny of the Goliaths. Larry and Magic and Michael Jordan all won more NBA championships than Malone or Olajuwon, while Shaq always had Kobe.
Duncan may be the most gifted player of the post-Jordan era, but he was also surrounded by a couple of Hall of Famers in Tony Parker and Manu Ginobili, and benefited from a coach, Gregg Popovich, who installed a Euro-style offense that prioritizes passing over ego.
More recently, in the past decade, post players such as Towns and Okafor have become even less impactful in terms of NBA titles. Sure, you need a rim protector: The Cavaliers would not be in this spring's championship discussion had they not acquired Timofey Mozgov, but they wouldn't even merit a mention without LeBron James and Kyrie Irving.
Who are the NBA's four most outstanding performers this season? Stephen Curry, James Harden, LeBron James and Russell Westbrook. All four create off the dribble, shoot well from beyond the arc and impact a game that has become more wide open and aesthetically pleasing (former Phoenix Suns coach Mike D'Antoni says, "You're welcome") in a variety of ways beyond just points scored. The era of Shaq backing down his man and using brute strength is, thankfully, behind us.
Remember when critics knocked Kevin Durant as a potential No. 1 overall pick because the Texas freshman was reportedly unable to bench-press 135 pounds? In retrospect, we should have hailed the moment when basketball skills returned to the fore over brute strength. The Trail Blazers selected a post player, Greg Oden, that season. The Sonics-now-Thunder chose Durant second. We all know how that worked out.
Winslow just turned 19 one week ago, but he is already more athletic than Curry will ever be. Like LeBron or Harden or Westbrook, he defies a position label. He's not strictly a 2 (shooting guard) or a 3 (wing) or even a 4 (power forward) in the NBA. What he is, if you are a connoisseur of roundball, is someone who creates headaches for opposing coaches.
A reminder: In 1984 Charles Barkley was a mesmerizing talent, but the Auburn power forward stood not quite 6-foot-5 and therefore defied convention. Barkley was cut from the U.S. Olympic team that would win the gold medal in Los Angeles. Vern Fleming, Leon Wood (now an NBA official) and Jeff Turner were on that roster. Eight years later, on an Olympic team that included MJ, Bird and Magic, it was Barkley who was clearly the most charismatic presence, if not the best player in that tournament.
It will be intriguing if the Knicks win the No. 1 overall pick. Jackson's early 1970s Knickerbocker teams defeated the Goliath that was Chamberlain twice in winning a pair of NBA championships behind a center, Willis Reed, who stood 6-foot-9. In 1985 the Knicks selected No. 1 overall and chose a center, Patrick Ewing, who may be the most talented player in franchise history but never led them to a championship.
As the Final Four is played out on Saturday night in Indianapolis, trust your instincts. Who will be the one player you cannot take your eyes off? Who will impact games the most? I am not here to predict another Duke national championship. But in terms of who will be Saturday's most captivating player, Justise will prevail.