Former Chief White House Ethics Lawyer Says Trump Is Building 'An International Coalition Against The Russia Investigation': 'He Needs To Be Impeached. NOW'
A former chief White House ethics lawyer has said President Trump is building an 'international coalition against the Russia investigation,' adding that he needs to be impeached immediately.
Richard W. Painter, who served as the chief ethics lawyer for the George W. Bush administration from 2005 to 2007 and is now a law professor at the University of Minnesota, was referencing a CNN report that said Trump sought to use U.S. allies to discredit the Russia investigation.
Trump raised the matter during phone conversations with British Prime Minister Boris Johnson and Australian Prime Minister Scott Morrison over the summer, CNN reports, citing people familiar with the calls.
In response to the report, Painter—an outspoken critic of Trump— took to Twitter early on Thursday to declare the president is "very dangerous for U.S. national security."
He said: "Trump is building an international coalition against the Russia investigation. This is very dangerous for U.S. national security. He needs to be impeached. NOW."
In another tweet, Painter called for Trump to be removed from office through provisions in the 25th Amendment.
"Today's was the most pathetic Trump meltdown to date. Amendment 25," he wrote, alongside an article detailing how the president spent Wednesday raging against his political rivals and the press.
Painter also weighed in on a prediction made by George Conway, the husband of White House counselor Kellyanne Conway and another vocal critic of Trump.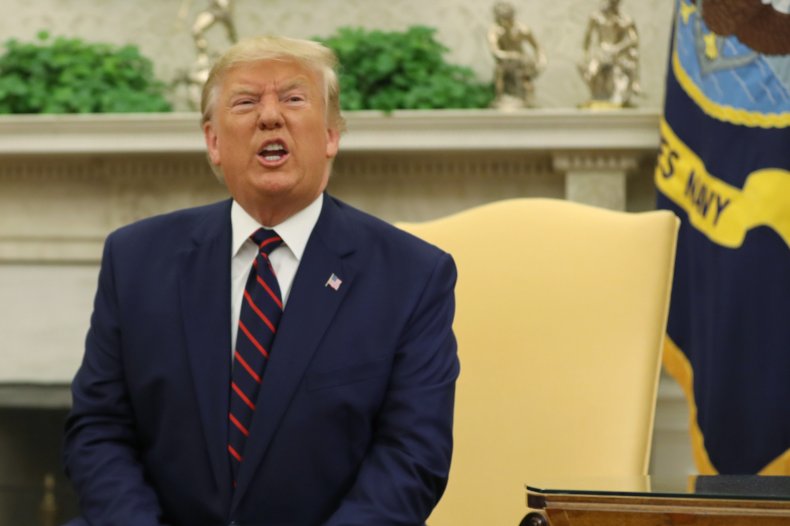 Conway predicted that Republican senators would vote to remove Trump from office if the House voted to impeach.
"There may be Republican senators who won't say a word until the moment they say 'guilty' when the roll is called at the end of the impeachment trial," Conway wrote on Twitter last week.
Agreeing with Conway's theory, Painted added on Thursday: "None of the GOP senators will admit this, but it's exactly what a lot of them are thinking. When the dam breaks, Trump could be convicted in the senate by an overwhelming majority."
Newsweek has contacted Painter for further comment.
Painter's comments come after Democratic leaders put the White House on notice that a wide-ranging subpoena would be coming for information about Trump's actions in the Ukraine scandal.
In response, the president complained that House Speaker Nancy Pelosi was handing out subpoenas "like cookies," the Associated Press reports. He also branded a government whistleblower "vicious" and assailed the media as corrupt and the "enemy."
In a a presidential tweetstorm on Wednesday, Trump accused congressional Democrats of wasting time and energy on "BULL****."
Speaking at a news conference on Wednesday, Pelosi said Democrats had no choice but to take on the most "solemn" of constitutional responsibilities to put a check on executive power.
The decision comes after a national security whistleblower raised concerns about a July phone call the president had with Ukrainian President Volodymyr Zelenskiy during which Trump pressed for an investigation of Democratic political rival Joe Biden and his family.
"We take this to be a very sad time" for the American people and the country, Pelosi said on Twitter. "Impeaching the president isn't anything to be joyful about."
Standing beside her at the conference, intelligence committee Chairman Adam Schiff accused Trump of "an incitement to violence" with his attacks on the unnamed whistleblower, who is provided anonymity and other protections under federal law. He said the investigation is proceeding "deliberately" but also with a sense of "urgency." Schiff added: "We're not fooling around here."
Trump, in appearances in the Oval Office and a joint press conference with the president of Finland, angrily defended what he has called his "perfect" phone call with Zelenskiy and denounced the impeachment inquiry.
Later he referred to himself as a "very stable genius"—a phrase he's used about himself before— who always watches what he says in conversations.
The whistleblower alleged in August that the White House tried to "lock down" Trump's July 25 phone call with the new Ukrainian president, fearing the contents being leaked to the public. The acting director of national intelligence ultimately made the complaint public.