Chiefs Could Turn to Patrick Mahomes Against Jets—and Repeat NFL History for Alex Smith
Alex Smith and the Kansas City Chiefs are going about the 2017 NFL season the wrong way round.
Finish strong, the adage goes, implying a truth of professional sports: That teams that heat up down the stretch will generally be better placed than those whose bloom came in the distant summer.
Well, Andy Reid's Chiefs started like a Mack truck, leaping out to 5-0. They went to Foxborough and handed the Patriots one of the worst defeats of the Bill Belichick era. They fought off an Eagles team that has turned out to be the NFL's best at Arrowhead Stadium. They had a defense that could take the ball away, great special teams, and an offense with the X factors of Kareem Hunt, Tyreek Hill and Travis Kelce.
Oh, and a quarterback in Alex Smith, who had raised his game from solid to MVP level, from so-called "game-manager" to a player who looked capable of driving the Chiefs downfield every week, possibly even to Super Bowl 52.
If anyone knows how unforgiving the NFL can be as a starting quarterback, though, it is Smith. It was week nine of the 2012 season when Smith was hit by Jo-Lonn Dunbar of the then–St. Louis Rams. Smith was concussed; in came Colin Kaepernick who marched the 49ers to within a touchdown of winning Super Bowl XLVII. Smith never got his starter's job back—it was the career trajectory that led him to Reid and the Chiefs and two Pro Bowl appearances and narrow and sometimes tragicomic playoff defeats that still promised better to come from a player who has consistently proved his doubters wrong in the second half of his career.
Up to a point, that is. Reid, like Jim Harbaugh before him, may be learning that a team can only progress so far with Smith under center. Smith wasn't monumentally terrible on Sunday as the Chiefs lost to the Bills at Arrowhead, their fifth defeat in six games and one that put their hopes of winning the AFC West in serious peril. But he wasn't as good as he needed to be while key parts of the offense around him struggled. It may be cruel, but in their last three games, all of them losses, the Chiefs have scored 17, 9 and 10 points. That falls on Smith. In a savage editorial, the Kansas City Star identified Smith as one reason behind the Chiefs' collapse. "Alex Smith for the second straight week… [was] so off-kilter in so many ways as to leave you wondering if something's wrong with his arm or has gotten in his head after a pretty marvelous first half of the season," Vahe Gregorian wrote on Sunday.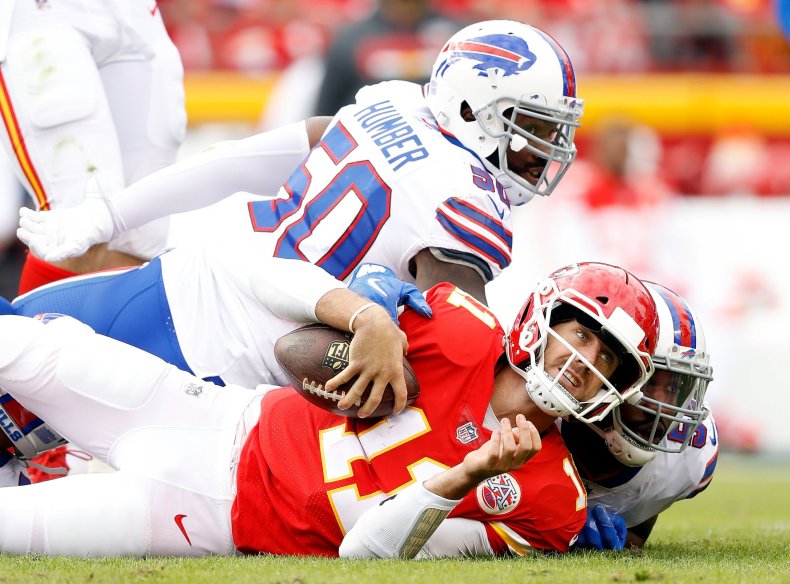 Elite athlete as he is, Smith wouldn't be human if he hadn't considered by now that history could repeat itself. "No. That's not where I'm at right now [changing quarterbacks]. There's a couple other things I got to take care of," Reid told NFL.com on Sunday after the loss to the Bills. But behind Smith is a potential stud in Patrick Mahomes, drafted tenth overall by the Chiefs in April.
The parallels aren't perfect of course. This time around it would be Smith's bad play getting him benched. And Mahomes is highly unlikely to have the same impact Kaepernick did. But if Reid is a student of football history, as he is, he will know that ripping up the playbook doesn't have to mean giving up on the season. And that may be bad news for Smith.