Child Dies From COVID-Linked Rare Illness Among Nearly 1,300 Reported Cases
Los Angeles County reported its first death of a child who died from multisystem inflammatory syndrome (MIS-C), "a rare but serious complication associated with COVID-19," the U.S. Centers for Disease Control and Prevention (CDC) explains.
Among the country's 1,288 reported cases of MIS-C, 23 children have died from the illness, as of last Friday, according to the CDC.
The latest patient, who was being treated at Children's Hospital Los Angeles, had a "complex, preexisting cardiac condition" and died from complications tied to MIS-C, a spokesperson for the hospital, Lauren Song, said in a statement Wednesday.
"If parents think that their child has MIS-C, it's important that they contact their child's doctor or pediatrician immediately," Song added.
No further details about the child have been released.
Children's Hospital Los Angeles has treated 32 patients with MIS-C aged from four months to 17 and 31 of them were discharged following successful treatment, according to the statement.
There have been 43 total reported cases of MIS-C in Los Angeles County. Nearly half of the 43 children were treated in the intensive care unit, according to a statement in late October from the Los Angeles County Department of Public Health.
The CDC notes MIS-C is "a new syndrome, and many questions remain about why some children and adolescents develop it after a COVID-19 illness or contact with someone with COVID-19, while others do not," the CDC explains.
Ninety-nine percent of the country's reported MIS-C patients tested positive for COVID-19, while one percent were around someone infected with the virus. Most of the patients developed MIS-C around two to four weeks following COVID-19 infection, according to the CDC.
Most MIS-C cases in the country were among children between one and 14 years of age, with an average age of 8. But cases have been reported in children aged from less than a year to 20 years old.
"More than 75 percent of reported cases have occurred in children who are Hispanic or Latino (460 cases) or Black, Non-Hispanic (410 cases).
"Children with MIS-C may have a fever and various symptoms, including abdominal (gut) pain, vomiting, diarrhea, neck pain, rash, bloodshot eyes, or feeling extra tired. We do not yet know what causes MIS-C," the CDC noted.
Since June, there have been several reports of a similar multisystem inflammatory syndrome in adults (MIS-A), according to the CDC.
The latest COVID-19-related fatality came as Los Angeles County recorded 75 new deaths and 9,243 new cases on Wednesday. "This is the highest number of daily deaths since July 29," the county health department confirmed in a statement Wednesday.
"Since November 9, average daily deaths have increased 258 percent, from 12 average deaths per day to 43 this week. Since these deaths reflect L.A. County case counts from a month ago, as cases have continued to increase the past few weeks, we will bear witness to a significant rise in the number of people who are dying," the statement noted.
Total confirmed deaths in California have surpassed 20,400. On Wednesday, the state reported its highest average daily death toll since the outbreak began, reaching 146 on December 9, according to data compiled by Worldometer.
The wider picture
The novel coronavirus has infected more than 68.9 million people since it was first reported in Wuhan, China.
More than 1.5 million people have died worldwide and over 44.4 million have recovered as of Thursday, according to Johns Hopkins University.
The graphic below, provided by Statista, shows the spread of COVID-19 cases in the U.S.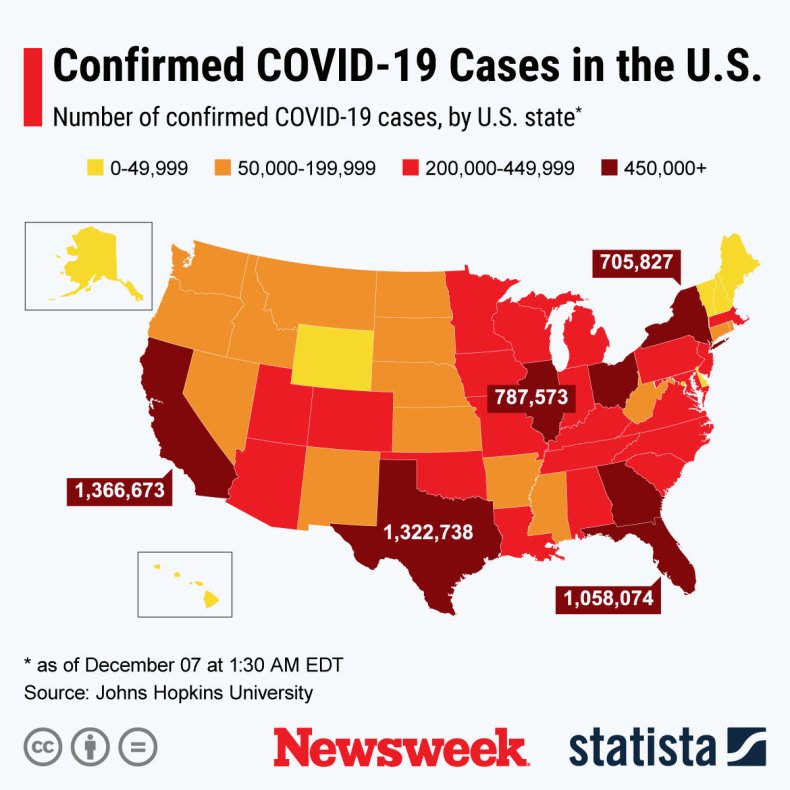 The graphic below, provided by Statista, shows countries with the most COVID-19 cases.