After motor vehicle accidents, guns are the second-biggest killer of children in the United States. And double the number of children are killed by guns in states with more lenient gun laws than those with strict laws, according to research.
Stanford School of Medicine researchers wanted to determine whether strict gun control laws corresponded with lower rates of children dying in firearm-related incidents.
The team studied the gun laws of all 50 states, as well as data from the Web-based Injury Statistics Query and Reporting System, run by the Centers for Disease Control and Prevention. They also used the 2014 Brady scores, which rate how tough gun laws are by state, with Arizona ranking -39 with the most relaxed laws, and California at +76 with the strictest. The 2014 child access prevention (CAP) laws indexed by the Law Center to Prevent Gun Violence were also used. Across the country, 27 states have CAP laws, which can mandate locking mechanisms or storage requirements for guns.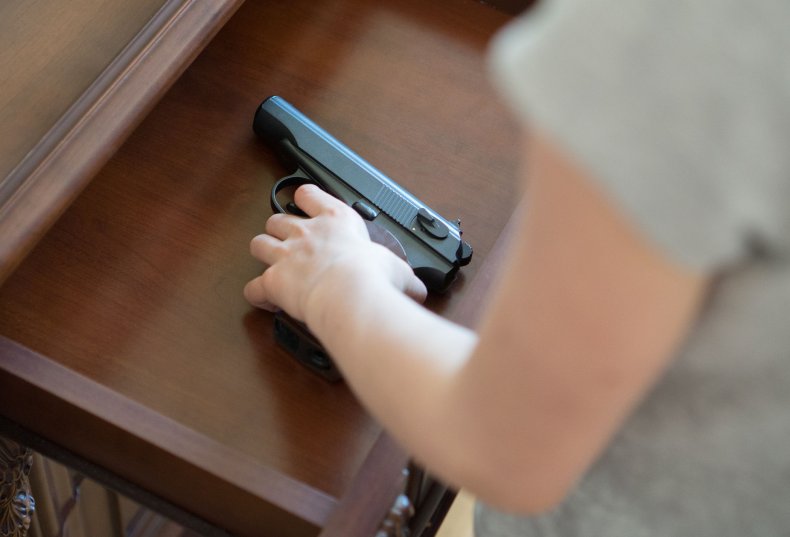 According to the data, about 2,715 children were killed by guns in 2014. Of those, 61.2 percent were homicides. A further 31.4 percent were deaths by suicide, while the remainder were accidental, or had an undetermined cause or legal interventions.
States with lenient firearm legislation had a firearm mortality rate for children nearly double that of states with strict legislation, Dr. Stephanie Chao, co-author of the study and trauma medical director and assistant professor of pediatric surgery at Stanford School of Medicine, told Newsweek. That correlation remained when the researchers factored in variables including a state's poverty levels, unemployment rates and the educational attainment of the populations.
States without CAP laws had lower rates of suicides using firearms compared with those with the most comprehensive, said Chao.
Read more: Household cleaning products might be making your children fat
The researchers suggested that "state-level legislation could play an important role in reducing pediatric firearm-related deaths."
An abstract of the study was presented at the American Academy of Pediatrics 2018 National Conference & Exhibition. It is currently being peer-reviewed.
Gun control laws are a perennial debate in the U.S., but they came under a very harsh spotlight earlier this year, after a gunman killed 17 people at Marjory Stoneman Douglas High School in February. Subsequent March for Our Lives demonstrations were organized across the country, with the event in Washington attended by hundreds of thousands of people and led by students from the school. In response, pro-gun organization March for Our Rights hosted counter-rallies in 13 cities across the U.S. in July.
After reviewing the data on gun laws, Chao said she was struck by how "just how statistically significant the difference is in children dying in states with strict versus lenient legislation."
The findings suggest "having more firearm regulation overall has a protective effect on child mortality rates," said Chao.
"Research like this is important to demonstrate to lawmakers that gun legislation does in fact save lives."
"Each year, more children die from firearm-related injuries than cancer and heart disease combined," said Chao. "However, each and every one of these deaths is preventable. Our study demonstrates that state-level legislation prevents children from dying from guns. We can do better to protect our children. We hope that studies like this one can encourage all states to strive to eliminate the deaths of children due to firearms."
Dr. Deborah Azrael of the Harvard Injury Control Research Center, who was not involved in the study, told Newsweek she was concerned the authors did not appear to have taken underlying levels of gun ownership into account in their analyses.
"This is important, because the stringency of state firearm laws is highly correlated with firearm ownership at the state level, i.e., it is easier to pass gun laws in states with fewer guns, harder in states with more guns."
Azrael continued: "Because of this, strict laws are proxies for states with relatively low household gun prevalence, the latter being a well-established predictor of state-level suicide rates [overall and by firearms]. So the lower levels of death and injury they attribute to strict gun laws might in fact be more plausibly be the result of [non-law-related] lower levels of access to firearms among youth [as has been shown convincingly by prior research]."
About the writer
Kashmira Gander is Deputy Science Editor at Newsweek. Her interests include health, gender, LGBTQIA+ issues, human rights, subcultures, music, and lifestyle. Her work has also been published in the The Independent, The Independent on Sunday, The i Newspaper, the London Evening Standard and International Business Times UK.