Child Left "Near Death" by Blood Loss From Lice Infestation
Two Scottsburg, Indiana children were suffering from lice infestations so severe that one of them was near death when she finally received treatment at Scott Memorial Hospital, according to WHAS 11.
Scottsburg City police officer Steven Herald reported that their photographs were "like nothing I had ever seen before."
The children's mother, who ABC 7 Chicago identified as 26-year-old Shyanne Singh, has been charged with three counts of child neglect for allegedly failing to adequately prevent, manage, or treat the infestation. She was arrested on May 4 and remained in custody as of Friday.
The children were admitted to the hospital on April 20 in such poor physical condition that child services contacted local police, according to The News & Observer.
Doctors described the younger of the two, a four-year-old girl, as a "near fatality" because she had lost so much blood that her hemoglobin levels were a fraction of what they should have been—1.7 grams per deciliter rather than 12. She was so weak that she could not walk and required multiple blood transfusions.
"It is extremely rare to have a case that is this severe," Catherine Webb, an infection and prevention manager for Scott Memorial Hospital, told WHAS 11, adding that it "is the exception, not the norm."
"I think you can see through this case that if it does go on and on it can lead to that but in my opinion, it would be a very high infestation that has gone on for a long period of time."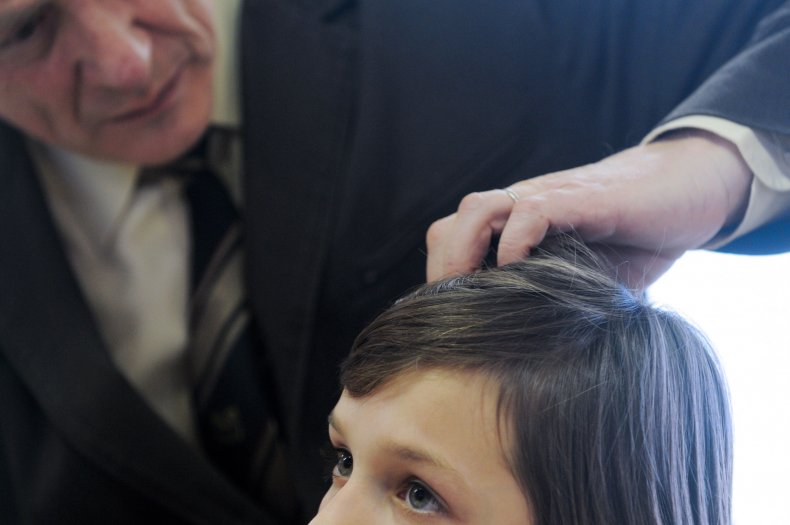 The four-year-old's older sibling, a six-year-old girl, was in slightly better shape: her hemoglobin levels measured 8.7 grams per deciliter, according to The News & Observer. However, school officials said that she had been absent for 31 days.
The children had been placed in the care of their mother's parents in April, according to ABC News. Their grandmother told police that she was aware of the infestation and had tried to treat it herself, but that a pharmacist told her that she should "take the kids to the hospital" instead.
Furthermore, the grandmother said, she had been unable to extract answers from her daughter. When she asked Singh about the children's condition, Singh allegedly said that "she didn't notice, and that (she) was just in a fog," according to The News & Observer.
The children had allegedly developed head lice on at least one previous occasion as well. If left untreated, an infestation can cause anemia, according to The News & Observer.