Child Porn, Snorkel Equipment, Handwritten Notes: What Police Found in Las Vegas Gunman Stephen Paddock's Hotel Room
Child porn, snorkel equipment and handwritten notes were among the items found in the hotel room of Las Vegas gunman Stephen Paddock, police announced on Friday.
In an 81-page preliminary report, the Las Vegas Metropolitan Police Department detailed the findings of its investigation into the mass shooting that killed 58 people and injured hundreds more in October. Police cautioned that they would release a more comprehensive report, likely by the end of the year.
Below are some of the police department's findings, as detailed in the report:
Snorkel equipment
In the living room of Paddock's Mandalay Bay hotel room, police found a blue plastic tube (pictured above) with a snorkel mouthpiece on one end and a fan on the other. There was also snorkel tube inside a trashcan in the bathroom. In the master bedroom, there was a snorkeling kit bag, including a scuba mask.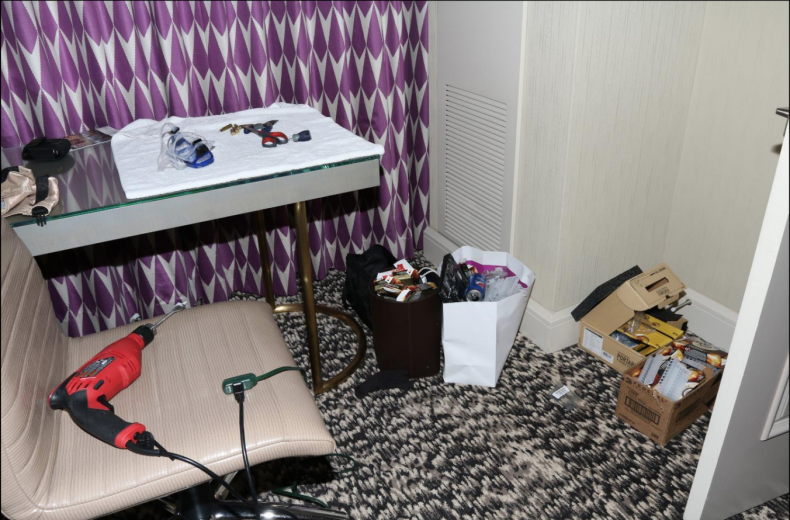 Child pornography
When the police searched four laptop computers they found in Paddock's hotel room, they found "several hundred images" of child pornography on a computer's hard drive. Police are still investigating the source of those images, according to the report.
Handwritten notes
On one notepad in his hotel room's bar counter, Paddock wrote, "unplug phones." Another note, which drew much speculation on the internet, was a pink piece of paper that turned out to have written measurements, with distance and bullet drop calculations.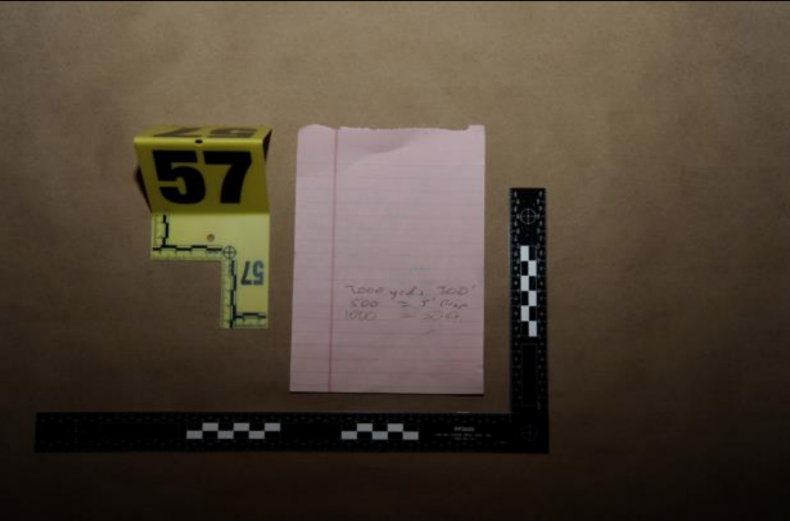 Dozens of guns
In the time period from September 2016 to October 2017, Paddock purchased 55 firearms, according to police. He brought dozens to the Mandalay Bay, including several AR-15 rifles outfitted with bump stocks, AR-10 rifles and handguns. He purchased all of these guns legally, according to police.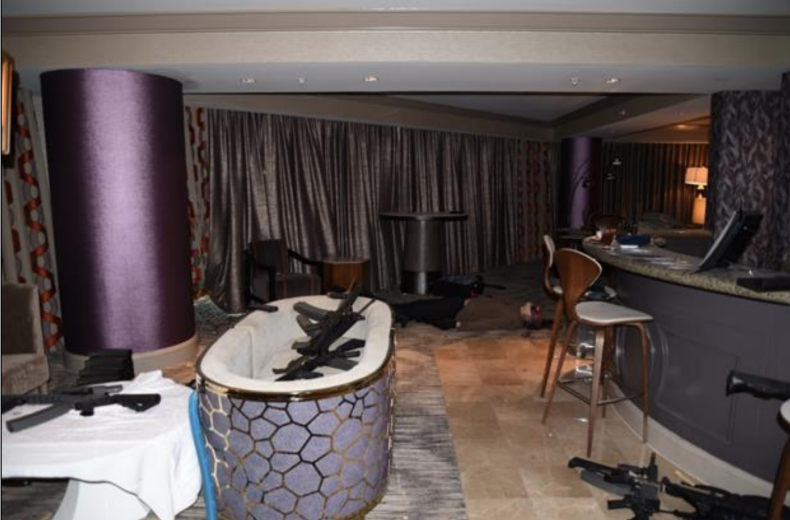 Several Suitcases
One of the biggest questions during the shooting was how a guest in a hotel with ubiquitous video surveillance could bring dozens of weapons into the building without drawing any attention. Paddock used several suitcases, which he wheeled to and from his car to bring the guns into his hotel room during each day of his stay.
Eerie Google searches
When police searched Paddock's four laptops and three cell phones, they found several Google searches that indicated he was looking for a crowded location to commit the mass shooting for at least several months. Among the searches were:
"summer concerts 2017"
"biggest open-air concert venues in USA"
"how crowded does Santa Monica Beach get"
"How tall is Mandalay Bay"
"life is beautiful expected attendance"
"do police use explosives"
Surveillance cameras
Paddock put together a surveillance system, which extended into the hallway on a room service cart, so that he could monitor whether anyone was approaching his room. On the room service cart, Paddock placed a black "Logitech" camera. Another camera was taped to a peephole in his room. Paddock used an "Anran" monitor and a laptop, placed on the room's bar counter, to watch the feeds from those cameras.