Child Shoots 10-Year-Old in Head After Stumbling Upon Unsecured Gun: Police
A 10-year-old boy in Akron, Ohio, was shot and killed Thursday after another child accidentally fired a gun, police say.
The boy who died, Kismet Sengdan, was found in a bedroom with a gunshot wound to his head when police arrived at the home. Three other children between the ages of 8 and 12, as well as an adult resident of the house were seen leaving before officers showed up, Ohio news station WJW reported on Friday.
The Akron Police Department said that preliminary information has led them to believe that one of the children accidentally fired the gun, which was discovered in the home.
"Our assumption is he stumbled upon the weapon, obviously unsecured, and then the unspeakable happened," Akron Police Lieutenant Michael Miller said, according to WJW. "It would appear, based on what we have gathered thus far, that this was a very unintentional, tragic incident."
The department is still investigating how the children got a hold of the gun, but Miller said officers believe it belongs to someone who lives in the home, but wasn't there when the child was shot.
WJW reported that the Akron Public Schools sent a message to faculty and staff after Sengdan's death: "The loss of any student, particularly in so tragic and senseless a manner, grievously wounds us all. We know that you join us in conveying our condolences to Kismet's family, and to the faculty, staff and classmates at Harris-Jackson," Akron Superintendent Christine Fowler Mack wrote in an email.
Newsweek reached out to the Akron Police Department for details and updates regarding the incident, but did not receive a response before publication on Saturday morning.
The shooting in Akron is one of many recent incidents in which children have harmed others, or themselves, by gaining access to unsecured firearms.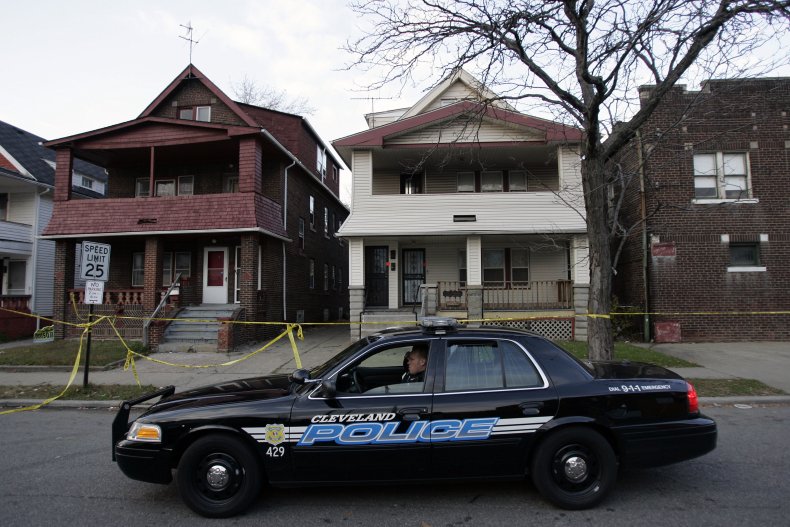 In Virginia last month, police said that a 2-year-old boy accidentally shot and killed himself with a gun his father left on a couch. The father of the child, Christian McCombs Sr., is a police officer in Newport News, Virginia, and was charged with a misdemeanor of allowing access to firearms by a minor following the incident.
Also in February, a toddler in Tennessee was fatally shot after another child found a gun and accidentally fired it at him.
In Texas in December, a 10-year-old shot a 13-year-old relative in the face while playing with a gun. At the time, the Nacogdoches County Sheriff's Office warned that parents should secure their firearms to avoid such accidents.
"Firearms should always be stored unloaded and separate from ammunition in a locked container. A cable or trigger lock that prevents the firearm from operating should be used whenever possible," the office said in a statement at the time.
In Georgia in November, a 3-year-old shot his 5-year-old cousin, who later died, after police said he found "an unsecured firearm and fired the weapon, striking the victim."