Child Tax Credit is Keeping Families Afloat and Giving Us All Something to Celebrate | Opinion
In recent months, reading the morning news has tested even the most optimistic among us—the pandemic continues to rage, racism and sexism are center stage and the Earth is dying one extreme weather event at a time. But we've now reached the holiday season—a time of hope, goodwill and giving that promises a brief respite during an extremely difficult time. And this year, even the most tired and drained among us are digging deep, setting aside the "bad stuff," and finding ways to celebrate with those we love. We are finding ways to gather with family and friends, and we are finding ways to give—gifts of time, forgiveness, compassion and hope. For a few precious weeks, we as a nation are proactively and intentionally shifting our collective focus to good.
Since the beginning of the pandemic, the Rapid Assessment of Pandemic Impact on Development (RAPID) research team has been collecting data across time from a national sample of parents with young children to see how COVID-19 is affecting American families (spoiler alert—most of the news is not good: Financial hardship has risen during the pandemic and it's negatively affecting the well-being of both parents and their children). But this holiday season, we too are inspired to focus on the good. December marks six months since the government began providing the Child Tax Credit (CTC) to American families and full five months of RAPID data showing that it's working.
The RAPID survey has generated solid evidence that the CTC is making a meaningful difference in the lives of American families with young children. During this season of goodwill, we want to pause and celebrate the support that the country is finally showing to young children and their parents through the CTC.
Since its start in July, 76 percent of the families in the RAPID survey have received CTC payments. The vast majority of these families—72 percent—reported using CTC payments for either basic needs like food, housing and utilities, or for essential bills like car payments, credit card payments and child care. One parent in the survey told us that the CTC has "made it so I'm not worried about money on a daily basis," Another parent said, "The payments have been the only thing to keep me slightly afloat." The CTC is helping parents to keep their families fed, housed and cared for despite a multitude of pandemic-related struggles.
RAPID survey data showed that low-income parents were the most likely to use the CTC to keep their families afloat. Among the lowest-income families in the survey (those with a 2019 household income below 200 percent of the federal poverty line), 83 percent reported spending their CTC payments on basic needs and essential bills. But many middle-income (68 percent) and higher-income (56 percent) families in the survey also used the CTC to cover these essentials. For American families of all income levels, and especially for lower-income families, the CTC has meant the difference between meeting and not meeting basic needs.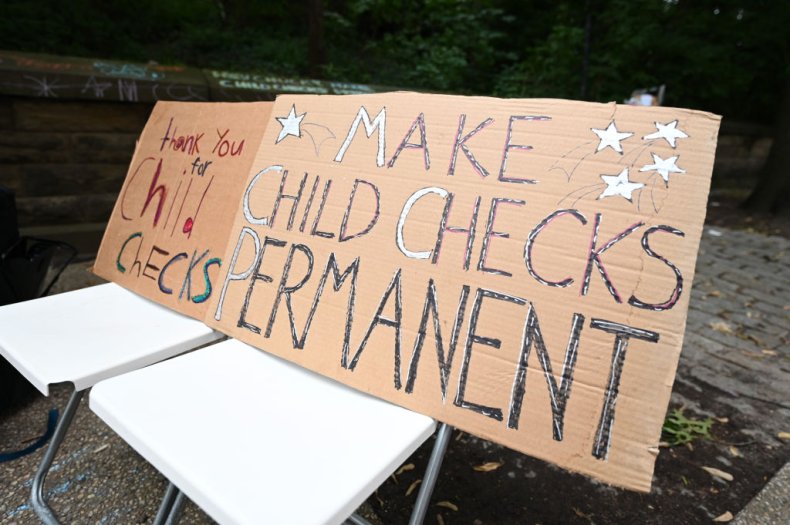 When families are able to pay for their basic needs and essentials, it reduces the amount of financial hardship that they experience. Since the beginning of the pandemic, RAPID data has shown that over a third of American families with young children have experienced material hardship, which we define as difficulty meeting basic needs like food and housing. Many parents—especially mothers—have lost their jobs due to either layoffs or being forced to stay home with young children when child care programs closed, and many families have struggled to regain financial stability. The CTC is making a big difference for these families. One of the parents in the survey told us, "The CTC has completely changed our lives! We are just now finally getting out from under water."
What would have happened without the CTC? We can get an idea from the families who have not yet been able to access it. Our data showed that the families that have not received CTC payments are continuing to struggle over time—rates of material hardship in these families went from 21 percent in June to 32 percent in November (and from 44 percent to a whopping 61 percent for lower-income families). But among families that have received CTC payments, rates of material hardship have remained relatively stable—rising only 2 percent (3 percent for lower-income families) from June to November. Our data found that the CTC is protecting families—especially those with lower incomes—from further financial struggle and allowing families to meet their basic needs in spite of the pandemic's challenges.
As the holidays approach, we should collectively toast the support that we have provided to American families this year. The CTC is working. It is buffering parents and children from the financial hardships of the pandemic; it is shoring up their emotional well-being and it is particularly effective for low-income families that need it the most. Because of the CTC, more parents will ring in the new year with the ability to meet their families' basic needs and a sense of hope for the future. America has made the decision to support families this year and the indisputably positive, sustained effects of this decision should give us all one more thing to celebrate this holiday season.
Carrie Masten is a developmental psychologist and professional science writer focused on issues ranging from early childhood to adolescence.
Nat Kendall-Taylor is an anthropologist and serves as CEO of the FrameWorks Institute.
Megan Gunnar is regents professor and distinguished McKnight University professor in child development at the University of Minnesota.
The views expressed in this article are the writers' own.