President Joe Biden's expanded Child Tax Credit has benefited Republican states and is popular among the party's voters, a new analysis found, despite the fact that it received no GOP support in Congress.
Reuters, using data from the Treasury Department, found the top 10 states by average monthly payouts in August were Utah, Idaho, South Dakota, Alaska, Nebraska, Wyoming, North Dakota, Iowa, Kansas and Montana.
All of those states voted for Donald Trump over Biden in the 2020 election, and all but one, Kansas, is led by a Republican governor.
The news organization also found that the policy has broad support among the public: 59 percent of U.S. adults backed it in a recent poll, including 41 percent of respondents who identified as Republicans.
In fact, the Child Tax Credit was far more popular among Republicans than Biden, who in the latest poll garnered 11 percent job approval from self-identified conservatives.
But the benefit, which was part of the $1.9 trillion American Rescue Plan, didn't receive a single Republican vote.
The legislation passed the U.S. House of Representatives in a party line vote, and the Senate used a process known as reconciliation to bypass the filibuster. The coronavirus relief package was ultimately signed by Biden in March with zero GOP support.
The expanded and advanceable Child Tax Credit—which bumped the payout from $2,000 to $3,600 for each child aged 6 to 17, or $3,000 per child under 6—began being dispersed among eligible households in July.
The Internal Revenue Service (IRS) sent out more than $15 billion in August in the second round of monthly payments for child tax credit. The payout went to families that include roughly 61 million eligible children.
The July payment was predominately used by households to pay for food, according to a U.S. Census Bureau Household Pulse Survey. The benefit was also largely used to pay for utilities and clothing.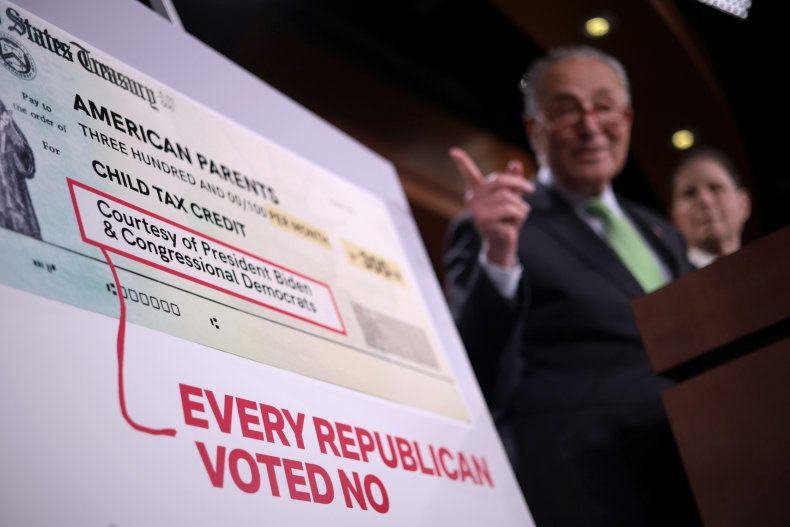 Some Republican lawmakers have touted the child tax credit and other aspects of the American Rescue Plan, such as restaurant relief and health funding, even though they rejected the legislation.
Biden mocked those promoting the bill they didn't support, holding up a list of names guilty of the behavior during a press conference.
"I mean, some people have no shame," the president said. "But I'm happy. I'm happy they know that it benefited their constituents. That's OK with me. But if you're going to try to take credit for what you've done, don't get in the way of what we still need to do."
Democrats are seeking to extend the Child Tax Credit expansion for an additional four years as part of a $3.5 trillion spending bill largely opposed by Republicans on Capitol Hill.
Newsweek reached out to the White House for comment, but didn't receive a response before publication.