Child Temporarily Disqualified From Swim Meet For Wearing BLM Swimsuit
Over the weekend a 12-year-old girl named Leidy was temporarily disqualified from a swim meet in Minnesota for wearing a "Black Lives Matter" swimsuit.
The initial decision was made by an independent volunteer official who claimed the young girl's suit "went against USA Swimming's policy of no political language," according to a statement provided to Newsweek by the Duluth YMCA in Minnesota, who sponsored the meet at a local high school.
Sarah Lyons, Leidy's mother, told Newsweek that it all started on Friday when the two were watching the news and discussed what happened to Amir Locke. Locke, a 22-year-old Black man, was fatally shot last week in his cousin's home by officers executing a "no-knock" warrant.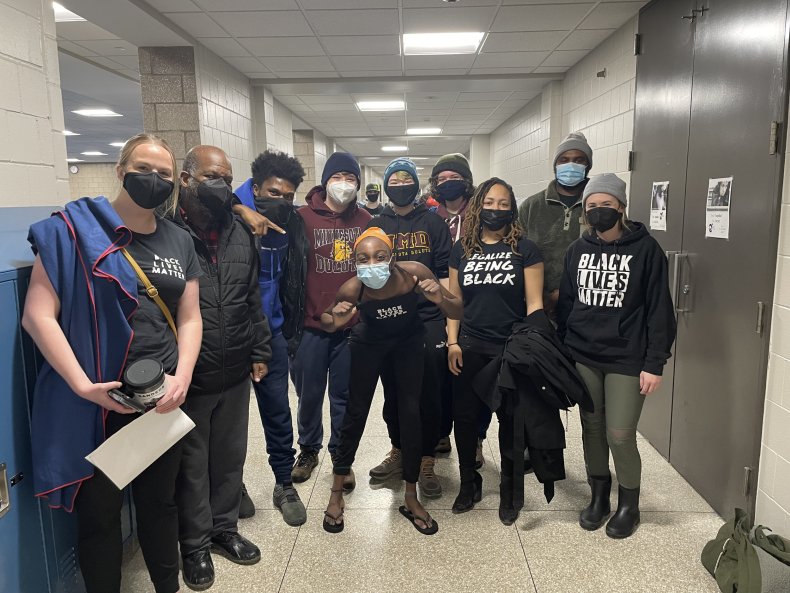 Lyons said her daughter, who often wears "Black Lives Matter" shirts to school, turned to her and said she wanted a "Black Lives Matter" swimsuit. Being that it was already Friday, and the meet was on Sunday, the two decided to make their own and purchased iron-on letters for $5.99.
"Who would have thought six bucks would end in this," Lyons said.
Lyons said the meet began as normal and Leidy competed in her first relay without issue. After that, Lyons said, Leidy approached her in the stands to tell her that her coach said she had to change.
She knew her daughter was not going to back down.
Lyons approached the coach who made it clear that it was not them who was making the call but rather an official. When the official told Lyons that her daughter would have to change suits or be disqualified citing USA Swimming's policy, Lyons responded "Who decides what's political?"
"I do," Lyons said recalling the official's response.
Lyons said she discussed the matter with Leidy who definitively said she would not be taking off the swimsuit.
Lyons then contacted the Duluth Branch NAACP President Classie Dudley who told them to stay put and that she'd be there soon.
The Duluth Branch NAACP told Newsweek in an email that they were at the high school and "mobilized within minutes" to help resolve the situation.
Duluth YMCA leadership overruled the decision and removed the official who is now banned from future Duluth YMCA sponsored meets.
"The Duluth YMCA is saddened that the student, their family, and teammates had to endure this unacceptable behavior," the YMCA said in a statement provided to Newsweek. "The Duluth YMCA will continue our ongoing commitment to train all staff and volunteers on diversity, equity, and inclusion."
Dudley told KBJR that although the issue was resolved, it was an example of ongoing problems.
"There were 500 people in that room, and nobody noticed what was going on," Lyons told the station. "It is a really good example of what is actual allyship and what is performative allyship in those moments when people need you to stand up even if it's not in your best interest."
The Duluth Branch NAACP told Newsweek that the situation was not resolved until they got involved.
Lyons said before the ruling was overturned officials flip-flopped on the reasoning behind their decision regarding her swimsuit then citing another rule about "logo size."
"You know that's not the reason," she remembers saying.
She said though her daughter ultimately got to swim, how they got there was not easy on the 12-year-old.
"She did get to swim," she said. "That does not mean there was not trauma involved."
Lyons said the aftermath of the meet has been overwhelming though empowering for the young athlete.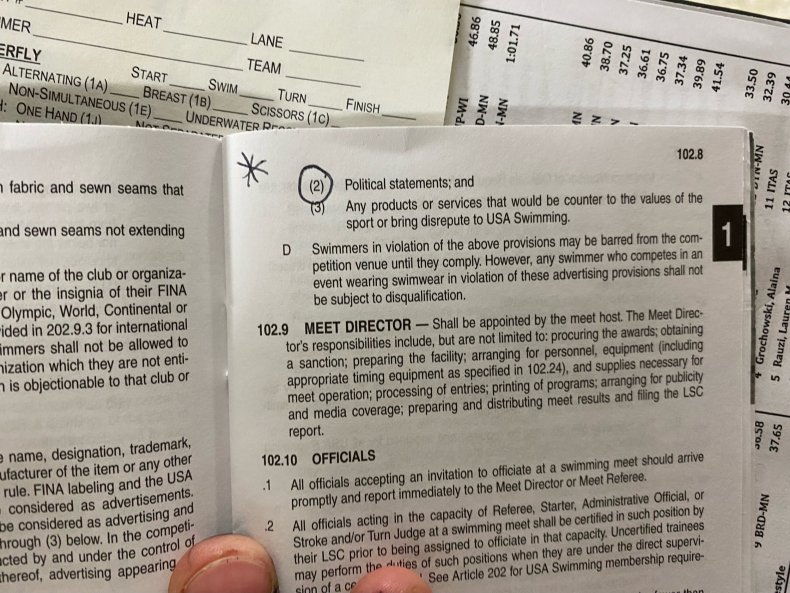 Lebron James re-posted an image to his Instagram story from the Duluth NAACP about the young girl with the message "Leidy, you're a beautiful Black queen!! Keep going and keep inspiring!!," according to a screenshot provided to Newsweek by Lyons.
She said when her daughter saw the shoutout, she "died."
In the wake of all the attention the incident has attracted Lyons says she has talked to her daughter about if she wants to continue to share her story, and said her daughter is 100 percent on board.
She said her daughter wants to use the platform she's been given acknowledging that "not all Black kids" are given the same opportunity.
Lyons said she is in contact with USA Swimming, whose rule book was used during the YMCA swim meet, about how to enact change moving forward.
"How do we look at what happened, how do we create bumpers or safeguards for Black people, for Black students, for Black girls, Black athletes — for anyone who is marginalized in sports or any setting they're in," Lyons said. "How do we create bumpers that prevent systemic racism from showing up."