Childhood Bullying Sparked My Entrepreneurial Success | Opinion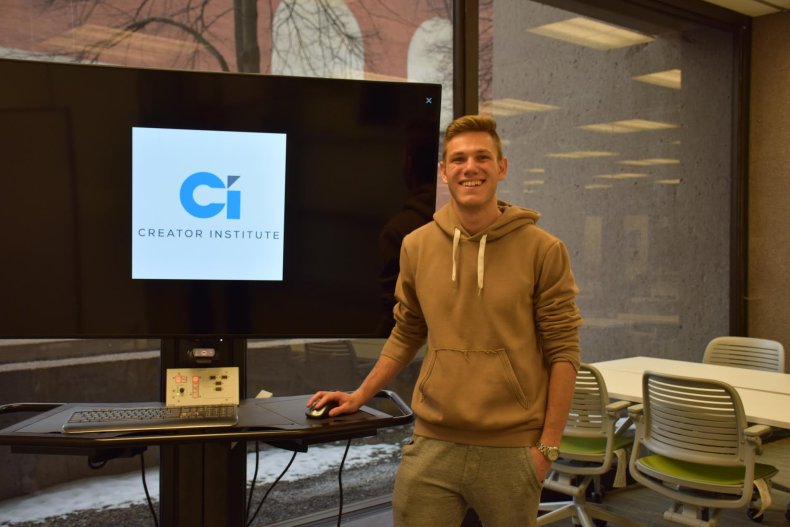 I was bullied.
It took me years before I could admit that, let alone write about it in an article or book. It was one of the darkest stretches of my life, but also served as one of my largest catalysts for growth. Without it, I may have never found my voice or discovered my love for entrepreneurship.
There is a constant debate over whether entrepreneurial prowess is an acquired trait or rather something innate. I think it is a mix of both. I have always had a knack for creating a profitable opportunity from scratch—lemonade stands, door-to-door snow shoveling, flipping discount iPhone cords, you name it. In high school, I grew my side hustle of buying, selling and trading high-end, collectible sneakers into a thriving, six-figure business in three years.
After taking fashion entrepreneurship and merchandising classes at the Fashion Institute of Technology, I went on to create my own clothing, selling limited size runs to friends and family. This desire to learn and mind for business is something I believe that I was born with. But that's only one side of the equation.
The second is the formation of the entrepreneur as a leader. It is often common to hear that in the first initial rounds of fundraising, investors believe in the founder(s), more than the idea itself. When you start a company, you are also creating a culture powered by a set of values and ethics that is instilled in your brand, your product and your people. This culture is derived from all of the circumstances—both positive and negative—that the entrepreneur encounters on his journey. This part is acquired.
Over the years, I have found myself very interested in the second part of the equation. What are the habits, experiences, and driving motivational factors that set the world's greatest entrepreneurs apart from the competition and kept them striving towards success?
Last June, I attended Next Gen Summit, an award-winning event designed to bring together rising entrepreneurs from all walks of life for a weekend of networking, learning and collaboration. After meeting so many incredible individuals, I left inspired. Each person I spoke with shared their unique story and driving force behind their respective endeavors. For the first time, this made me think: What was the driving force behind my own passion for entrepreneurship?
I took some time to reflect on this question and came to a shocking conclusion. For as long as I can remember I have had a desire to create, but also a desire to prove myself to all the people who mistreated me or doubted me in the past. This feeling was a product of my adolescent bullying. Not only did these events help me find my passion for entrepreneurship, but they also provided me with a chip on my shoulder that has fueled my fire to be the hardest working person in the room and control my own life.
After coming to this realization, I began to ask myself, 'Am I the only one?' I searched for any literature on the connection between bullying and entrepreneurship, but the selection was slim. While there were individual articles about specific entrepreneurs and celebrities who also dealt with similar circumstances, there were no books about how the two were intertwined. More so, there was nothing about how to use this unique experience to your advantage to flourish. I desperately wanted to read a book like this, and could have used one as a kid, but I couldn't find it. So, I decided to write it myself.
I started this journey last August, as I headed into my senior year at Syracuse University where I recently earned my degree in Entrepreneurship and Marketing from the Martin J. Whitman School of Management. Early on in the process, I spoke with Ellen deLara, associate professor emerita at the Falk College's School of Social Work at Syracuse University. In addition to being a professor, she works with clients through her own independent clinic and is the author of two books: Bullying Scars: The Impact on Adult Life and Relationships and Words Can Hurt Forever: How to Protect Adolescents from Bullying, Harassment and Emotional Violence. Unlike most researchers who focus on the topic of bullying, she has taken a unique approach to her inquiry.
Through her research, she found that despite conventional wisdom, the experience of bullying isn't all negative. In some cases, being bullied as a kid can actually bring positive value to people's lives. After surveying an independent sample of around 900 adults ages 18 to 65 who had been subject to adolescent bullying, approximately 47 percent reported what they considered to be a positive effect on their adult lives.
Of this 47 percent, respondents further broke down their positive impacts into the subcategories below:
Resiliency/Independence
Empathy
Moral Development
Goal Attainment
After hearing this statistic, I was floored and motivated to dig deeper into the subject. Maybe the way I was feeling wasn't so abnormal after all.
Over the next 10 months, with the unwavering support of my publisher, New Degree Press, and the Blackstone LaunchPad at Syracuse University, I conducted numerous interviews with high-level entrepreneurs spanning across a variety of industries, each of whom was bullied during their formative years. I also spent countless hours researching the psychological effects and phenomena of bullying on both children and adults. My findings held true with deLara's. Each entrepreneur I examined has grown exponentially as a result of his or her trauma in ways including, but not limited to, those listed in deLara's study.
Through my book, Adversity to Advantage: How to Overcome Bullying & Find Entrepreneurial Success, I strive to inspire those who were bullied with a combination of fundamental psychology and words of wisdom from a diverse group of highly successful entrepreneurs. I share my own story along with those of these individuals who have overcome the aggressors from their past and used their negative experiences as stepping stones for personal and entrepreneurial growth. Using my INVENT framework, I explore how to leverage the raw pain from bullying, or any other emotionally damaging event, to develop an entrepreneurial mindset, enabling you to thrive as a leader and achieve post-traumatic growth.
In reality, everyone has something to overcome. We have all encountered some type of adversity and we continue to fight our own internal battles. My hope is that this book will serve as a therapeutic resource to help motivate and guide you as you embark on your entrepreneurial journey—something to turn to when the going gets tough to let you know you are not alone. It will teach you how to train your mind to overcome even the greatest of obstacles, find your voice, share your story and turn whatever roadblock you're facing into something special.
I'm excited to see what you make of it.
Randy Ginsburg recently graduated from Syracuse University's Martin J. Whitman School of Management. He is the author of Adversity to Advantage: How to Overcome Bullying & Find Entrepreneurial Success, now available on Amazon.