Childhood Friend Turned in Capitol Rioter Charged With Pinning Officer With Riot Shield
Patrick Edward McCaughey III, a Connecticut man charged with assaulting a police officer at the riot at the Capitol, was arrested on Tuesday after a childhood friend helped federal law enforcement track him down.
Two weeks after the deadly riot at the Capitol, more than 90 people have been arrested and most of them face federal charges. Federal law enforcement has committed to continuing the search until all culprits are held accountable for their actions and on Friday, the Department of Justice warned rioters that they'd received thousands of tips, including from their friends and family.
McCaughey was one of those examples.
On January 15, a person referred to as "W-1" in an affidavit contacted the FBI National Threat Operations Center to report that McCaughey was the man in a photo assigned to the identification number "62-AFO." W-1 told the unnamed United States Marshal in the affidavit that they'd known McCaughey since they were children and had last seen him about a year ago.
Through mutual friends, W-1 learned McCaughey attended the riot at the Capitol and provided multiple photos and a video the alleged rioter sent to mutual friends. Based on a comparison of the "selfie" style photo that W-1 provided, the U.S. Marshal determined McCaughey was the person in the FBI photo.
"W-1 has been able to provide multiple details about McCaughey, such as information about his living situation, his residence, and his work," the affidavit states. "Your affiant has been able to confirm the accuracy of many of these details through independent investigation."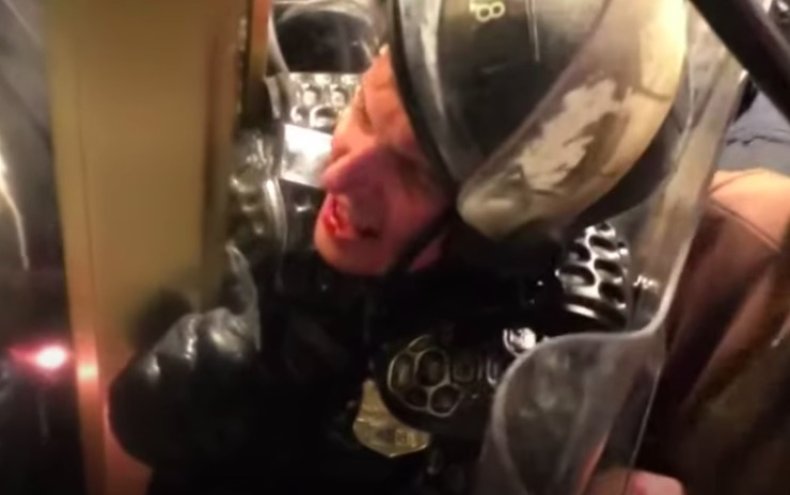 Once at the lower west terrace door during the riot, McCaughey told an officer attempting to block rioters from entering to "just go home dude" and was seen on camera pushing Officer Daniel Hodges with a clear police riot shield.
Someone, who's "tone and volume is consistent" with McCaughey's, also said "you are going to get squished, just go home," although law enforcement couldn't confirm it was him who said it.
Hodges was heard on video crying out in pain as his body was pinned between the riot shield and the door. At one point, McCaughey told another officer "this guy isn't doing too well," in an apparent reference to Hodges before pushing his shield up against another officer.
McCaughey was arrested on Tuesday night and charged with assaulting a police officer, civil disorder, violent entry and entering restricted buildings.
"The vicious attack on Officer Hodges was abhorrent and quintessentially un-American," Acting U.S. Attorney Michael Sherwin said in a statement. "It is my pledge that anyone involved in violent attacks on law enforcement at the U.S. Capitol on January 6, will be prosecuted to the fullest extent of the law. McCaughey's alleged actions were an assault on Officer Hodges, the Capitol, and the rule of law itself."
Five people died as a result of injuries sustained during the riot and law enforcement faced pressure to bring those responsible to justice. A near-instantaneous manhunt began to locate the perpetrators, who were captured in photos and videos breaching the Capitol, on the Senate and House floors and in legislator's offices.
Law enforcement faced pressure to make arrests and implored the public to help in the effort. As of Friday, the FBI had received more than 145,000 photos and videos, according to Steven D'Antuono, assistant director in charge of the FBI's Washington Field Office.
"Every FBI field office in the country is looking for you," D'Antuono said in a Friday message to those involved in the riot. "As a matter of fact, even your friends and family are tipping us off."