'Childish': Woman Backed for Fooling Unemployed Husband With Fake Car Key
Thousands of internet commenters applauded one woman's shrewdness after she explained why she duped her jobless husband with a set of useless car keys.
In a viral Reddit post published on r/AmITheA**hole, Redditor u/Jeffissues137 (otherwise referred to as the original poster, or OP) said that, since losing his job, her husband, identified as "Jeff," has repeatedly damaged her car and detailed the heated aftermath of her decision to stop him from driving it any longer.
Titled, "[Am I the a**hole] for giving my husband a fake [key] when he demanded to drive my car?" the viral post has received more than 10,000 votes and 2,200 comments in the last eight hours.
Writing that Jeff has been out of work for the last nine months, the original poster said he sold his car to pay off debts, and has been borrowing hers to "look for a job." However, the original poster also said that this consistent borrowing has caused issues for both her schedule and the car itself.
"There are [two] problems," she began. "First is that I'm a nurse [and] I work odd hours and need my car most of the time and he literally takes it all day and comes back late in the evening."
"Second is that every time he comes home the car either has a busted taillight, damaged front, flat tires, etc.," she continued. "So far I had to spend nearly $300...to get it back in good shape."
"I told him I no longer want him to take my car but he said I had to let him drive it so he could continue to look for a job," she added. "I told him he could search online but he said something about scammers trying to pose as potential employers."
Recently, she said Jeff took her car and caused her to be late for a shift. Adding that he returned home around midnight, the original poster said he gave the excuse that he was out with friends and that time got away from him.
The next morning, OP's husband asked to use her car once more. This time, the original poster was prepared.
"I told him FINE and pointed towards the sock drawer where we had lots of junk and told him it was there," she wrote. "I lied and he got some old key that looked like it."
"Once he walked out I locked the door and got in bed. Few minutes later he came back and started pounding on the door asking if I gave him a fake key," she continued. "I said I did just to get him off my back. He started yelling at me saying I was being childish and demanded I open the door and give him the real key.
"I remained in bed while he kept yelling outside saying I'm giving him a lot of s**t for not working YET not willing to let him effectively look for a job," she added. "He also said that I'd been testing his patience...he yelled some more then left."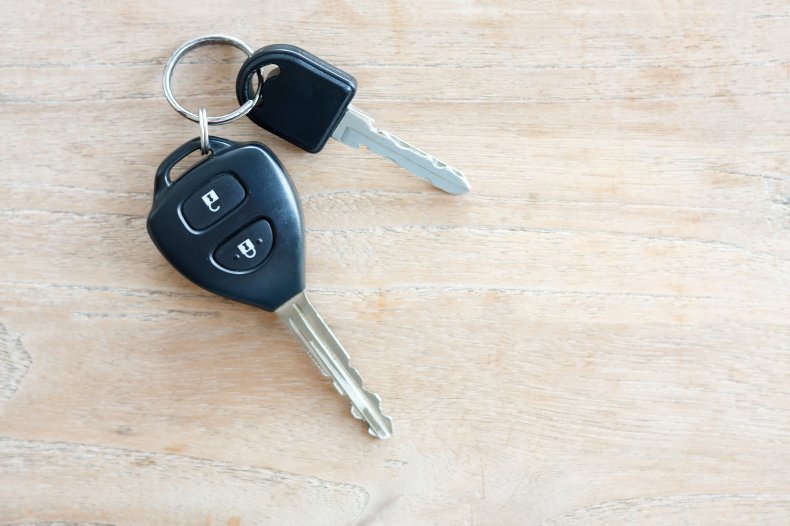 In a volatile job market, which has seen more than 4 million Americans quit their jobs every month since last October, unemployment can be as simple as a lull between positions, or a completely blindsiding and devastating experience.
But while joblessness, expected or unexpected, remains challenging for those out of work, loved ones are often forced to pick up slack both financially and emotionally.
Psychology Today recommends that people dealing with, or living with, an unemployed romantic partner or spouse try their best to be accommodating and supportive.
Talking about and validating a loved one's less-than-ideal job situation can alleviate a certain level of shame, and helping eliminate any blame for being without work can do the same.
"Many unemployed people feel ashamed of their situation. They often believe that others look down on them, think of them as a burden and don't want to hear about what is going on," the Psychology Today website reads. "It's important to make space and time for opening up."
"One of the worst things to do is to blame the person for being unemployed," it continues. "Bringing up past 'mistakes'...or labeling the person...will only make matters much worse."
Although it is crucial to provide support for unemployed loved ones, online therapy platform Good Therapy maintains that assistance is only helpful to a point.
"It is tough to be unemployed, but it is equally tough to be the partner watching and supporting the unemployed person. It is a terribly helpless position" the Good Therapy website reads.
"Some have become involuntary breadwinners, straining to care for everyone and everything with one lone paycheck," it continues. "All are forced to be passengers on the emotional roller coaster ride of a loved one's bout with unemployment."
Throughout the comment section of the viral Reddit post, Redditors assured the original poster that her husband's behavior was less about unemployment, and more about dishonesty within a relationship.
"It's 2022," Redditor u/scarajones wrote in the post's top comment, which has received nearly 22,000 votes.
"No one has gone door to door actually looking for a job for at least 20 years," they added. "Job searching is done online. He's up to something else."
Redditor u/bosslady2032, whose comment has received more than 2,600 votes, offered a similar response.
"He is lying," they wrote. "Very few employers take in-person applications any longer. Most will tell you that you need to go to the website and fill out the online app first."
"His inconsiderate behavior of taking your car and going out to play with his friends until you end up late for your work is not acceptable and is immature," they added.
"He's not looking for a job. He's goofing off," Redditor u/DarkAthena chimed in. "He has no intention of getting a job and rather sounds like he's more interested in carousing and spending your money than being an adult."