Children Are Becoming More Depressed and Obese Because of Facebook and the Internet
Britain's National Health Service wants companies like Facebook and Google to take responsibility for youth mental health crises caused by social media.
At a conference in Manchester Wednesday NHS Chief Executive Simon Stevens cautioned of a growing "double epidemic" of obesity and mental illness among British children. He blamed technology for fostering addictive behaviors and declining physical activity.
"This is certainly about schools, but we also have to ask some pretty searching questions around the role of technology companies, social media and the impact that that is having on childhood," he said.
About 10 percent of children and young people in the U.K. had a clinically diagnosable health problem, including depression or anxiety, behavioral issues and hyperactivity, the Mental Health Foundation said in its 2016 report. England saw more than 40,000 hospitalizations for self-harm in patients ages 10-24.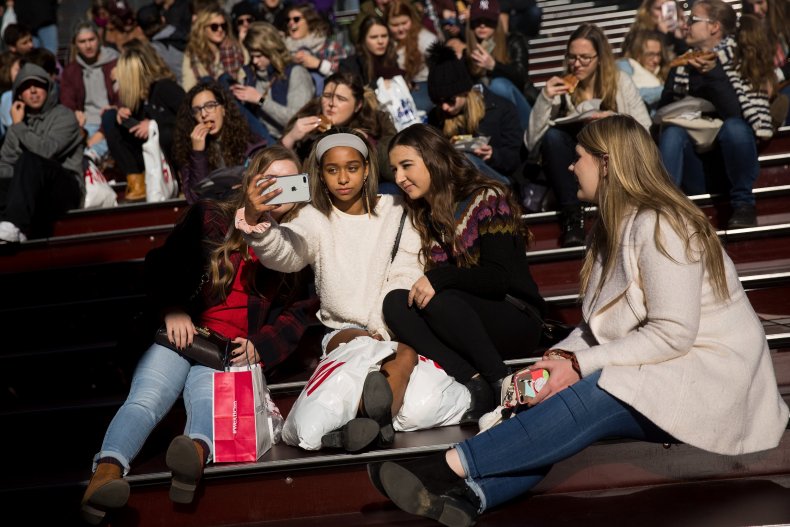 Excessive screen time can provoke loneliness, depression, anxiety and aggression in teens who rely on social media for interaction and self-worth, particularly harmful to young people who regularly compare themselves to people they follow and feel inadequate, according to a 2017 Royal Society of Public Health study called "#StatusofMind."
The results painted a dark picture: seven in 10 young people in the U.K. reported being cyberbullied and nine in 10 girls who use social media are unhappy with their body. Instagram had the most detrimental effect on body image, followed closely by Facebook.
More time spent on devices means less time spent engaging in physical activity, and severe weight gain is on the rise among Britain's youth. One in five children are classified as obese when they enter year 6, the equivalent of fifth grade in America, according to a 2018 NHS report. Of more than 600,000 hospital admissions involving obesity, almost 10 percent of patients were under 16.
"It is absolutely true we have to be physically active. But that by itself is not going to deal with what's happening to our food and drink calorific environment," Stevens said.
Stevens' plea comes after a 9-year-old girl was admitted to rehab for addiction to the popular game Fortnite.
A 2014 study of the effects of screen time on teenagers' behavior, mental health, attention and physical health found that nearly every screen-driven activity--texting, TV, video games and internet use--predicted poor mental and physical health. Excessive screen time, specifically daily internet use and video gaming, also predicted higher rates of sadness and suicide planning.
Following a study that narcissistic people are more likely to develop FAD, or Facebook Addiction Disorder, Facebook announced in 2018 it would update the newsfeed algorithm to feature more user-driven content at the expense of news and brand posts.
"We feel a responsibility to make sure our services aren't just fun to use, but also good for people's well-being," Mark Zuckerberg wrote in a post.
But psychologists say that less business posts and more Facebook friend-driven content could lead to increased comparison, jealousy and depression.
"In their Facebook profiles, users communicate abundant social comparison information conveying mainly positive self-portrayals," lead author Helmut Appel wrote in the 2015 study. "Thereby, social networking sites like Facebook provide a fertile breeding ground for envy."