Children Crying at U.S. Border and Sitting in Cages: Trump's Separation Policy in Pictures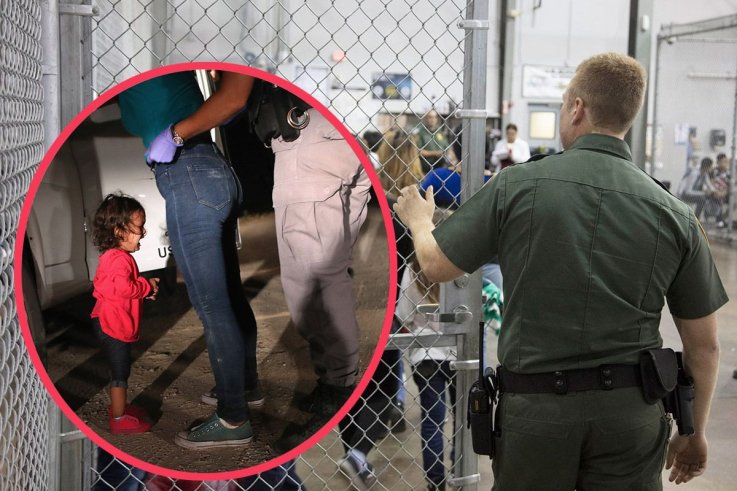 Images of children and youths sitting in concrete-floored cages in U.S. shelter facilities have generated outrage. U.S. officials have defended the measures as a way to secure the border and deter illegal entry.
U.S. Attorney General Jeff Sessions announced a "zero tolerance" policy in April that all immigrants apprehended while crossing the U.S.-Mexico border illegally should be criminally prosecuted under the country's criminal entry statute. U.S. officials said on Friday (June 15) that nearly 2,000 children were separated from adults at the border between mid-April and the end of May.
The policy has led to family separations because when border agents refer apprehended migrants to court for prosecution, parents are held in federal jail to await trial by a judge while the children either remain in border patrol custody or are moved to facilities. Most of the children are from Central America, especially Guatemala, Honduras and El Salvador.
Administration officials have defended the tactic as necessary to secure the border and suggested it would act as a deterrent to illegal immigration. But the policy has drawn condemnation from medical professionals, religious leaders and immigration activists, who warn that some children could suffer lasting psychological trauma. The children are held in government facilities, released to adult sponsors or placed in temporary foster care.
Congressional Republicans have been scrambling to craft legislation as videos and images of youngsters in cages and an audiotape of wailing children have sparked anger at home from groups ranging from clergy to influential business leaders, as well as condemnation abroad.
U.S. President Donald Trump told Republican lawmakers he would back either of the immigration bills currently making their way through the House of Representatives.
Both Republican bills under discussion, which have been blasted by Democrats and immigration advocacy groups, would fund the border wall and reduce legal migration, in part by denying visas for some relatives of U.S. residents and citizens who are living abroad, sometimes referred to as "chain migration."
House Republicans are working on a revised draft of one version of an immigration overhaul that would prevent family separations in some cases for those attempting an illegal border crossing for the first time, according to a House Republican aide. The draft bill was seen just days ago as unlikely to pass, but has gained support in the House, and it was unclear whether the new language about preventing family separations would improve its chances for passage.
The more conservative bill from Representative Bob Goodlatte would also deny "Dreamers," immigrants brought illegally to the United States as children, the chance of future citizenship.
During a meeting with Republican lawmakers, Trump told them that separating families was "certainly not an attractive thing and does look bad." Representative Mark Meadows said Trump told Republican members of the House at the meeting on Capitol Hill that they needed to get something done on immigration "right away."
White House spokesman Raj Shah said Trump "endorsed both House immigration bills that build the wall, close legal loopholes, cancel the visa lottery, curb chain migration, and solve the border crisis and family separation issue by allowing for family detention and removal."
Read more: How to Help Children Separated From Their Families at the Border
Trump, who has made a tough stance on immigration a centerpiece of his presidency, has staunchly defended his administration's actions. He has cast blame for the family separations on Democrats, although his fellow Republicans control both chambers in Congress and his own administration implemented the current policy of strict adherence to immigration laws.
"These are laws that have been broken for many years, decades," Trump told reporters after the meeting.
— Reuters contributed to this report.