Border Patrol Separating Nearly 45 Immigrant Children a Day From Their Families: Report
Over the course of a six-week period, nearly 2,000 minors were separated from their parents while trying to illegally cross the U.S.-Mexico border.
Department of Homeland Security figures obtained by The Associated Press Friday showed that 1,995 minors were separated from 1,940 adults between April 19 and May 31. That's roughly 45 kids per day being taken from their parents and placed in child immigrant detention centers, which in recent days have been described as "jails." More than a dozen of the facilities had serious health violations in the past year.
Related: Immigrant children detention center has mural of Trump, described as "jail" by reporter who toured facility
The numbers did not break down the children by age.
In early May, Attorney General Jeff Sessions announced the Trump administration would begin separating parents and children at the border, a change from previous administrations' policies—including Trump's own that allowed families to remain together.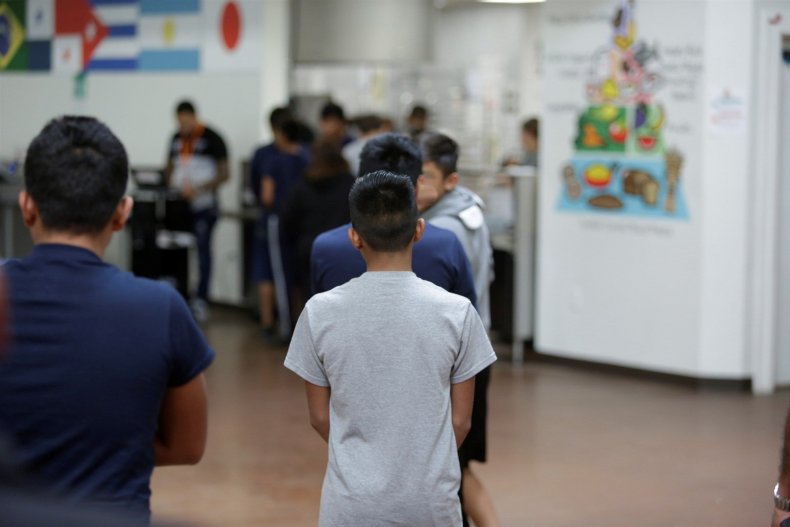 Trump again falsely blamed Democrats for the separation of families Friday morning on the White House lawn by claiming there was a Democratic law forcing him to separate minors from their parents.
"I hate children being taken away. That's the Democrats' law," Trump told reporters. "The children can be taken care of quickly, beautifully and immediately. The Democrats forced that law upon our nation."
The reality is that the policy is a result of a deliberate shift in policy announced by Attorney General Jeff Sessions last month to criminally prosecute every person who crosses the border illegally rather than releasing families to await civil hearings.
Republican Senator Lindsey Graham rebuked Trump's claim shortly after on CNN.
"President Trump could stop this policy with a phone call," Graham said. "If he can't [acknowledge] that, I'll go tell him 'if you don't like families being supported, you can tell DHS to stop doing it.'"
On Fox & Friends that same morning, Trump said he would not support a compromise immigration bill set for a vote next week that would stop his administration from separating families.
"I certainly wouldn't sign the more moderate one," Trump said on Fox & Friends, referring to one of the two bills. "I need a bill that gives this country tremendous border security. I have to have that."
The president's remarks came as a surprise to most Republicans who have worked for weeks to hammer out possible legislation that would appeal to Democrats while keeping members of their own party on board.
The more conservative bill is by Judiciary Committee Chairman Bob Goodlatte (R-Va.).
The other is a more moderate approach that would prevent the administration from continuing its policy of breaking up families and provide a pathway to citizenship for DACA recipients who were brought to the U.S. illegally as children. In exchange, the bill would provide $23.4 billion in additional funding for Trump's southern border wall and end the diversity visa lottery program, which gives 50,000 immigrant visas each year to applicants from countries that have low migration rates to the U.S.
Later in the day, the White House sought to backtrack on Trump's comments, claiming that he simply "misunderstood the question" and that the administration continued to support both bills.