Children Killed in Iowa Tornado Were Visiting Grandmother: Sheriff
A tornado ripped through central Iowa on Saturday, killing two children who were visiting their grandmother's house with their father.
Kenley and Owen Bolger and their parents were with the children's grandmother, Melissa Bazley, near the town of Winterset when a tornado touched down at about 4:30 p.m., Madison County Sheriff Jason Barnes said. Bazley, Michael Bolger and two of his three younger children, both under age 5, were killed.
Kuri Bolger, the children's mother, and the couple's other child were injured. A GoFundMe page for the family says Kuri remains in the hospital with serious injures, but the other child was released with minor injuries.
Other family members who sought shelter in the home's pantry survived.
The same tornado also killed Rodney Clark, 64, and Cecilia Lloyd, 72, who lived down the street from the Bazley. The tornado was rated an EF-3 with winds reaching 138 mph, according to the National Weather Service (NWS).
At least seven people were killed after several tornados passed through central Iowa, leaving a trail of devastation. Numerous homes were destroyed and hundreds remain without power. Authorities said it is the state's deadliest outbreak in more than a decade.
The state Department of Natural Resources said the seventh reported death was from an individual staying in an RV at a campground in Red Haw State Park in Chariton. The tornado injured several other people and struck less than an hour after the EF-3 was reported in Winterset, AP reported.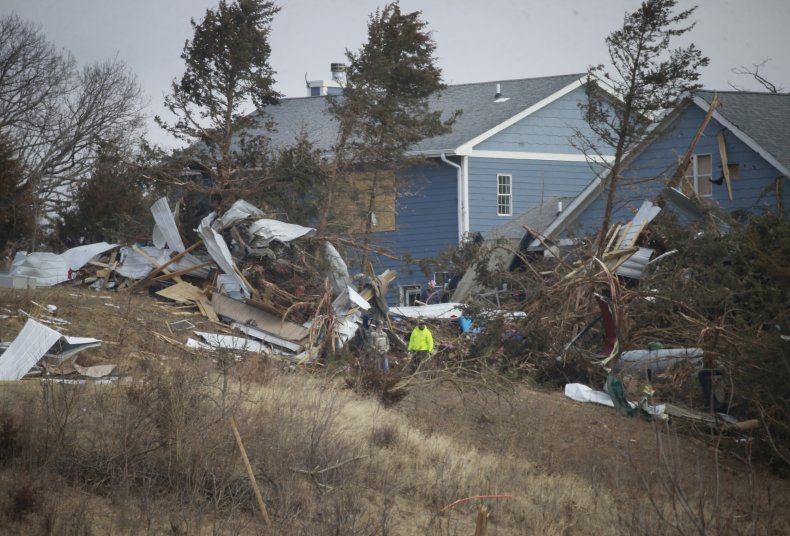 Diogenes Ayala, director of emergency management in Madison County, said that at least 25 to 30 houses had been destroyed, according to Accuweather.
Ultimately, more than two dozen tornadoes were reported over the weekend in Iowa, according to Accuweather. The NWS reported at least two EF-2 tornadoes with peak winds of up to 122 mph. One stayed on the ground for nearly 20 miles while the other just over seven and a half.
The storms generated tornados elsewhere, with an EF-1 reported in southeastern Wisconsin near Stoughton with winds up to 80 mph. The storm blew out windows in homes, destroyed trees and toppled power lines, but no injuries were reported, according to AP.
After the severe thunderstorms rolled out, a winter storm system moved in. Central Iowa reported about 5 inches of snow Sunday into Monday while Waterloo reported about 3.5 inches, according to the NWS.
Update: 3/7/22, 1:25 p.m.: This article was updated with additional information.