Children Raised by Gay and Lesbian Parents Develop as Well as Kids of Heterosexual Couples
Children raised by gay and lesbian parents develop as well psychologically as those brought up by heterosexual couples, a study suggests.
Psychologists based in Italy said their findings add to growing scientific evidence that indicates having same-sex parents does not disadvantage a child as those who disagree with such family arrangements might assume.
The team at Sapienza University of Rome enlisted three groups of Italian parents for their study. The participants were comprised of 70 gay fathers who had their children through a surrogate; 125 lesbian mothers who were inseminated with donor sperm; and 195 heterosexual couples who had a child together without medical intervention. The children involved in the paper published in The Physiological Society were between 3 and 11 years old.
The researchers asked the parents to complete online questionnaires on factors including their ability to parent successfully, how well they adjusted to parenthood, and how well their family functioned. Their child's psychological adjustment, or the strengths and difficulties they face, were also documented.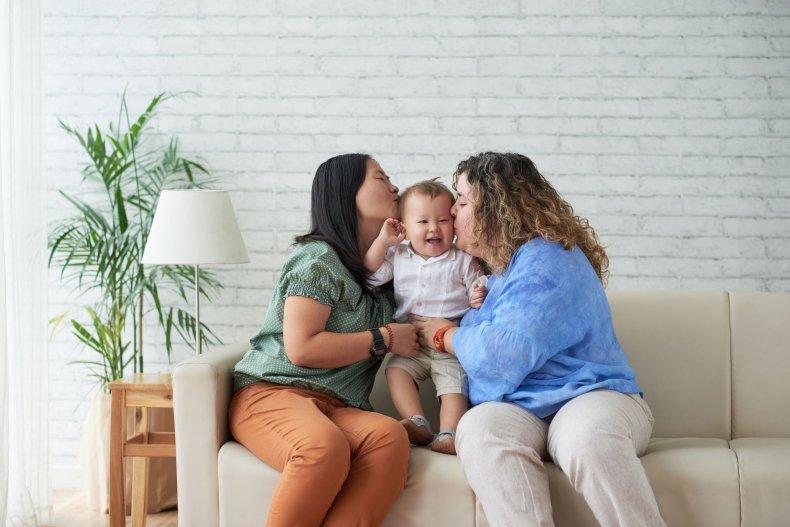 The resulting data indicated there are no major differences in the answers across the groups and the scores were considered normal. In fact, the children of same-sex parents had fewer problems than children with different-sex parents. And the researchers said some of the measures used to test how well a family functions produced better results among same-sex parents, especially gay fathers.
The authors argued this could be because of the efforts invested in surrogacy. In addition, gay fathers were more likely to earn more, be older and have more stable relationships than the lesbian and heterosexual couples.
Similar to previous studies, all the girls were found to behave in a way that was "prosocial"—or in a way that was helpful and positive to relationships—and were less likely to externalize their problems than boys, for instance by being aggressive.
Couples in all groups who felt their parenting was below par were less likely to be less satisfied in their relationships.
Roberto Baiocco, an author of the study and associate professor in the department of developmental and social psychology at Sapienza University of Rome, said in a statement: "Our findings suggested that children with same-sex parents fare well, both in terms of psychological adjustment and prosocial behavior.
"The study adds to a preponderance of evidence showing no increase in problems for children of gay or lesbian parents, compared to children of heterosexual parents. Family structure is not predictive of child health outcomes once family process variables are taken into account."
Related: Trump White House Hosts "Anti-LGBT Hate Group" Alliance Defending Freedom
A 2016 study based on data from the U.S.-based National Survey of Children's Health from 2011 to 2012 had a similar conclusion. It involved 95 female same-sex couples and the same number of different-sex couples whose children were between 6 and 17 years old.
The researchers found no differences between the groups in outcomes such as overall health, as well as emotional problems and learning and coping behaviors.