'Children of Syria' Traces Family From War-Torn Aleppo to Refuge in Germany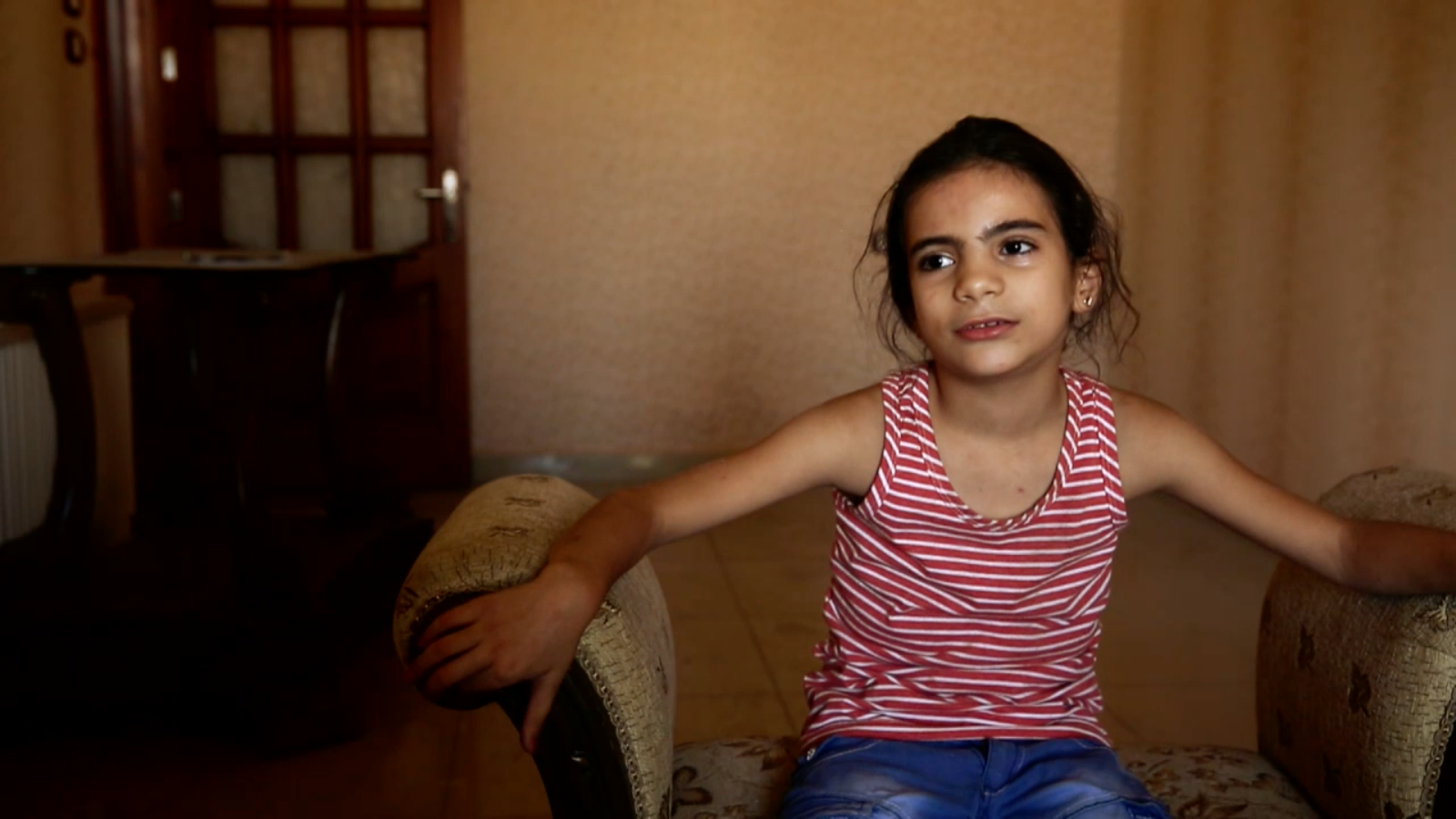 In the middle of Syria's five-year war, children still need to play.
In Aleppo, where mostly abandoned apartment blocs are hidden behind large gray sheets to shield remaining occupants from sniper fire, four siblings search for treasure in the empty rooms that have now become their playground. The children also make a competition out of identifying missiles, the types of planes they fell from and how far away they struck.
The journey of Sara, Farah, Helen and Mohammed and their parents, Abu Ali and Hala, from barely surviving Syrians in Aleppo to refugees in Germany is chronicled in the deeply moving Frontline documentary Children of Syria, which will air on PBS on Tuesday night. Marcel Mettelsiefen, the film's director and producer, tells Newsweek that he met the family when filming another documentary, Children of Aleppo, which told the story of Syria's war through the eyes of the country's children.
In 2013, the lives of the siblings and their parents are deeply entrenched in the war. Abu Ali, a former engineer, fights with the Free Syrian Army (FSA) and the children are fluent when speaking the language of war and its weapons. "When a shell fell here, I died…I died and then I lived again," says Sara, who was 4 at the time. Farah, 7, says she enjoys helping her father make bombs and gathering the red ribbons that, when lit, ignites them.
"Children, especially Syrian children, they've been able to grow up faster in these circumstances," Mettelsiefen tells Newsweek. "After 42 years of a people who were just afraid to speak out, this was the first time the young generation—the youth, the teenagers, the younger ones—were brave enough to say, 'Enough is enough.'"
The family's world is torn apart when Abu Ali is kidnapped by the Islamic State (ISIS) in 2014; Hala, the four children's mother, knows they need to leave. Propaganda videos showing the brutal executions of hostages seep into the family's consciousness and the girls "play ISIS" by pretending to behead one another. The risk of being kidnapped forces Mettelsiefen to leave Syria in September 2014.
"They might be been starving, but they never had lack of internet," he says of the children's access to ISIS.
The family make their way by car to the Turkish border, eventually claiming asylum in Goslar, a town in central Germany with an aging population. Last year, the town's mayor, Oliver Junk, said he wants more new refugees to replace its dying residents.
"There isn't a single shelled house," Hala says when the family arrive in Goslar. Inside their new home, Mohammed says there are "two million beds upstairs."
The family doesn't know the fate of Abu Ali, though Hala receives emails claiming both that he's dead and alive. The children learn to speak German, make friends at school and, in the case of Helen, shed the hijab. They volunteer at a refugee center for new arrivals. As anti-refugee sentiment grows in Germany, they deflect negative comments at school, but compared to what they went through in Aleppo, "right-wing marches against refugees are not scary," says Mettelsiefen.
Hala, smoking cigarettes and clutching her phone—the remaining connection to her homeland—cannot escape Syria. We leave her studying the photo of a dead, emaciated body sent to her by people claiming it's Abu Ali. She compares nostril size and hair color, convinced that it's not him.
"Although they have been privileged to come by plane and not suffer along the way, they still suffer and it's still a huge challenge," says Mettelsiefen. "If they had had the choice, they would never have left."
Children of Syria will have its premier on PBS and online April 19 at 10 p.m. ET.