Children Using Parents' Make-up and Cologne Means They End up in ER Every Two Hours in the U.S.
Encounters with everyday cosmetic products from shampoo to deodorant land a child in the emergency room every two hours in the U.S., researchers have warned.
Between 2002 and 2016, an estimated 64,686 children below the age of five visited emergency rooms across the country for injuries caused by cosmetic products. That amounts to around one child every two hours.
Items which are common in homes but can be potentially harmful to children include nail polish, perfume, hair relaxer, moisturizer, skin oil and deodorant, found the team at Nationwide Children's Hospital who published their findings in the journal Clinical Pediatrics.
Experts said parents might not be aware that cosmetics need to be locked up similarly to medicines, and are often left out on counters in the reach of children. What's more, many cosmetics smell good and resemble foods, and are in attractive and easy-to-open packaging.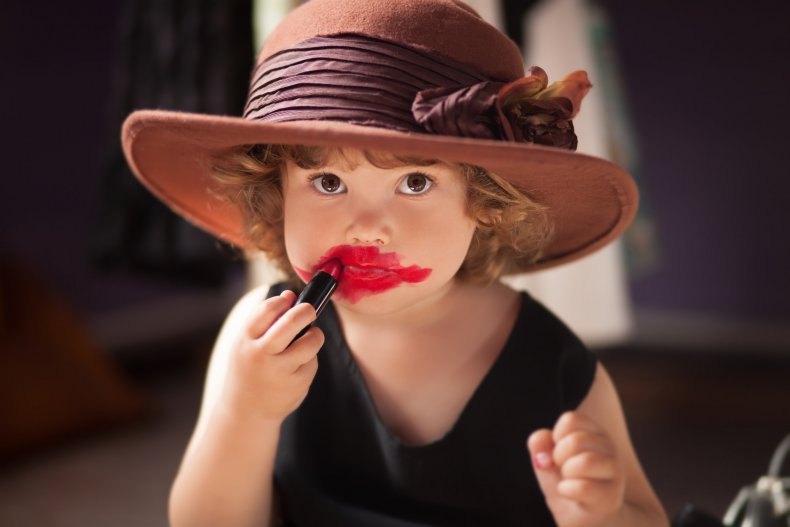 The researchers looked at data on 2,429 emergency room admissions between January 1, 2002, and December 31, 2016 from around 100 hospitals, including eight specifically for children. The team looked at factors including the age of the patient, and where they were injured.
The figures came from the National Electronic Injury Surveillance System (NEISS) run by the U.S. Consumer Product Safety Commission (CPSC) which monitors consumer products linked to emergency department admissions. This information was used alongside U.S. Census Bureau data to calculate the figures for injury rates per 10,000 children aged 5 or younger.
Most hospitalized kids were aged below two-years-old. Boys were slightly more likely to harm themselves with these products, making up 51 percent of the total subjects in the study, and were more likely to be hospitalized at 58 percent.
Swallowing products accounted for the most injuries at 75 percent, while products getting into contact with the skin or eyes made up 19 percent of cases. These ingestions and exposures most often led to poisonings at 86 percent, or chemical burns at 13 percent.
Nail care products topped the list of products linked to injuries—with polish remover the biggest culprit at 17 percent—followed by hair products at 27 percent. A further 12.7 percent of injuries were associated with fragrances.
The authors believe their estimate is conservative, as the study only involved children who ended up in hospital, and therefore does not take into account those who visited pediatricians offices or poison control centers.
Rebecca McAdams, senior research associate at the Center for Injury Research and Policy at the Nationwide Children's Hospital told Newsweek: "When you think about what young children see when they look at these products, you start to understand how these injuries can happen.
"Kids this age can't read, so they don't know what they are looking at. They see a bottle with a colorful label that looks or smells like something they are allowed to eat or drink, so they try to open it and take a swallow. When the bottle turns out to be nail polish remover instead of juice, or lotion instead of yogurt, serious injuries can occur."
She said children can watch parents use these items and try to copy their behavior.
"Because these products are currently not required to have child-resistant packaging, it is important for parents to put them away immediately after use and store them safely—up, away, and out of sight—preferably in a cabinet or closet with a lock or a latch."
McAdams reminded parents to keep personal care products up, away and out of sight from kids; practice safe storage no matter how young their child is; and urged parents and carers to keep products in the original containers.
Those in trouble can seek help by calling the Poison Help Line (1-800-222-1222).