More than 1 million students returned to school Tuesday in Wuhan, China, a huge feat for the original epicenter of COVID-19 that coincided with the release of its last patient from the hospital.
Schools across China reopened Tuesday, including all of the 2,842 educational institutions in Wuhan, the state-run Global Times reported. Administrators are taking disease prevention measures such as temperature checks and routine disinfections, but it's not mandatory for students to wear a mask on campuses.
Administrators have created emergency plans to switch back to virtual learning if the risk level changes, Wuhan officials said Friday. Schools must submit daily reports to health authorities.
"For lunch, we have strengthened sanitation management, including air ventilation and disinfection of tables, chairs and floors before the canteen opens," a local high school supervisor told the Global Times. "For reusable dining utensils, we will disinfect them before use; canteen staff are also required to wear protective masks during working hours."
The Chinese government's decision to reopen schools is "based on the country's strategic achievements in anti-epidemic efforts and the confidence that resuming on-site classes will not trigger a fresh wave of the outbreak," according to the state-run Xinhua news agency.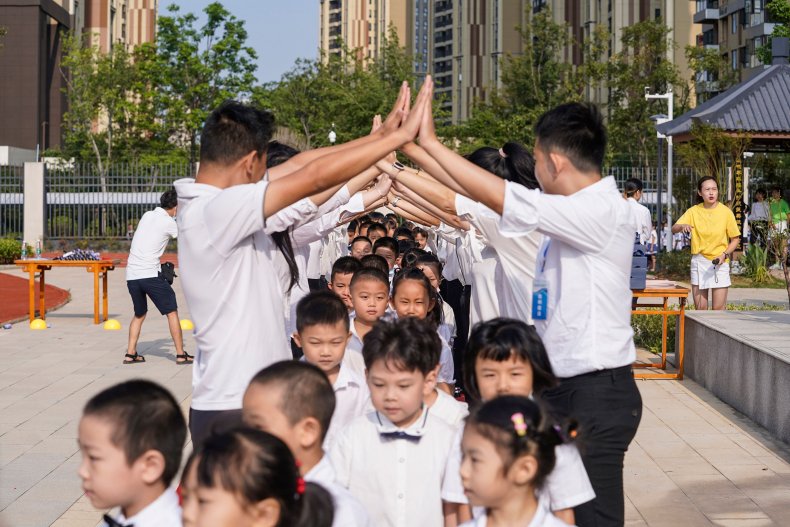 Some schools have also set up mental health courses and counseling services to ensure student well-being, particularly among children who may have lost loved ones during the pandemic, said the high school supervisor.
The COVID-19 disease is believed to have originated in Wuhan, and the central Chinese city was placed on a strict 76-day lockdown beginning in late January. The city reported a death toll of 3,869, which accounts for more than 80 percent of China's total, Reuters reported.
But Wuhan appears to have had huge success with stamping out the virus. It has not reported a single new local transmission since May 18, and released its last coronavirus patient from a city hospital Sunday. That person had brought the virus from overseas and was the city's last confirmed case, the Associated Press reported.
China has reported 89,914 confirmed cases and 4,723 COVID-related deaths as of September 1. Within the past day, the country reported just 19 cases—a striking improvement from its record high of 15,136 new cases reported on February 13, when China was in the throes of its battle with the disease.
Newsweek contacted China's Ministry of Foreign Affairs for comment, but did not hear back in time for publication.
The U.S., meanwhile, recently surpassed 6 million confirmed cases and has reported 183,602 deaths. Many schools have returned to in-person learning, but have had mixed success in terms of mitigating the virus's spread.
Some districts that chose to reopen have been forced to send hundreds of students into mandatory quarantines, while others faced mass teacher shortages that prompted them to revert to online-only classes.