Children's Hospital Tells Dorm to 'Close Your Curtains' After Seeing 'Naked Activities'
A funny, albeit uncomfortable, incident at a New Zealand university highlights the conflicts that sometimes arise when college students' lifestyles clash with the outside world.
According to the Otago Daily Times, the University of Otago's Hayward College sits directly across the street from Dunedin Hospital's Children's Unit—a placement that has created some unforeseen problems. Specifically, hospital administrators were recently forced to send a "friendly" message to their neighbors, requesting that students who live in Hayward College close their blinds while engaging in "certain naked activities"—because, as it turns out, they were on full display for patients and their parents.
The email from the hospital to Hayward College added: "Parents and their 5-year-old children can see far more than I'm sure you'd like."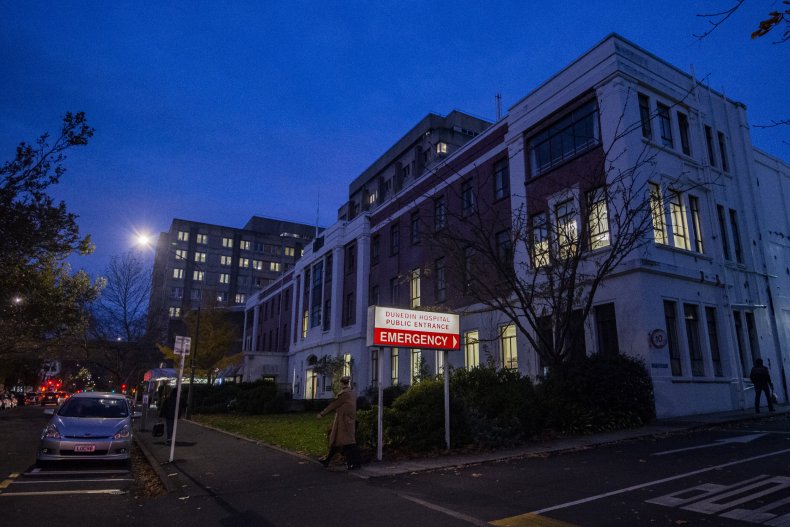 Professor Barry Taylor, clinical lead in Pediatrics at Dunedin Hospital, told Newsweek, "This was an informal message from a member of the [pediatric] team to protect the privacy of the Hayward College residents and to ensure patients and their families do not inadvertently see any activities of the college residents."
Speaking to the Otago Daily Times, Taylor described the situation as "very funny."
"It's been a humorous episode in the daily life of the children's ward," he said.
The email was reportedly prompted by the experience of one particular five-year-old patient whose room faced a dorm window. "My understanding is that a parent mentioned that there was some naked activity that was visible from their 5-year-old's [hospital] room and they didn't particularly want them to see it," said Taylor. "A junior staff member said she knew the manager at the hostel, and she let them know that they should keep their curtains closed—basically to protect the privacy of the students."
He added that there was actually only one dorm room visible from the children's ward—but he refrained from explaining any further. "I'm not going to tell you which one, for obvious reasons," Taylor told the newspaper.
Meanwhile, the Otago Daily Times reported that the university has passed the message along to Hayward College's student residents.
While ultimately fairly harmless, the situation evokes the common trope of college students clashing with their non-university neighbors. In fact, the dynamic is so well-known that it was even made into a movie—the 2014 comedy Neighbors starring Seth Rogen and Zac Efron.
Not entirely fictional, these types of conflicts have been reported stateside in recent months. In April, a party at Ohio State University resulted in students allegedly overturning at least five vehicles and smashing the windows of local houses. The gathering was reportedly shut down after the arrival of at least 30 police vehicles.
Meanwhile, tensions between New York University students and NYPD have been on the rise this summer, centering around the use of Washington Square Park. The park, which is considered by many to be the center of NYU's campus and student life, has been the site of several summer celebrations, including June's Queer Liberation March. That event, however, was met with an intense police presence, with officers reportedly using pepper spray and batons on revelers.
"Many members of the NYU community feel the NYPD's militarization of the park is a safety concern—particularly for students, faculty and staff of color," reported NYU's student newspaper, Washington Square News.
In June, the NYPD also enforced a 10 p.m. curfew on the park for two weeks—a measure which some longtime residents of the area wanted to make permanent. Critics, however, felt that the police-enforced curfew contributed to escalating tensions between students and the area's older, local population.