Chile Police Officers Accused of Sexual and Physical Abuse During Ongoing Protests
Several police officers stand accused of committing abuses as Chile's student-led protests as protests enter their third week, according to The Guardian.
A Chilean Police Major, Humberto Tapia, was arrested Thursday. He stands accused of firing his gun at protesters while they occupied an elementary school on Tuesday. Tapia showed up at the school after its principal called the police, hoping to have the student protesters removed. This led to a confrontation between the principal, the students and Major Tapia. Tapia fired his rifle into the floor, causing shrapnel to ricochet into the leg of a student. The official charge against Tapia is assault.
Tapia isn't alone. Three soldiers have been charged for firing their weapons at protesters, and at least twelve other officers are under investigation for their actions during the protests. One is under investigation for allegedly beating a 55-year-old man, and multiple officers have been accused of rape or sexual assault by protesters.
Conversely, 4,500 protesters have been arrested during the course of the protests, though the majority of arrested students have been processed and released within hours of their arrests.
Sebastián Piñera, Chile's President, has been accused of encouraging the police force to use violence against the protesters. He has lurched between attempting conciliatory gestures towards the protesters and tough-talking crackdowns, at one point saying that the country was 'at war' to explain his actions.
On Thursday, Piñera called an emergency meeting of his national security council and urged them to approve an increase in prison sentences for protesters who wear masks, destroy property or build barricades. He also called for increased surveillance of politically-active Chileans.
Yet Piñera has attempted to placate those who disapprove of his policies, meeting with an injured protester in a local hospital and saying that he, too, once protested in pursuit of justice. Due to these arguably mixed messages, his approval rating has plunged to nine percent during the protests.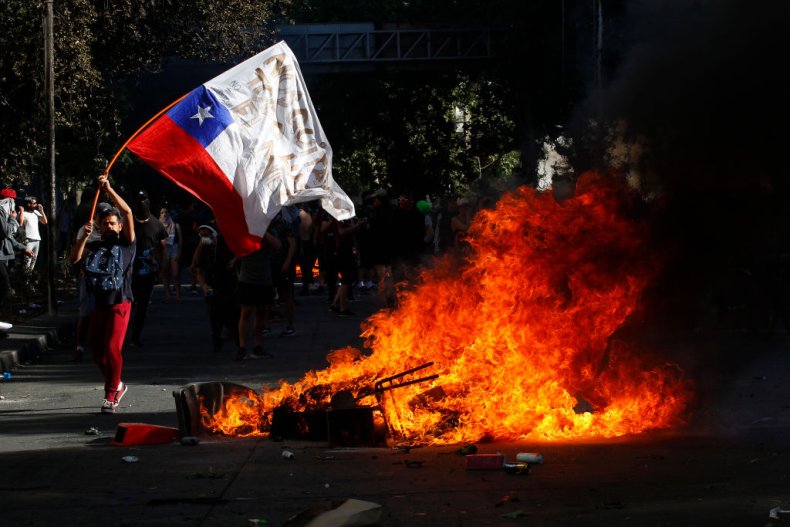 Other cabinet members have met with similar reactions. Health Minister Jaime Mañalich was greeted with a spontaneous protest by health care workers when he visited a Salvador hospital Thursday morning, leading to a frantic scene where Mañalich was trapped both in the hospital and his car. While speeding from the scene, Mañalich ran over one of the protesters. Their condition is unknown at press time.
The protests, which began in mid-October and started as an uprising against the rise of subway fares within Chile's large cities soon spread and became a national movement as thousands of Chileans have taken to the streets to protest in a generally peaceful manner with marches and demonstrations against the country's restrictive economic and social models. But some of the protests have turned violent, with arson, destructive behavior and looting resulting in an estimated $1.5bn in property damage.