Chilean Government Blames K-Pop For Recent Protests
A report released Sunday from Chile's Ministry of the Interior has blamed Chile's ongoing protests and civil unrest on "international influences and media." This includes, but is not limited to, fans of K-Pop.
The 112-page document, which focused on the social media accounts of 5 million users from October 18 to November 21, claims that 19.3 percent of the 60 million comments analyzed came from abroad, according to Presna Latina. The social media platforms the government looked at were Telegram, Instagram, Facebook and Whatsapp.
Among the blamed influences: Russian cable channels teleSUR and Russia Today, multiple Spanish singers and songwriters, several soccer players, several comics and politicians such as Camila Vallejo, Karol Cariola, Beatriz Sanchez and Pamela Jiles.
However, one group specifically pointed out as influencing the protests were Chilean K-Pop fans. The report directly asked, "Is K-Pop behind the Chilean protest?" according to CNN Chile, as translated by Google.
Fans of K-Pop—or Korean Pop, a form of music originating in South Korea analogous to American boy bands or girl groups—are accused by the government of making comments against the carabineros (the Chilean police force).
CNN Chile adds that report says that these users "mainly focus on questioning deaths during protests, frequently mentioning human rights violations and criticizing the silence of the media or blocking social networks."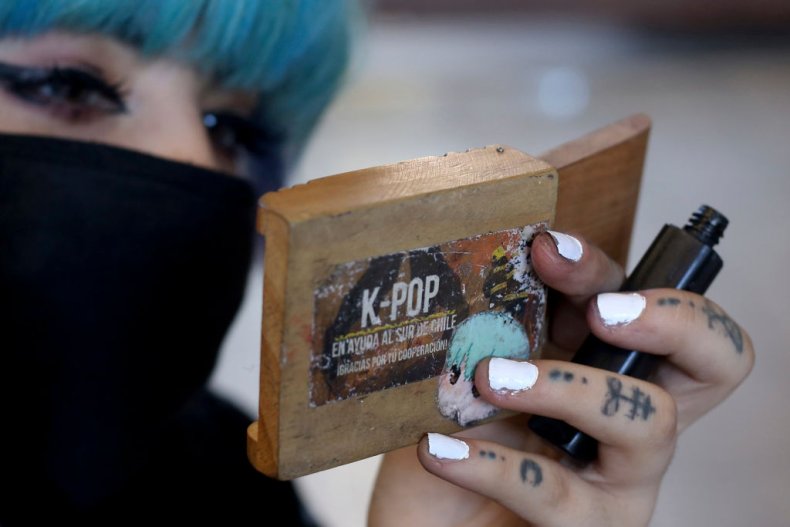 What began as a series of student protests on October 18 has ignited a national movement seeking to address class and wage disparity, which protesters say still flourishes in the country, in spite of its return to democracy in 1990 after the dictatorship of General Augusto Pinochet.
Protester demands include a complete overhaul of the company's pension, education and health systems, as well as an overhaul of the country's wage system.
They also demand justice for those hurt or killed by security forces during the protesters. Since October, 26 have died, and the National Human Rights Institute has filed 700 legal complaints against various authority figures for alleged abuses, including rape.
Protesters, meanwhile, continue to call for the resignation of President Sebastian Pinera. Pinera has presented a bill to increase the minimum wage from $396 (7513.74 pesos) to $460 (8728.09 pesos), while unions continue to request $657 (500,000 pesos). The leaders of Chile's Senate and House, as well as the secretary general met with Pinera on December 17, urging him to withdraw the bill and look at a full structural reform of the system instead.
Protester concerns are also fueled by an upcoming referendum on the country's constitution, which has not been fully replaced since the Pinochet dictatorship. On April 26, voters will be asked if they want a new constitution to be written. The referendum also asks voters who should write a new constitution: a constitutional convention created from a mixed pool of citizens and legislators, or a convention comprised only of citizens.
A non-binding consultation held the week of December 8 showed that 92.4 percent of those who voted want a new constitution and 73.1 percent want an all-citizen convention.