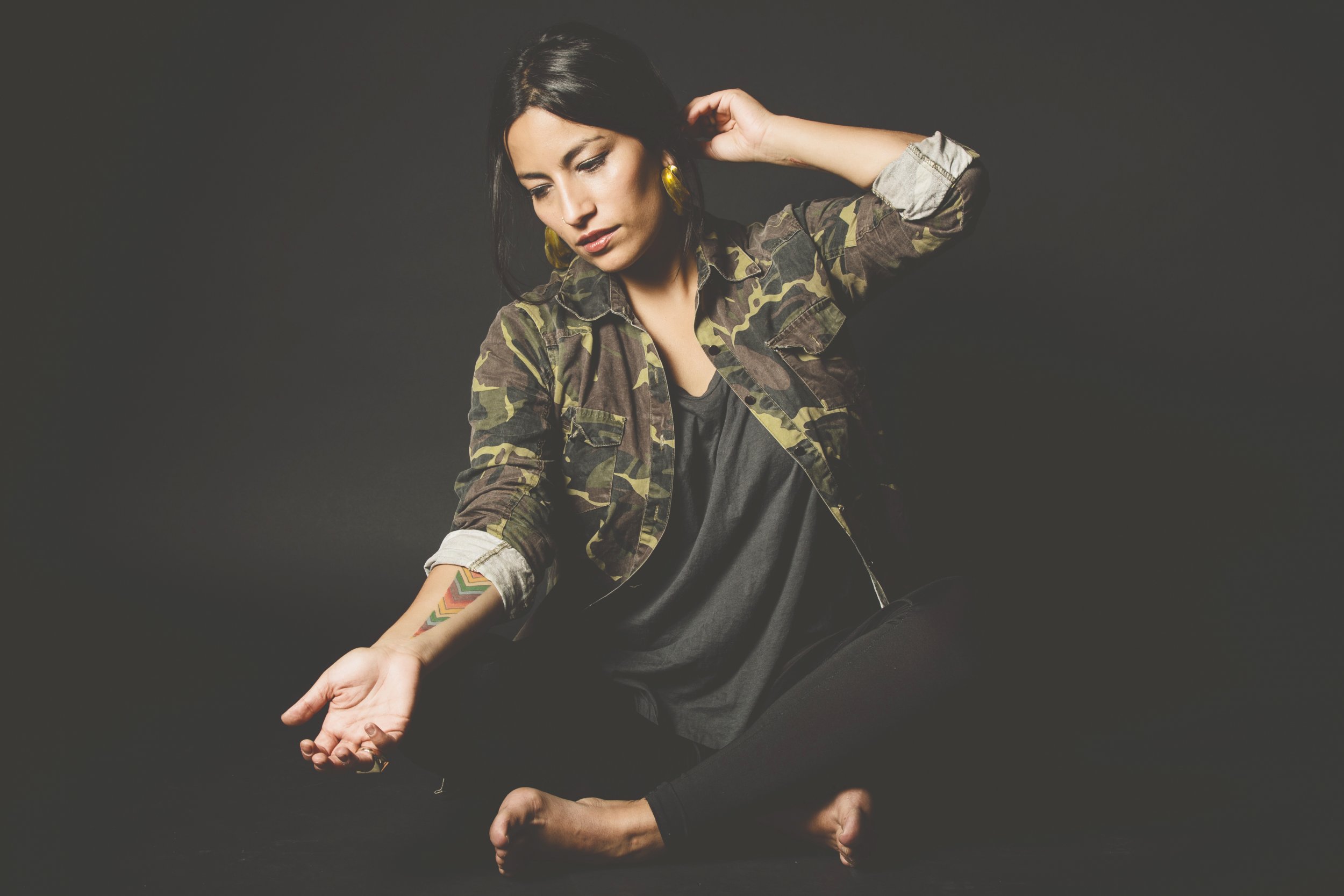 Over a beat laid down by Andean pan flutes, Chilean rapper Ana Tijoux breathes out her new album's first line in her calm, steady alto: "I come in search of answers with a full bunch of open veins."
Those open veins are as much about her own struggles as those of her people. When Tijoux was 12 and a child of exile, her father gave her a copy of Eduardo Galeano'sThe Open Veins of Latin America. Preteen Tijoux had known only France, where her parents had fled during the repressive regime of dictator Augusto Pinochet, and she wouldn't know her native country until her return two years later. Tijoux says the book, a brutal account of the colonization and plunder of Latin America's indigenous people, was a bit much for her at the time. But she's definitely opened it again.
Now, at 36, Tijoux has released Vengo, her fourth full-length album, and it is brimming with indigenous pride and powerful explorations of her own identity, as a Chilean, a woman, an artist and a mother. All of Vengo ("I Come") was recorded with a live band—a first for Tijoux, who is known for pulling samples from everyone from De La Soul to James Brown. But this album is pure Latinoamericana, and is thick with Andean charangos, pan flutes and Brazilian cavaquinho guitars. Interspersing snares, explosive horns and the rapper's own precise, tumbling flow, Vengo is a high-octane delight.
"It's about the music we listened to since we were kids," Tijoux tells Newsweek. "The music of our parents. And then we translated it into hip-hop."
Young Chileans like Tijoux returned from exile in the 1990s and, exposed to the budding rap scenes in Europe and North America, brought back hip-hop with them. They also grew up with Latin folk legends like Victor Jara, whose radical lyrics focused on an end to violence and the plight of the indigenous poor, and who was tortured and killed shortly after the 1973 coup that instated Pinochet. Jara's influence on Tijoux is all over her work, from her economic equality raps on La Bala to Vengo, where Tijoux gives shout-outs to Chile's indigenous Mapuche people, whose struggles with the government over their ancestral lands have turned violent in recent years.
"Latin hip-hop is the consciousness of Latin music—it's picked up where socially conscious troubadours like Jara and [Panamanian] Rubén Blades left off," Jasmine Garsd, one-half of the duo that hosts NPR's Alt.Latino, tells Newsweek.
Tijoux was already a phenomenon in Chile when American audiences started taking note. Her second album, 1977, was raw autobiography that touched on her struggle to feel Chilean after being raised in French culture.
"It was crazy, hard, complex," Tijoux says. "To be a teenager, trying to understand Chile and trying to recognize myself in it was one of the hard moments of my life."
The title track from 1977 was an international hit that garnered a Grammy nomination in 2011. It reached an audience of nearly 2 million Americans when it was included on the soundtrack of the fourth season of Breaking Bad.
As massive student protests and violent clashes with police roiled Chile in 2012, Tijoux dropped her next album, La Bala ("The Bullet"). Far from the intimate melancholy of 1977, La Bala is scathing political criticism steeped in economic collapse, the Occupy movement, the indignados ("the outraged") of Spain and mass protests in Greece. She told MTV at the time that the furious march song "Shock" came out of reading Naomi Klein's The Shock Doctrine, a book that used Chile under Pinochet as an example of the exploitative effects of economic "shock therapy."
"Chile has been a laboratory for neoliberalism and how everything has been privatized," Tijoux says. "I was seeing how those students and the new generation were having a social waking up. You can't expect that people don't react."
Now at the top of Chile's vibrant hip-hop scene and probably the best-known Latina rapper on the international stage, Tijoux has changed her tone. She sounds steady-handed and matter of -fact on Vengo, without the wistful sound of 1977's sometimes-painful reminiscing or La Bala's focused rage. It's as if her last decade has had time to settle, and now she's surveying it, clipboard in hand. It isn't sterile; it's just honest.
"I feel like she's gotten really comfortable in her heights," Garsd says of the latest recording. "She's just very frank about where she is in her life. She is still taking on patriarchy, but the calm and beauty with which she's doing it is amazing."
Working inside that calm, Tijoux seems to have lined up each of her dearest preoccupations and written a song to match. She sings an unabashedly sweet, awe-filled tone directly to her 1-year-old daughter, Emilia, on one track. She dedicates an entire song, "Somos Todos Erroristas," to learning to embrace mistakes. Even the most politically electrified tracks, like "Somos Sur" (which features a blazing, growling verse in Arabic from Palestinian rapper Shadia Mansour) and the feminist anthem "Antipatriarca," are more about strength than anger:
Not submissive and obedient
Insurgent, strong woman
Independent and courageous
Break the chains of indifference
Not passive or oppressed
Beautiful life-giving woman
Emancipated in autonomy
"I always feel that I have been very uneducated about feminism in my life, because of the way history gets taught in school. Women are always invisible," Tijoux says, regarding "Antipatriarca." In an attempt to remedy the gaps in her education, she began reading the work of Chilean feminist poet Gabriela Mistral, who wrote extensively about motherhood and sexual politics.
"Perhaps it's the fact that I have a baby who will be a woman. She's a little girl—perhaps I write it for her, so she'll be proud to be a woman with ideas and creativity to blow our minds," Tijoux says.
Tijoux recently toldNPR that the energy in Vengo came, in part, from her own lack of sleep. The birth of her daughter left her with little time, so she set the alarm for 3 or 4 a.m. and wrote most of the songs while Emilia and her 9-year-old son, Luciano, slept. She writes for her kids and her partner, she says, and their life at home is "much more common and more ordinary than you can imagine."
Well, almost. Luciano recently noticed the medal Tijoux was given for her 2011 Grammy nomination, which is sitting somewhere in their home.
"My 9-year-old kid looked at that and said, 'So what's that, did you win a sports championship? Is that for swimming?' And I said, 'No, that's from the Grammys.' And he said, 'What kind of sport is that?' "