Eating Chili Peppers Could Extend Your Life, Study Finds
Eating chili peppers could extend your life, a new study has found. Based on research that looked at the health records of half a million people across countries including China, Italy, Iran and the United States, it was found that those who ate chili pepper reduced their risk of all-cause mortality by 25 percent.
The study was carried out by the Cleveland Clinic's Heart, Vascular & Thoracic Institute in Cleveland, Ohio. The senior author on this study, Dr. Bo Xu, told the BBC: "Our study is not powered to answer the questions of exactly which type of the hottest chili peppers, the mode of intake and amount and frequency, because again that is a point that varies across the studies.
"What is true and consistent though I suspect is that the active ingredient present in the hot chili peppers which is a chemical known as Capsaicin is probably mediating a lot of the potential health benefits."
Dr. Xu however stressed that the data in the research is still preliminary and wouldn't lead to a change in guideline recommendations. The study also found that compared to individuals who rarely or never ate chili pepper, people who ate chili pepper had a 26 percent reduction in cardiovascular mortality, a 23 percent reduction in cancer mortality and a 25 percent relative reduction in all-cause mortality.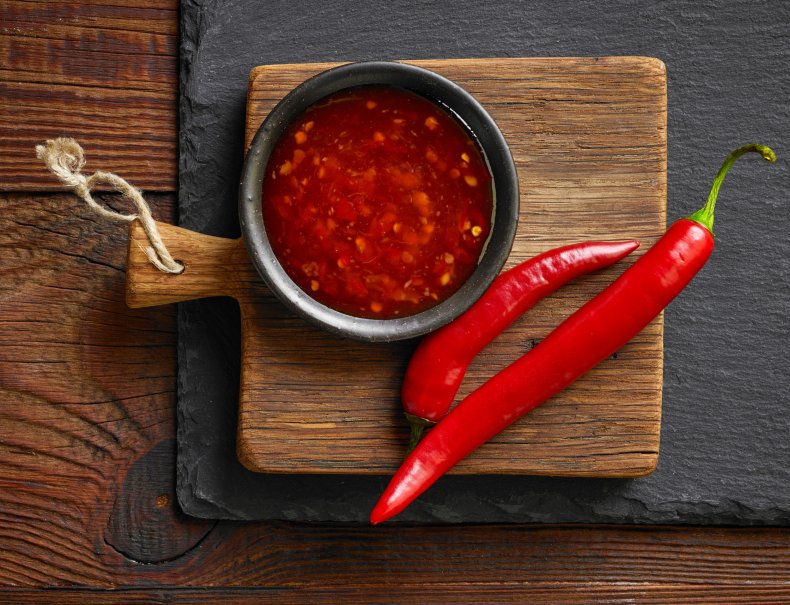 Previous studies have found that capsaicin has anti-inflammatory and antioxidant properties that help to prevent cancer, with researchers also finding that eating chili peppers was linked to a lower risk of dying from heart disease.
However, a study of more than 4,500 people has also found that those who eat more than 50g of chili a day were twice as likely to complain of memory loss.*
Consuming lots of chili was linked to a 56 percent decline in memory over 15 years, however researchers warned the conclusions were highly speculative. Dr. Xu also warned against drawing too many early conclusions from the latest study.
He said: "We were surprised to find that in these previously published studies, regular consumption of chili pepper was associated with an overall risk-reduction of all-cause, CVD and cancer mortality. It highlights that dietary factors may play an important role in overall health.
"The exact reasons and mechanisms that might explain our findings, though, are currently unknown. Therefore, it is impossible to conclusively say that eating more chili pepper can prolong life and reduce deaths, especially from cardiovascular factors or cancer. More research, especially evidence from randomized controlled studies, is needed to confirm these preliminary findings."
Dr. Xu said that cardiovascular disease remains the number one killer in the U.S. and U.K., despite advances in treatment and technologies and he hoped the discovery of a harmless food ingredient improving cardiovascular health could benefit people's health.
"I would say if you enjoy spicy food, continue to do that, if you've avoided chili pepper for the fact you don't like pungent taste, hopefully this data is a potentially an incentive to get you to try them."
*Study methodology and notes
The health and dietary records of more than 570,000 individuals in the United States, Italy, China and Iran were used to compare the outcomes of those who consumed chili pepper to those who rarely or never ate chili pepper. The full study can be read here
To analyze the effects of chili pepper on all-cause and cardiovascular disease mortality, researchers screened 4,729 studies from five leading global health databases (Ovid, Cochrane, Medline, Embase and Scopus).
The study suggesting a link between consumption of chili's and memory loss was based on 4,500 people over the age of 55 who were part of the China Health and Nutrition Survey between 1991 and 2006. Of these, 3,302 had their cognitive function assessed in at least two sessions in 1997, 2000, 2004 or 2006. Participants were asked to recall 10 words from a list and count backwards from 20.