Meet the Cast and Characters of Netflix's Bewitching New Series 'Chilling Adventures of Sabrina'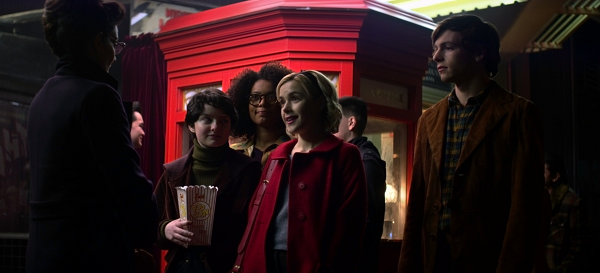 The countdown is officially on for the release of Netflix's bewitching new series Chilling Adventures of Sabrina.
The show, which follows the life of a 16-year-old teen witch, isn't anything like the bubble-gum sitcom of the 1990s, Sabrina the Teenage Witch. While there is an overall darker approach to the world of Glendale, many of the key players of the Sabrina the Teenage Witch universe are still present in the Netflix update like, obviously, Sabrina, her aunts Hilda and Zelda and love interest Harvey Kinkle. However, some staple characters, like Sabrina's biggest enemy Libby Chessler, were replaced by characters from Chilling Adventures of Sabrina (CAOS) comics, which the series is more closely modeled after.
Newsweek recently chatted with the cast ofCAOS and they spilled the beans on everything we can expect to see from their characters on the new show. CAOSpremieres on Netflix on October 26.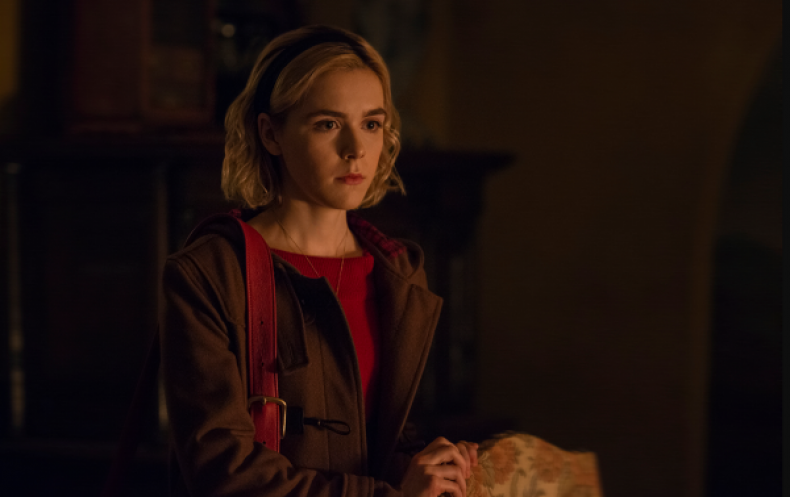 Sabrina
Fans will be introduced to Sabrina at a particularly interesting time in the young witch's life. In addition to turning 16, Sabrina, played by Mad Men's Kiernan Shipka, will also have to make the life-changing decision to sign her name in the Dark Lord's book and join the Church of Night or stick with her mortal lifestyle.
"Sabrina's at that age where she starts to question things, where she starts to make decisions for herself and form opinions. I think she's right at the beginning of that very important stage in her life," Shipka told Newsweek. "So there's a lot of conflict because, on one hand, the Church of Night is what she knows and is the typical route for someone like her to go, but at the same time she has this other sort of other life in a mortal world, and I think that sparks a lot of curiosity."
Regardless of which route she chooses, Shipka said one thing would remain the same: "Sabrina is really passionate about fighting for what's right, fighting for her friends and being there when they need her. She's figuring it out. She's not in the easiest of situations to do that, but her intentions are always so there and so right."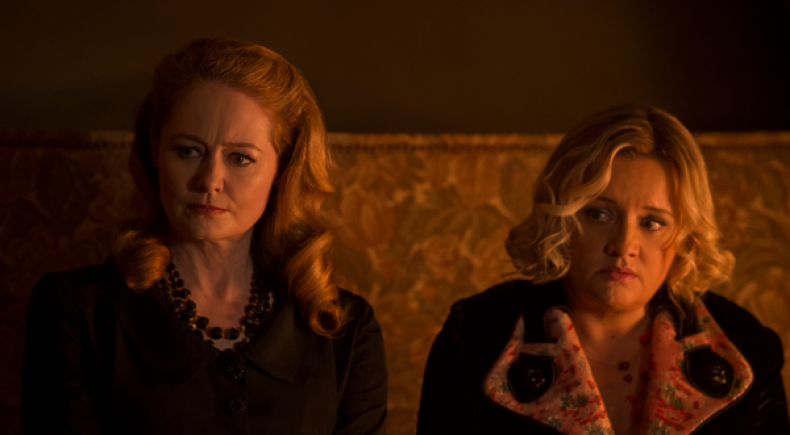 Aunt Hilda & Aunt Zelda
Sisters—and Sabrina's primary caretakers—Hilda and Zelda are as different as day and night. Zelda, a devout follower of Satan and the Church of Night, is clearly the stricter aunt. Her sister is the more happy-go-lucky "motherly" type, according to Lucy Davis, who stars as Hilda. "[Hilda] probably doesn't want Sabrina to grow up. She always wants to tuck her in and that's her little routine for the night and Zelda's probably like, 'Tuck herself in! She's got to learn the rules of life,'" Davis said.
Miranda Otto, who plays the role of Zelda, agreed: "If Hilda is sunny then Zelda is stern. Zelda is the more domineering of the pair of them."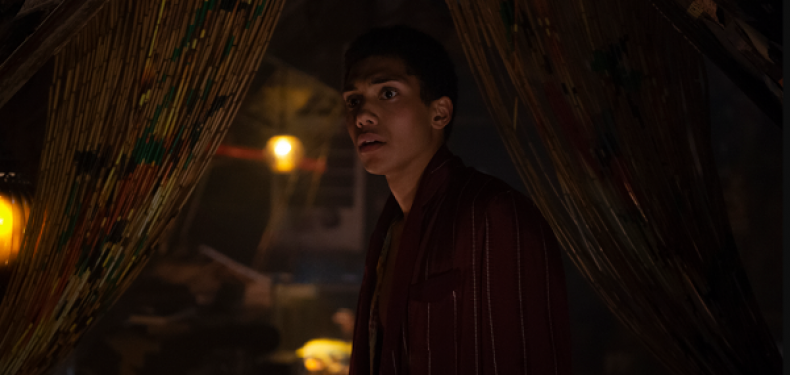 Ambrose Spellman
Sabrina's cousin and wizard counsel of sorts is played by British actor Chance Perdomo. Although he's always around—because he's on eternal house arrest—a lot of Ambrose is wrapped up in mystery. "He never really reveals himself unless it's with purpose. If it's without purpose he won't do it," Perdomo said, noting when viewers do get to learn about the character it's mostly because he's helping Sabrina.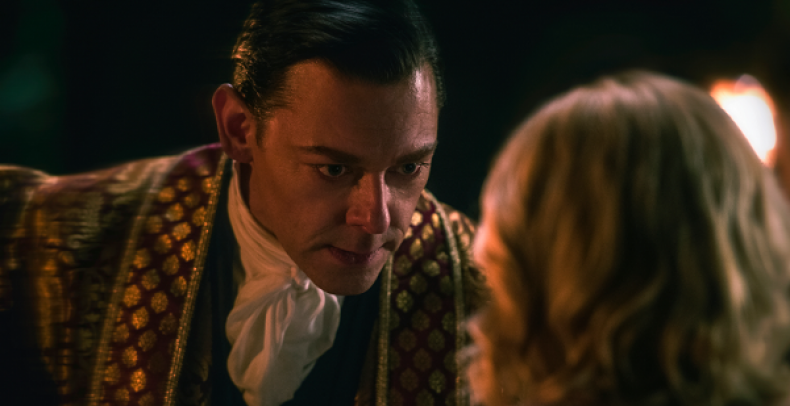 Father Blackwood
If evil had a name it would likely be Father Blackwood, portrayed on CAOS by Richard Coyle. "He's the ultimate sociopath. He will do whatever he has to do in any given situation. He's very smart. He's very savvy. He's an expert of Socratic dialogue," Coyle said of the Academy of Unseen Arts headmaster, who dually serves as the Church of Night's leader and Satan's henchman.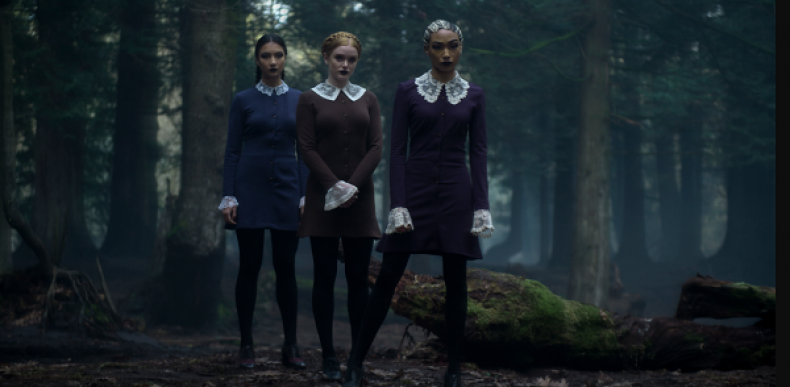 The Weird Sisters
If Sabrina fans thought Libby was a problem, wait until they get a load of the Weird Sisters. The orphan witches Prudence, Agatha and Dorcus—played by Tati Gabrielle, Adaline Rudolph and Abigail Cowen—have a penchant for torturing boys, but it's antagonizing Sabrina that seems to give them the most joy. Prudence, the de facto leader, is particularly brutal, sometimes even to her own sisters. "Prudence is the game maker and the other two fall in line and fall in suit," Gabrielle said.
"Agatha is probably the most purely evil of the three. She honestly just enjoys torturing Sabrina and mortal boys. A lot of her actions don't necessarily have a reason behind them," Rudolph said of her character.
As for Dorcus, Cowen said she's "a little bit more dreamy, kind of in her own world," but evil nonetheless.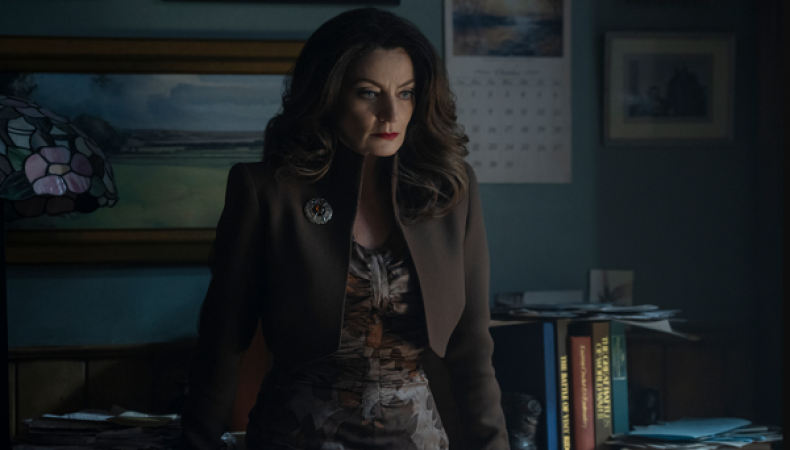 Madame Satan
The character CAOS fans will likely love to hate, Madame Satan, is played by Michelle Gomez. She's as evil as her name would suggest and one of the Dark Lord's many servants. Her main goal: Bring Sabrina to the dark side. Of course, that won't come without some twists and turns that may leave viewers wondering if Madame Satan is actually working for or against the teen witch.
"There's a situation where this character is actually empowering Sabrina to be an independent powerful woman in her own right, and in doing so draws into question where she stands in terms of the hierarchy between [Madame Satan] and the Dark Lord?" Gomez said, adding that her character was "likable but very naughty at the same time."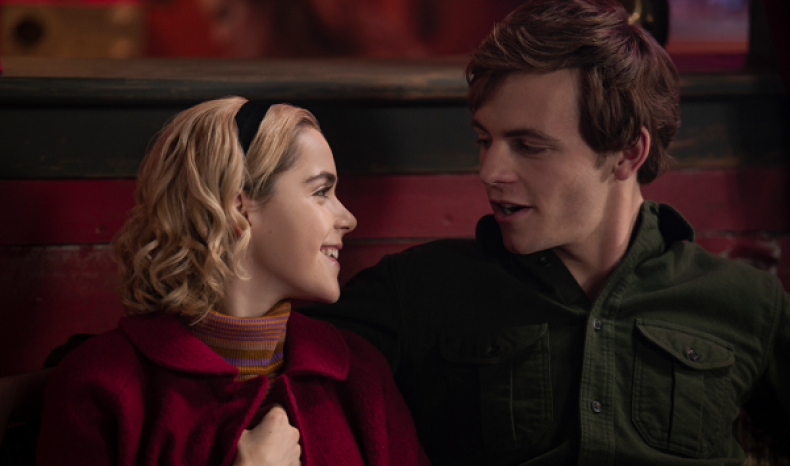 Harvey Kinkle
Ross Lynch describes his character as "Sabrina's lover... for a little while." The series starts with the high school sweethearts madly in love, but from the sound of it, their fuzzy feelings may not last that long. "Some unfortunate things happen to him when more of the magic is revealed to him, and that's hard for him and his family. It affects him and his relationship with Sabrina," Lynch said.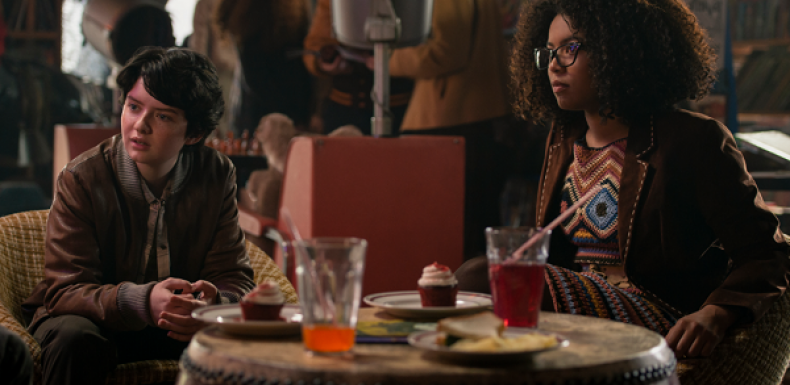 Susie Putnam
Lachlan Watson stars as one of Sabrina's best buds and classmates on the show. Although Susie's self-discovery journey doesn't include a dark baptism like Sabrina, the high-schooler is indeed on an identity voyage that will eventually give her the power to be her true, full self. She'll get some special help along the way too.
"Susie has an ancestor named Dorthea. Her aunt helped witches cross the river, cut witches down from the hanging tree when no one else would. It's this beautiful ancestry connection to the witch world that actually comes in handy in the finale. [She helps Susie] gain power, because Dorthea was so strong and dressed in men's clothing and was this beautiful powerful force," Watson said. "[She] starts visiting Susie and starts imparting some of that strength, that bravery, onto Susie."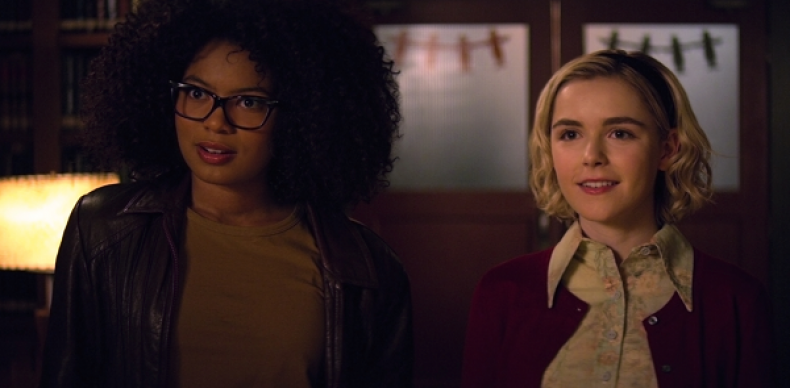 Rosalind Walker
There aren't just witches living in Sabrina's world. Her best friend Ros, played by Jaz Sinclair, has some special powers of her own, although the power doesn't reveal itself until later in the season. Mystical prowess aside, Ros, at best, is Sabrina and Susie's biggest supporter.
"Ros is just very passionate. Passionately activist. Passionately inclusion. She just is very passionately into whatever she believes is right," Sinclair said. "She's always on a mission and is a super loyal friend."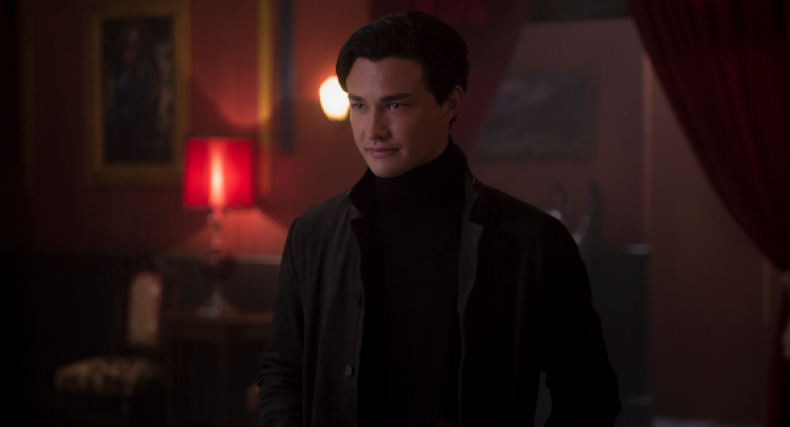 Nicholas Scratch
Played by Gavin Leatherwood, Nick is the boy that every mother wants their good, sweet daughter to steer clear from. He happens to be the Academy of Unseen Art's hot bad boy and he's vying for the affection of Sabrina. Watch out, Harvey.
"A lot of people ask if he's evil or if he's good. Deep down I feel like Nick's got a really good heart," Leatherwood said. "He really wants to discover what love is, because witches and warlocks don't have that. It's all about lust and passion and sex and nature and all that kind of occult stuff. Sabrina possesses that understanding of the other side, the other world. What humans experience is love, this very powerful thing, and it's so intriguing to my character because he's done his research in school. He knows what the dark arts have to offer and he's now curious to see what this other side of all that is and what love is. Through Sabrina, he's able to find that."