Chilling Adventures of Sabrina is the latest popular Netflix show to get the chop, weeks after Ozark, The Kominsky Method, and Dead to Me were also canceled. The Riverdale sister show, known to fans as ChAOS or CAOS, will end after the second part of Season 2 (or Part 4) airs later this year.
Though no release date for the final episodes of Sabrina has been revealed, it is likely to air in the Halloween slot that the first part aired in, bringing the Netflix show full circle.
In a statement to TVLine, showrunner Roberto Aguirre-Sacasa said: "Working on Chilling Adventures of Sabrina has been an incredible honor from Day One. The cast, beginning with Kiernan as everyone's favorite teen witch, has been an absolute joy. I am beyond thankful to the crew, writers, editors, assistants, and everyone for pouring so much love into this dark dream of a show. I'm also grateful to our partners at Netflix, Warner Bros., Berlanti Television, and Archie Comics for letting us tell the story we wanted to tell, the way we wanted to tell it. We can't wait for everyone to see Part Four."
Kiernan Shipka, who plays Sabrina on the show, meanwhile, retweeted drag queen Trixie Mattel's reaction to the cancellation on her Twitter page.
Despite fans being surprised at the show's abrupt cancelation, the ending of the series will not be that much of a surprise to people who have been watching the recent trends of Netflix cancelations.
As for fans hoping that the show can move to The CW now it has been canceled by Netflix to join sister show Riverdale—that might not be possible. Per Deadline, the standard Netflix conflict prevents shows from appearing on other networks from anywhere between two to seven years, depending on the show.
Though some shows have less restrictive contracts (hence why One Day at a Time was able to move to Pop), the details of the Sabrina Netflix contract are not known.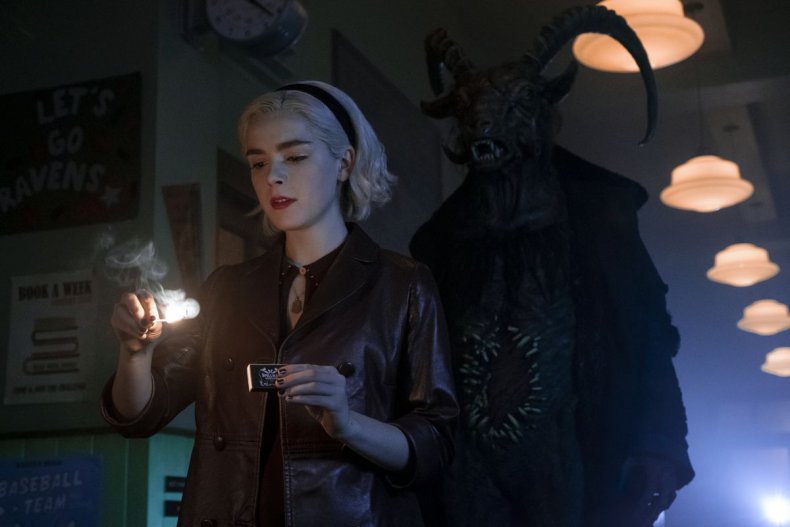 At 36 episodes, when Sabrina ends it will have the seventh-most episodes of any drama on the streaming service. This is because, with the exception of some shows ordered in the earliest days of Netflix, the streamer tends to cancel its show at around the three-season or 30-episode mark.
There are a number of reasons for this. For one, it is said that shows get much more expensive to produce after three seasons due to an increase in bonuses. Other reports have it that a show does not bring in many new subscribers to Netflix at that point in its life so, as one insider told Deadline: "There is no reason for the network to continue to invest in it."
The three-season rule is especially true for Netflix's co-productions, which very rarely make it past a third season even if they are big hits like Daredevil—and Sabrina is made with Warner Bros.
Chilling Adventures of Sabrina Part 4 is coming to Netflix in 2020.