The witches are back on Netflix.
The network's magically dark series, Chilling Adventures of Sabrina, is set to return with part 3 of Season 2 on Friday. Viewers should see the new episodes available for streaming on their Netflix home page as early as 12 a.m. PT.
The series will kick off right where it left off with the young witch, played by Kiernan Shipka, breaking down the gates of hell to save her warlock boyfriend Nick (Gavin Leatherwood). Nick sacrificed himself in their effort to trap Lucifer (Luke Combs) earlier in Season 2 and is now the captive of Madam Satan (Michelle Gomez). Of course, Sabrina can't do the job alone. She recruits her trusty Fright Club pals, otherwise known as Theo, Roz and Harvey—played by Lachlan Watson, Jaz Sinclair and Ross Lynch, respectively.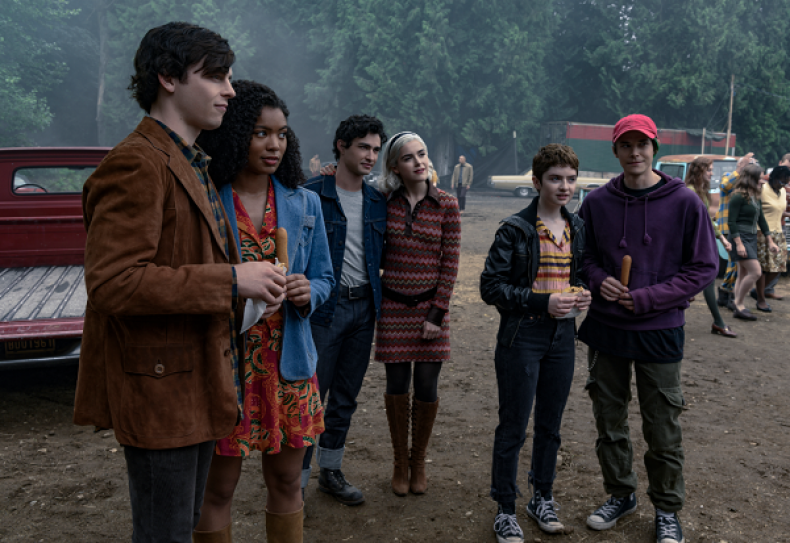 The team will make the journey down to the underworld where they'll encounter more hellish debacles than just Madame Satan's burning wrath, not to mention, the adventure will lead her to vie for the Queen of Hell crown. In typical Sabrina fashion, however, the white-haired teen will persevere. "She probably is way over her head, and that's why I love her," Shipka told Newsweek recently.
"She's got grand drams and big visions and thoughts and ideas. When she says, 'I'm going to hell and getting my boyfriend back,' she's 100 percent serious. She's going to do it," she continued. "She's really not around a lot of people that tell her no. I think it's engraved in her mentality that she can do whatever she wants, which is a very young thing to think for sure, but it's charming and fun."
Sabrina's determination to save Nick and take a seat on hell's throne won't be lost on her friends. Despite not having any magic other than Sabrina's to rely on, they're all down for the cause. After all, what real friends wouldn't go to hell for each other?
"That's what makes [the show] so inspiring to me," Watson, who plays Theo, told Newsweek. "They are so willing to rush into any situation whether or not it's good or bad or without thinking. I think to have a little bit of that spark and adventure is something that a lot people can take things away from."
Above ground in Greendale, Sabrina's relatives will be grappling with their dismantled coven following the disappearance of its former high priest, Father Blackwood (Richard Coyle).