Chimpanzee Rescued From DRC Poachers Helicopter Plane Ride to Safety
A baby chimpanzee saved from poachers in the Democratic Republic of Congo (DRC) has found a new home, with his adorable ride to safety captured on film.
Mussa is the third chimpanzee to be saved by rescue organization Lwiro Primates with the help of the Virunga National Park in 2018.
A clip of the young chimp making his way to his new sanctuary in a helicopter was shared by Lwiro Primates while praising efforts of everyone involved in the rescue.
In the short video, Mussa can be seen riding in in the front seat of the helicopter, appearing to "adjust the throttle" in mid-air and even get groomed by his new friend, pilot Anthony Caere.
The excitement appears to become too much for Mussa at one point, as he is seen taking a quick nap mid-flight.
Upon landing, Mussa is then taken into the arms of Lwiro workers.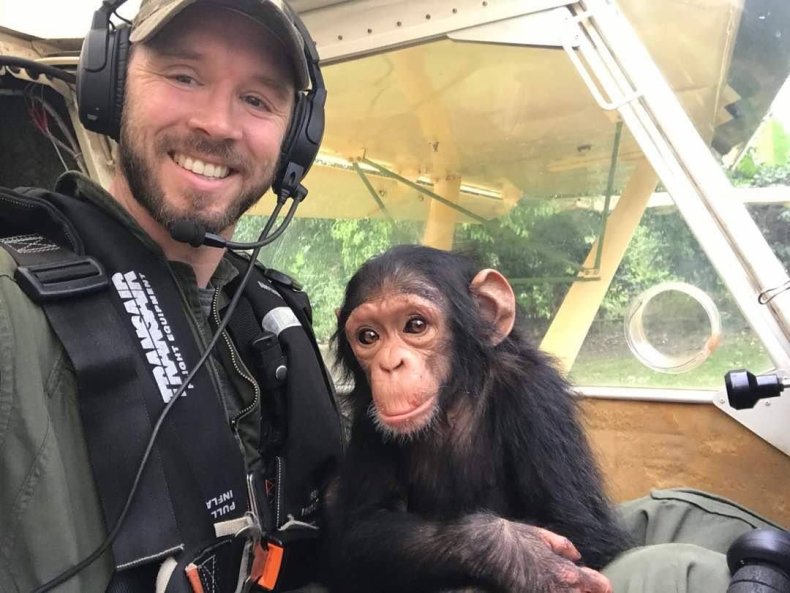 In a message posted on Facebook to accompany the video, Lwiro Primates said: "Every rescue is an effort from a lot of people from different organizations who work together to save lives.
"It is a beautiful moment to see the result of everybody's implication, in this case we save the life of Mussa."
They added that "rescues are always a mix of feelings … happy because we are saving them but sad at the same time for what it means for wild populations."
A spokesperson for Lwiro Primates told Storyful that apart from some intestinal parasites, which he is now being treated for, Mussa is in good health and doing very well in his new home.
Anthony Caere, anti-poaching pilot at Virunga National Park, also posted the video on his Instagram page. He added in a caption: "Great teamwork of @lwirocrpl and Virunga National Park to save this baby out of the hands of poachers. We flew baby Mussa to his new home at Lwiro Primates.
"This looks cute but is actually a sad story. He should be with his mum… But happy we could give him a new good home!"
Chimpanzee poaching in countries such as the DRC is a major concern for wildlife groups. While chimpanzees being hunted for bushmeat is common in central and west Africa, the Word Wildlife Federation says in recent years chimpanzees have started to become poached to satisfy appetites of the wealthy, with infant chimpanzees being taken and sold in cities as pets.