China: 7-Year-Old Orphaned Delivery Boy Sparks Outrage on Social Media
After China's "Ice Boy" went viral over social media last week for his punishing walks to school in sub-zero temperatures, the shocking story of another impoverished Chinese child has emerged.
Li Chang Jiang—a seven-year-old boy nicknamed Xiao Chang Jiang, which means "Little Yangtze River"—became an internet sensation after a video of him delivering packages began circulating on Chinese social media platform Weibo on Sunday.
The video shows the hard-working young boy delivering packages by foot in Qingdao, a city in the eastern Shandong Province on the east coast of China.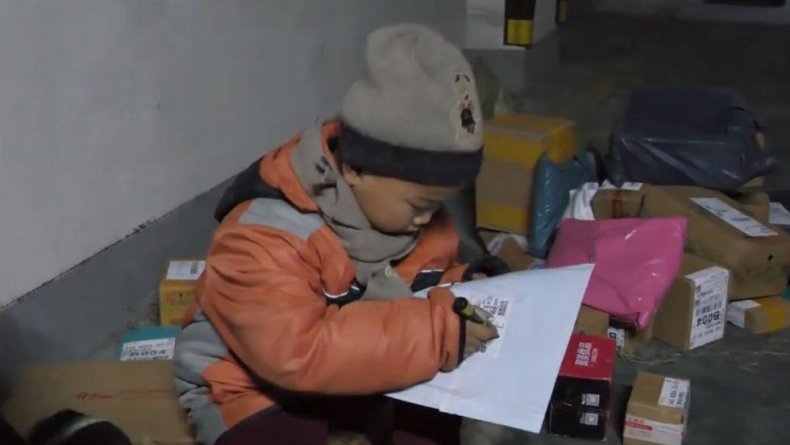 Newsweek subscription offers >
According to Yan Shifang, the boy's guardian, Chang's father passed away four years ago and his mother remarried before eventually losing contact with her son. Since he was three, Chang has been living with Yan, who was friends with his father, and earns his keep by helping with Yan's work as a delivery man.
Initially, Yan started bringing the boy along to work but Chang gained so much experience he now carries out the deliveries by himself.
Chang now delivers approximately 30 packages each day and has become a local celebrity within the Shibei district of Qingdao, What's on Weibo reported.
"[Delivering packages is] not hard, I am willing!" Chang said, in the video.
Newsweek subscription offers >
Since his story surfaced earlier this week, thousands of users have reacted to Chang's bittersweet tale, with many expressing concern for his welfare and offering to donate money to get him back into school.
One user showed interest in wanting to help poor children in the area: "Do you have any contact information? I am also Qingdao want to buy warm winter clothing for children."
"Looks like a very optimistic child, more sensible than other children, I believe that suffering will teach him a lot, I wish him a bright future. Mr. Yan is also a good man, good people will have a good report, bless them," another wrote.
In a notice, local authorities from the Qingdao Shibei district government confirmed that Chang's story was true and announced that they were launching an investigation into finding his mother, China Daily reported.
"The local police authority has not yet found the boy's registered household and we are trying to find the boy's mother," the notice said.
China: 7-Year-Old Orphaned Delivery Boy Sparks Outrage on Social Media | World