China Accused of Flexing Soft Power in Sharing Vaccine With Developing Countries
China's promise to give some Asian and African countries access to its COVID-19 vaccine has led some observers to believe the Chinese government may have an ulterior motive.
On Tuesday, President Donald Trump signed an executive order which ensured that Americans would receive access to the U.S. coronavirus vaccine before sharing it with other countries. Trump and other members of the GOP have longed blamed China for the worldwide spread of COVID-19, with Trump describing it at times as the "China virus." China said its willingness to share the vaccine with up and coming countries was in keeping with a spirit of "global cooperation."
"China will not turn COVID-19 vaccines into any kind of geopolitical weapon or diplomatic tool," read an October editorial from China's state-run news agency Xinhua, "and it opposes any politicization of vaccine development."
"China's achievement in anti-epidemic response is not due to magic," the commentary stated, "but is based on a spirit that respects science and facts and places life and the people in the highest position, something that is reflected in China's unremitting efforts to promote global cooperation in COVID-19 vaccine development."
Imogen Page-Jarrett of the Economist Intelligence Unit told CNBC on Wednesday that China's decision to share its research were not "completely altruistic."
"I do think they are seeking some benefits from this," Page-Jarrett said. "China wants to expand its commercial and also strategic interests in these countries."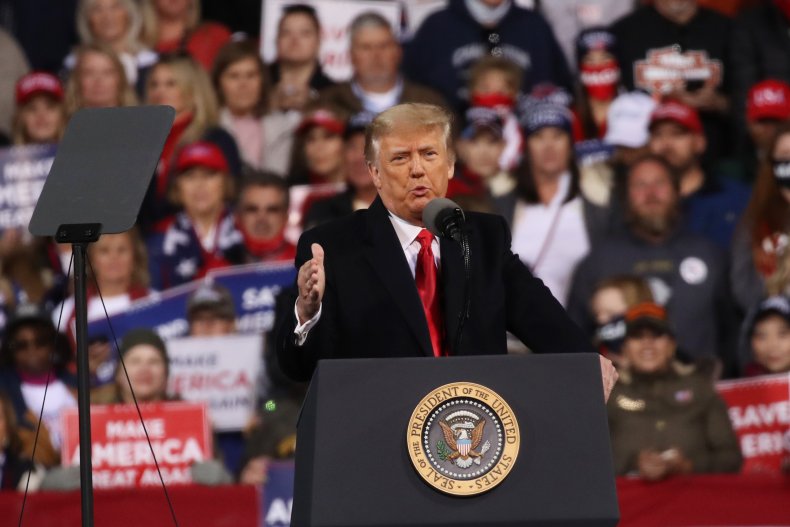 "We welcome safe and transparent aid to help alleviate the suffering caused by the COVID-19 pandemic that originated in Wuhan," a State Department spokesperson told Newsweek on Friday. "Beijing often uses assistance commitments, financial transactions, and promises of future vaccines to serve its own purposes—not to advance global public health. The [Chinese Communist Party's] transactional approach is the opposite of humanitarian partnership."
Newsweek reached out to the Embassy of the People's Republic of China for comment.
More than 1 million doses of China's COVID-19 vaccine arrived in Indonesia on Sunday with another 1.8 million doses expected to arrive in January. According to Science Magazine, China has engineered deals with at least 14 other countries over five continents to carry out clinical trials and vaccine research.
China's approach to sharing its vaccine research runs in opposition to Trump's "America First" policies. "After ensuring the ability to meet the vaccination needs of the American people," Trump wrote in Tuesday's executive order, "it is in the interest of the United States to facilitate international access to United States Government COVID-19 Vaccines."
In October, China announced it had joined a World Health Organization (WHO) initiative called COVAX whose stated aim, according to the WHO website, is to "accelerate the development and manufacture of COVID-19 vaccines, and to guarantee fair and equitable access for every country in the world."
Citing alleged undue influence over the WHO by China, Trump announced in late May that the U.S. would withdraw from the WHO. Many health experts disagreed with Trump's decision to leave the organization while COVID-19 still posed a threat around the world.
U.S. officials consider China to be a global menace. In an op-ed piece for The Wall Street Journal in December, National Intelligence Director John Ratcliffe described China as "the greatest threat to America today, and the greatest threat to democracy and freedom world-wide since World War II."
"Many of China's major public initiatives and prominent companies offer only a layer of camouflage to the activities of the Chinese Communist Party," Ratcliffe added.
Updated 12/11/2020 10:51 p.m. EST: This story has been updated with a statement from the U.S. State Department.