China Accuses Biden Administration of Suspicious Intentions After Plan to Donate Millions of COVID Shots
China accused President Joe Biden's administration on Tuesday of suspicious intentions following Biden's announcement to donate millions of COVID-19 vaccines.
During a press conference on Tuesday, Chinese Foreign Ministry spokesperson Zhao Lijian, "It is despicable that the U.S. makes an issue out of China whenever the topic of vaccines is brought up. It sets people wondering about U.S. true intention and motives."
Zhao continued, "Unlike the U.S., China will not use vaccines to influence or lead the world. Nor will China indulge in empty talks while not taking any concrete actions. China has only one goal: We want to do our best to help developing countries save more lives.… Our assistance comes with no geopolitical agenda or political strings. We will do our utmost to let people breathe because every life matters, regardless of his or her nationality and race."
The comments by Zhao come just a day after Biden's administration announced a plan to donate 80 million COVID-19 vaccine doses to numerous countries by the end of June 2021.
"Today, the President reaffirmed his commitment to leading an international and coordinated vaccination effort, announcing that the U.S. will donate 80 million U.S. vaccines—the 60 million doses of AstraZeneca vaccines previously announced and at least an additional 20 million doses of U.S. authorized vaccines by the end of June," the White House wrote in a statement on Monday.
The AstraZeneca vaccine has yet to be approved for use in the U.S. but Biden's administration has already provided Canada and Mexico with around 4.5 million doses of the AstraZeneca vaccine.
Despite the plan to donate millions of vaccines, the White House noted in its statement that "the United States will not use its vaccines to secure favors from other countries."

While speaking about his announcement on Monday, Biden discussed other foreign nations such as China and Russia and the COVID-19 vaccines that they have donated.
"Now there's a lot of talk about Russia and China influencing the world with vaccines," Biden said during a press conference. "We want to lead the world with our values."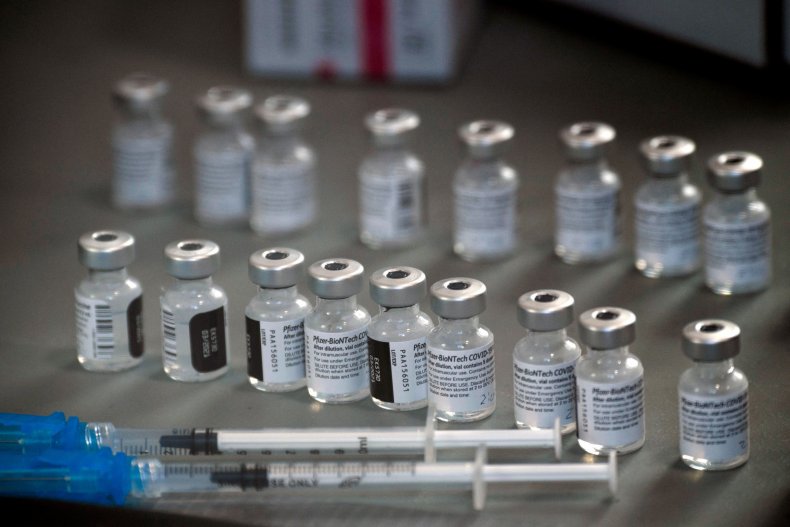 Newsweek reached out to the Chinese Foreign Ministry and the White House for comment but did not receive a response in time for publication.
China and Russia have both donated vaccine doses to other countries, but some experts have suggested that both nations have used vaccine donations to further diplomatic relationships around the globe.
While speaking with NBC News, Agathe Demarais the global forecasting director at the Economist Intelligence Unit, a London-based research group, said that most of the nations to whom Russia and China have donated vaccine doses are "where Western powers and Russia and China have been competing for years for more influence."
Similarly, John Campbell, a former U.S. ambassador to Nigeria, told NBC News that Russia and China donating vaccine doses to African countries could "help increase the attractiveness of authoritarian forms of government at the expense of more democratic forms of government."