China Accuses Nike, H&M, Zara of Harming Children With Hazardous Clothing Products
China's government is accusing major fashion retailers like Nike, H&M and Zara of harming children through the sale of what the government deems as hazardous clothing products.
In a warning notice published on its website on Tuesday, China's General Administration of Customs listed 81 imported children's clothing products that were flagged for quality and safety risks during the agency's annual examinations.
Between June 2020 and May 2021, nine batches of H&M woven cotton girls' dresses were found by customs authorities to contain what they said were dyes or other harmful substances that could be ingested or absorbed through skin. Officials identified the same concern in a Nike cotton-knit boys' t-shirt and two products from Zara, a set of children's pajamas and a pair of cotton-knit baby shorts.
China's customs also spotted what it said were similar risks in clothing items from GAP and Uniqlo. Authorities told South China Morning Post that the non-compliant products have all been confiscated, destroyed or returned to distributors.
Tuesday's warning is the latest blow from China to global brands that have faced growing calls from Chinese shoppers to boycott companies that are refusing to use cotton grown in Xinjiang province.
Facing international pressure, number of brands have pledged not to stop using cotton from the region, citing accusations of human rights violations of the Uyghurs in China's Northwest autonomous region.
Xinjiang Uyghurs have gained national prominence as a persecuted group largely of Muslim ethnic minority. Accusations out of the area allege that they have been detained and forced to work—many picking cotton—in poor conditions for little or no pay.
But while some brands may have pleased consumers in the West, they have also lost support in the East and the new customs notice is only being hailed as another reason to shop domestic.
"For me, brands like Nike, Adidas, H&M and Uniqlo no longer exist," Wei Qian, the father of a 2-year-old boy, told the Morning Post. "I have gradually increased the ratio of domestic products in my cart even before [the Xinjiang cotton controversy]."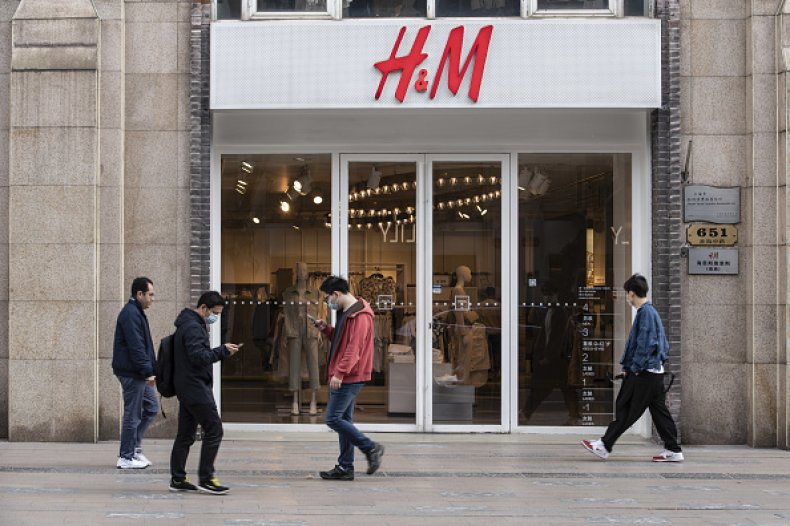 H&M has also faced commercial blowback with sponsorship deals being terminated by Chinese celebrities and China's main e-commerce sites removing products from the Swedish brand. The company also closed one of its flagship stores in Shanghai last month after a decade of business.
Zara's parent company, Inditex, also announced earlier this year that it would shut down the stores of three of its subsidiaries in China.
Tuesday's announcement follows a similar warning custom officials sent out May 30, 2020 that accused H&M and Zara of importing dangerous children's clothing. But this year's notice has expanded to include brands like Nike and GAP for the first time.
Newsweek reached out to Nike, H&M and Zara for comment, but did not hear back before publication.