China Accuses Trump of Flip-Flopping, Destroying America's Credibility
China accused President Donald Trump of draining America's credibility in the international arena because he has a fickle approach to policy after the White House released further details of the tariffs facing imported Chinese goods.
The announcement disrupted what appeared to be a detente in the emerging trade war between China and the United States after positive talks on narrowing the deficit, Trump's key aim in negotiations with his counterpart Xi Jinping, just days beforehand.
And Trump had agreed to a deal to lift an export ban on ZTE Corp, a large Chinese manufacturer that relies on importing parts from the U.S. It was another sign that trade tensions were easing their way toward a favorable resolution, calming market fears of a Pyrrhic escalation.
A joint statement released by China and the U.S. on May 19 declared that there was "a consensus" on reducing the goods trade deficit, and that "both sides agreed to continue to engage at high levels on these issues and to seek to resolve their economic and trade concerns in a proactive manner."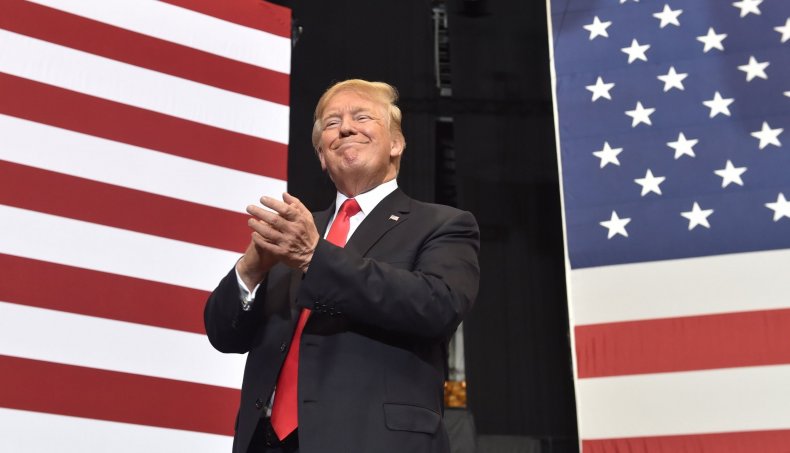 But the new details of billions of dollars of Chinese goods facing tariffs, reinforcing the Trump administration's commitment to punitive action against Beijing in pursuit of its trade goals, risk killing off any recent goodwill. And Chinese officials are unhappy.
"Every flip-flop in international relations simply depletes a country's credibility," foreign ministry spokeswoman Hua Chunying said during a Beijing media briefing Wednesday, reported Bloomberg.
"We urge the United States to keep its promise, and meet China halfway in the spirit of the joint statement," Chunying said, according to Reuters, adding that China would be "resolute and forceful" in protecting its interests if Washington continues to act in an "arbitrary and reckless manner."
The White House announced that it will impose a 25 percent tariff on $50 billion of goods "imported from China containing industrially significant technology," a move targeted at Chinese theft of intellectual property from U.S. companies. A list of affected goods will be published on June 15.
It follows the imposition of a 25 percent tariff on all steel imports and 10 percent on aluminum imports from China. "From now on, we expect trading relationships to be fair and to be reciprocal," Trump said.
China has responded with its own tariffs on U.S. imports, in particular agricultural goods, warning that more will follow in response to America's if it continues to add further levies.
Trump came to power on a campaign platform that committed to putting "America first" on trade and jobs, rhetoric he is now turning into action through protectionist measures, of which he said there will be "many."
The president argues China doesn't play fair on trade, which is why there's such a large goods trade deficit in its favor between the two countries, valued at $375 billion in 2017 by the White House. He blamed the destruction of industries such as steel on cheap Chinese imports.
Trump has used his national security powers to push through tariffs without the need for new legislation.