China in Africa: President Xi Signs $6.5 Billion Deals With South Africa's Zuma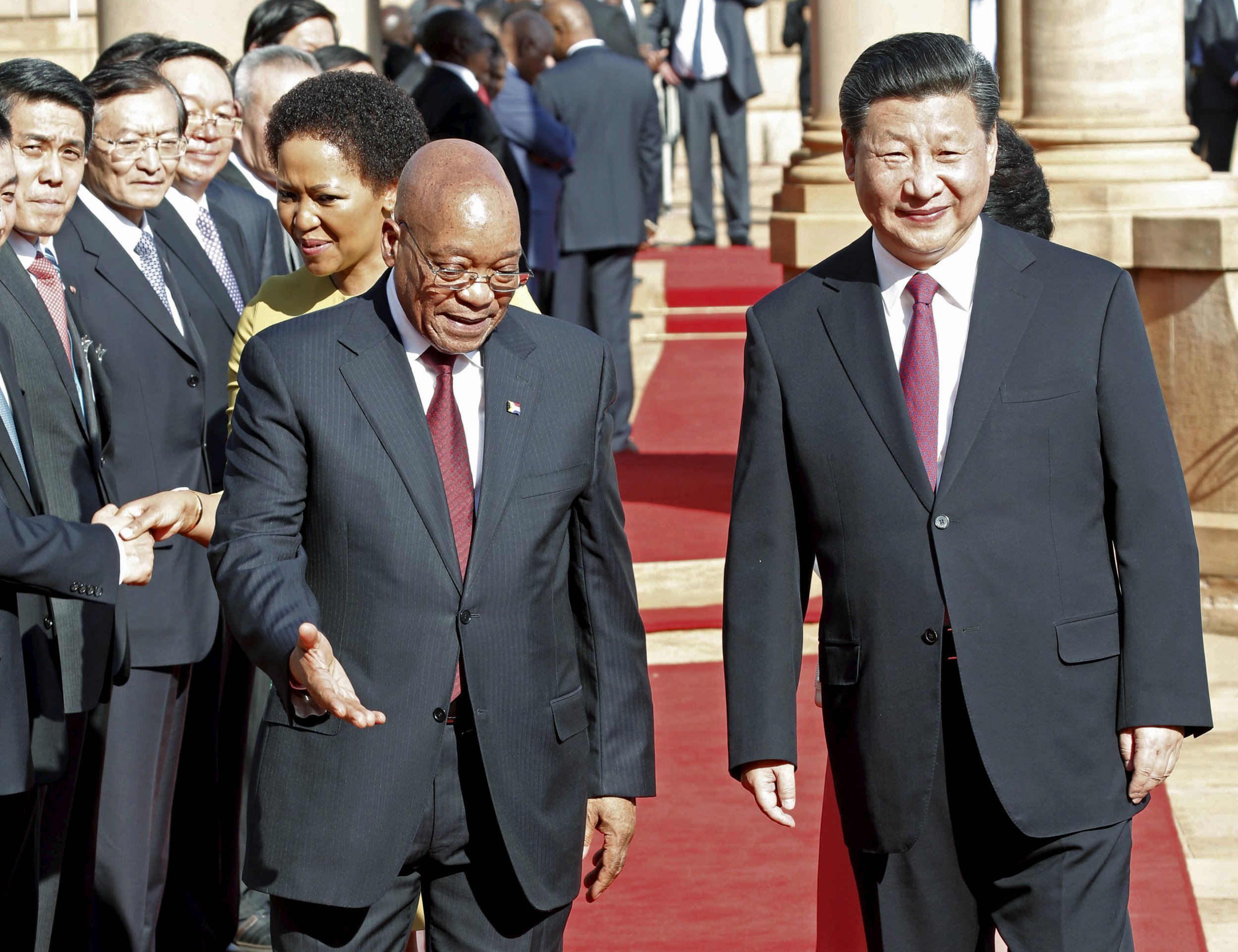 Updated | China has signed deals with South Africa worth $6.5 billion as Xi Jinping visits the country ahead of a regional summit on Chinese-Africa cooperation, the BBC reports.
President Xi arrived in Pretoria on Wednesday and met with South African President Jacob Zuma. He will then co-chair a summit at the Forum on China-Africa Cooperation (FOCAC) starting on Friday in Johannesburg, where he is likely to meet with various African leaders to boost links and secure trade deals.
The BBC reports that Chinese businesses signed 26 deals on Wednesday, the largest of which will mean $2.5 billion of Chinese investment going to South Africa's state-owned rail company. Other deals included a $500 million loan to South Africa's power company Eskom, as well as agreements to cooperate in areas including visa requirements and the establishment of a China Cultural Centre in South Africa.
China is South Africa's biggest trading partner, with the African country exporting $10.5 billion and importing $16.4 billion worth of goods and services to and from China in 2013.
The Chinese president arrived in Africa on Tuesday, when he touched down in Zimbabwe and was greeted by veteran leader Robert Mugabe. Reuters reported that Xi signed 10 economic deals with Zimbabwe, including an agreement to provide more than $100 billion for the Chinese-led expansion of Zimbabwe's largest thermal power plant in Hwange, northwestern Zimbabwe.
The FOCAC summit is likely to be attended by numerous African heads of state, including Muhammadu Buhari, the Nigerian president. Buhari's presidential office tweeted that the Nigerian president would meet with Xi during the summit to discuss renewed Chinese investment in several billion-dollar rail projects, as well as the construction of a power station that was conceived in 1982 but remains undeveloped. Nigeria overtook South Africa as the continent's biggest economy in 2013, according to Reuters.
Correction: This article originally stated that China was providing more than $100 billion investment for the expansion of Zimbabwe's largest thermal power plant. That figure has been corrected to $1 billion.