Chinese diplomats have drawn extra attention to the ongoing rescue work at the site of a fatal hotel collapse in eastern China on Monday, after having taken to Twitter to ridicule U.S. efforts in Florida less than one week ago.
Authorities in the city of Suzhou, in coastal Jiangsu province, said more than 600 people were taking part in the search for survivors at Siji Kaiyuan Hotel, where nine people remain missing in the ruins of an adjoining three-story building.
At a press conference on Tuesday, provincial officials said 14 of 23 victims had been recovered from the rubble as of 7 a.m. local time. Eight were confirmed dead, five were hospitalized, and one was sent home.
Information about the victims, including those who remain unaccounted for, has yet to be disclosed. Authorities said the identities of 18 people have been confirmed so far, without elaborating. They are thought to be hotel guests.
Chen Zhi'ang, a provincial fire service official tasked with coordinating search and rescue at the site in Suzhou's Wujiang District, told reporters that the rescue would be "very difficult."
"Although the building itself is not tall, the collapse was not partial. It collapsed in its entirety, after which the structure was crushed into pieces," he said.
The 54-room hotel, which reportedly catered to budget and business clientele, had changed names many times over three decades, reopening under new management last March.
Provincial authorities said they had formed a taskforce to investigate the cause of the collapse, which officials said could be linked to structural modifications.
Local emergency responders said the building came down at around 3:33 p.m. local time on Monday.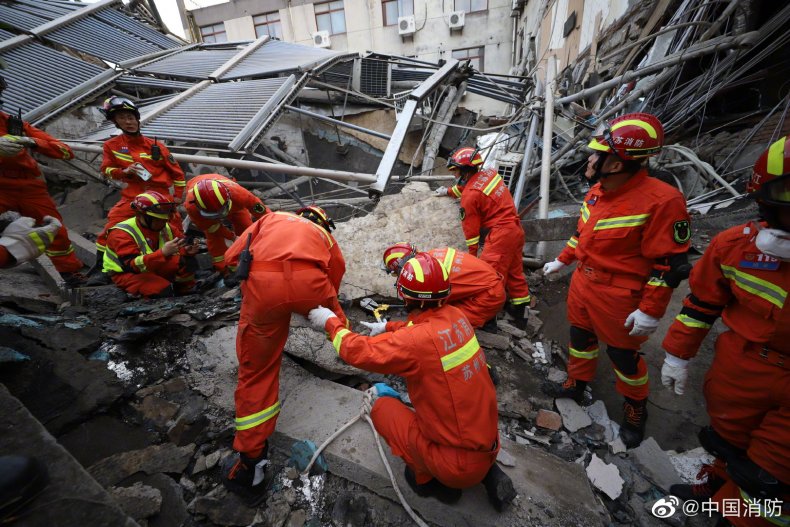 The tragedy in Suzhou comes less than three weeks after the Surfside condominium's partial collapse on June 24. The incident claimed 94 lives, with 22 people still missing in the ruins.
China's state-owned media outlets ramped up their reporting on the disaster in the Miami suburb ahead of the Communist Party's 100-year anniversary on July 1.
Chinese diplomats weighed in a few days later, highlighting what they said was a contrast between official responses in the two countries.
China's criticisms of the U.S. escalated further after rescuers in Florida took the decision to demolish the still partially standing apartment block ahead of the hurricane season. The condo was brought down with explosives on the evening of July 4, and rescue efforts continued 20 minutes later.
On July 7, Hua Chunying, director of the Chinese Foreign Ministry's Information Department, wrote on Twitter: "More than 100 people are still missing in the #condocollapse in #Florida. Heartbreaking! A natural disaster or man-made tragedy? Unthinkable in #China."
Her sentiments were echoed by ministry spokesperson Zhao Lijian two days later. "There is still a chance of survival, but the #US decided to give up on their people. #floridacollapse," the diplomat tweeted.
The bodies of at least 30 victims have been recovered from the Surfside rubble since Zhao's tweet.
Other notable contributions to Beijing's official criticisms of U.S. efforts in Florida included two tweets by Li Yang, who heads China's consulate general in Rio de Janeiro, Brazil.
"'America is coming back!' But none of the people buried in the ruins has come back!!!" the diplomat wrote on July 3.
In another posted after the demolition, he added: "American-style rescue: very layman in saving people, but too expert in blasting!!!"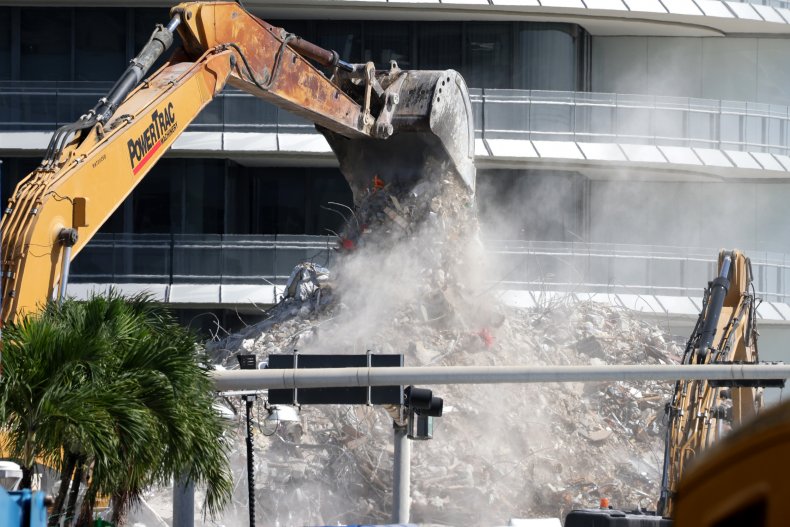 Comparisons between Suzhou and Surfside continued in an unofficial form on Monday, even as news emerged of the first victim found in the rubble of the Chinese hotel.
"An affiliated building of a hotel in China's Jiangsu collapsed Monday. Rescue work is being carried out racing against clock. Nine have been searched and rescued including one dead. Nine others still missing," Hu Xijin, editor-in-chief of Communist Party tabloid the Global Times, tweeted.
"All the missing won't be abandoned like in the rescue work in Miami," he wrote.
His message, which drew some criticism on Twitter, was repeated on China's main social media service, Weibo.
"The Suzhou hotel collapse in heartbreaking. Such a terrible incident should not happen anywhere. When it does, a fast and effective rescue is what everyone expects," Hu wrote.
He added: "The slow [response] and abandonment [of victims] like in America's Miami building collapse is unacceptable."
Chinese netizens responded in their thousands with a mixture of sarcasm and contempt.
"A tragedy has become a blessing. We've won again," one user wrote.
"Hu is great. Even after such a tragic event, he's able to compare [China] with the U.S. and find a feeling of superiority," another added.
A third Weibo user commented: "Now that you put it that way, I suppose a building collapse is no big deal! Our rescuers are the best after all!"
The Global Times, which is among China's most prominent English-language media outlets, has published more than a dozen stories on the Surfside condo collapse. Its website had two articles about the Suzhou hotel at the time of writing.
On June 27, Hu wrote an editorial titled, "After condo collapse in Miami, will US fix crumbling accountability of officials?"
The paper ran another story two days later, declaring, "Slow rescue of Miami condo collapse shows 'beacon of human rights' is falling."