Chinese Warship Sails Through Taiwan Strait After President Xi Threatens 'Punishment'
China sailed an aircraft carrier through the Taiwan Strait yesterday, shortly after President Xi Jinping threatened Taipei with 'punishment' for splitting the country at the National People's Congress (NPC).
Taiwan's Ministry of National Defense (MND) said the Liaoning, a type 001 aircraft carrier, was detected in its waters on Tuesday night, but had disappeared from Taipei's air defense identification zone by midday Wednesday, according to Reuters.
Yen The-fa, Taiwan's Defense Minister, claimed that the Liaoning entered the Taiwan Strait—which is divided between Taiwanese and Chinese waters—after conducting drills in the East China Sea earlier this week. He added that military ships were sent to monitor the warship and found nothing out of the ordinary that should be of immediate concern to Taipei.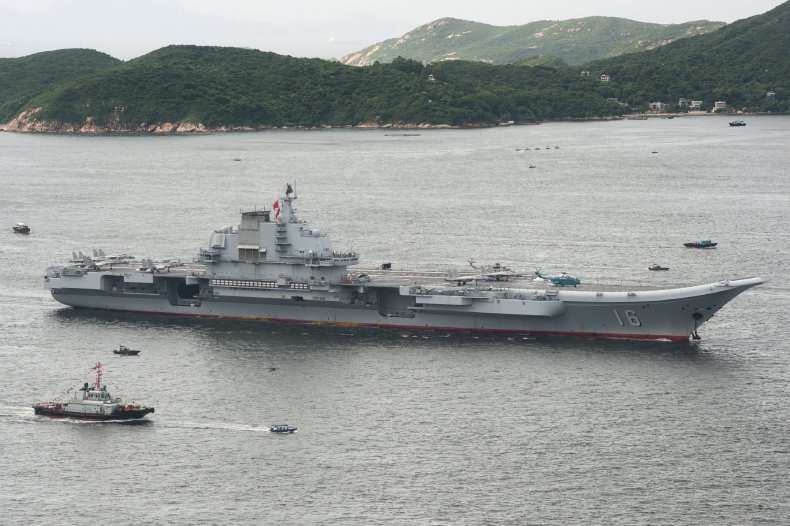 Earlier on Tuesday, Xi warned Taiwan that any efforts to split China is "doomed to fail" and will invite "the punishment of history," during a half-hour nationalistic speech at the closing session of the NPC.
Xi's comments were also a warning to the U.S. and came shortly after President Donald Trump signed the Taiwan Travel Act, which encourages high-level official visits between Taiwan and America.
The Chinese Embassy in Washington heavily condemned the legislation for ignoring Beijing's "one-China" policy and said it "severely violates" the "political foundation of the China-U.S. relationship."
The Liaoning sailed through the narrow Taiwan Strait, that separates the self-ruled island from the mainland, twice in January, sparking fears of a hostile takeover. The waters are an extremely sensitive military zone, despite being routinely travelled by commercial shipping and flights.
Last December, China's military drills around Taiwan escalated. Despite Beijing's claims that they were routine, Taipei said they posed an "enormous threat" to its national security.
Taiwan became a self-governed island in 1949, although it is still officially considered the Republic of China. Chinese Communist leaders have wanted to regain the wayward province since the People's Republic was founded almost 70 years ago and has never renounced the use of force to bring it under its control.
The Washington Free Beacon reported last October that newly disclosed internal military documents revealed that Beijing intends to invade the island by 2020.