China Ambassador Says U.S. Wasn't Even Invited to Olympics
China's long-serving former ambassador to the U.K. has accused the United States of manipulating the upcoming Winter Olympics in Beijing, after the White House confirmed on Monday that American officials would be boycotting the Games next February.
Liu Xiaoming, who was the top Chinese envoy in London for a decade until January this year, said Beijing 2022 "is not a stage for political posturing and manipulation."
In an apparent attempt to offset the Biden administration's otherwise symbolic protest, Liu tweeted that U.S. politicians were "hyping a 'diplomatic boycott' without even being invited to the Games." The Chinese official—now his country's special representative for Korean Peninsula affairs—called it "wishful thinking."
However, Liu's claim that the U.S. wasn't invited by Beijing appeared to contradict an official government line he had shared a few hours earlier. The decision to invite foreign dignitaries, Liu said, is at the discretion of each participating country's National Olympic Committee—in this case, Team USA.
Read that way, Liu would be suggesting that the U.S. Olympic and Paralympic Committee didn't invite President Joe Biden or any of his senior officials, in effect neglecting an active boycott of the Winter Games, which begin in 59 days on February 4, 2022.
Newsweek has contacted the White House for comment.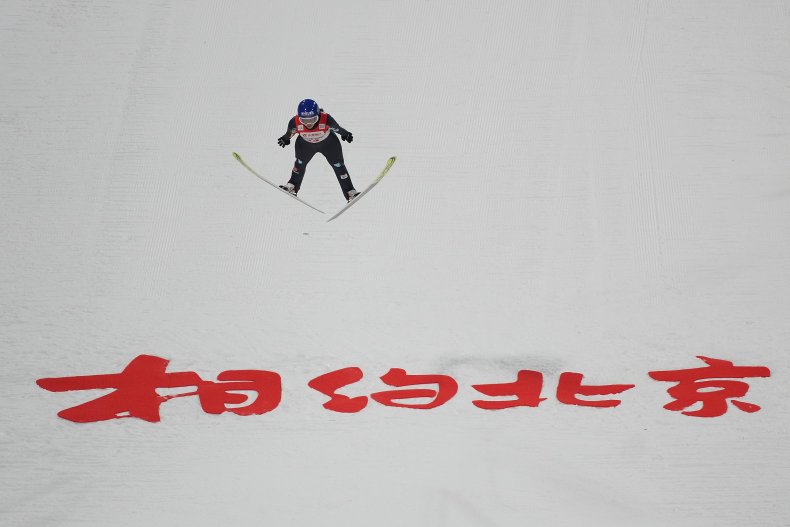 The Biden administration's diplomatic boycott is considered the U.S.'s only feasible response to widespread reports of human rights abuses against Uyghurs and other minority ethnic groups in northwestern China. American athletes, meanwhile, have expressed a desire to compete at the highest level on the Olympic stage.
Announcing the decision for the first time on Monday, White House press secretary Jen Psaki said there would be no official U.S. representation at Beijing 2022 "given the PRC's ongoing genocide and crimes against humanity in Xinjiang and other human rights abuses."
"U.S. diplomatic or official representation would treat these Games as business as usual in the face of the PRC's egregious human rights abuses and atrocities in Xinjiang. And we simply can't do that," Psaki added, using the country's official title, the People's Republic of China.
Chinese Foreign Ministry spokesperson Zhao Lijian said on Tuesday that Beijing had lodged formal diplomatic protests with Washington over its decision. He also warned that China would take "resolute countermeasures," without elaborating.
Responding to the White House position, China's Mission to the United Nations called the boycott "a self-directed political farce."
"The success of the Games does not rely on the attendance of a handful of countries' government officials," it said in a statement on its website. "As for those who say they don't want to come, the answer is that whether you come or not, the Beijing Winter Olympic and Paralympic Games are there, and will be a success."