China Is 'Prepared for the Worst,' as U.S. Threatens Further Sanctions That 'Will Not Bring China Down': State Media
After vowing to end Hong Kong's special status if China imposes security laws which threaten the semi-autonomy of the city, President Donald Trump faced backlash from both Beijing and China's state media accusing him of threatening its national sovereignty.
At a White House press conference Friday, Trump called the Chinese National People's Congress passage of new national security legislation for Hong Kong on Thursday a "plain violation" of a 1984 according which paved the way for the United Kingdom to handover the former colony to the People's Republic in 1997.
"China has replaced its promised formula of one country two systems with one country one system," Trump said. "Therefore, I am directing my administration to begin the process of eliminating the exemptions that give Hong Kong different and special treatment."
Writing in the country's state media, a commentary penned under the name "Zhong Sheng," or "Voice of China," used when writing on foreign policy, said the sanctions would disrupt and harm America more than China.
"The baton of sanctions that the United States is brandishing will not scare Hong Kong and will not bring China down," China's Communist Party mouthpiece, the People's Daily, wrote in a commentary.
The Global Times, another state-operated paper under which the People's Daily operates, wrote: "China has already prepared for the worst. No matter how far the U.S. goes, China will keep its company."
"China's official media is making it clear that, regardless of U.S. sanctions, Beijing will go ahead with a national security law that curtails civil liberties in Hong Kong," David Dollar, a Washington-based senior fellow at the Brookings Institution's John L. Thornton China Center, told Newsweek. "The details of U.S. sanctions are not clear yet but they are unlikely to change Beijing's behavior."
Speaking to Reuters, a Hong Kong government spokesman said it was unfortunate the U.S. continued to "smear and demonise the legitimate rights and duty of our sovereign" to safeguard national security.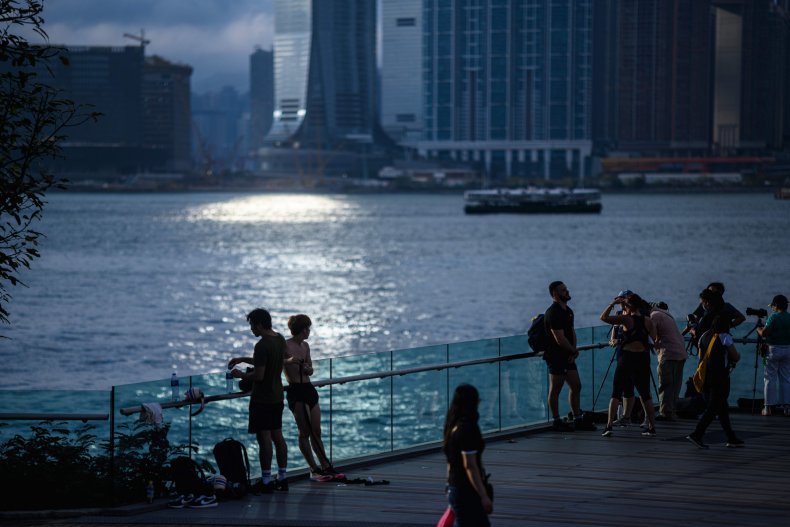 After Trump's announcement, the U.S. government placed the $650 million Shouson Hill luxury rental complex up for sale in what may be viewed as coercive political saber rattling. A State Department spokesperson told Newsweek that the move was part of an effort to "reinforces the U.S. government's presence" and that investments would instead enhance other U.S.-owned assets in Hong Kong.
Officials have said the new law, under the guise of curbing "troublemakers," is needed to restore order to a city that has been devastated by anti-China and anti-government protests which have at times turned violent.
But protesters have been fighting back, in part because they fear China's deep resentment of the so-called "one-country, two systems" formula the region adopted after British authorities transferred the city to Chinese rule.
Washington and Beijing have since earlier this year swapped blows in a war of words over the coronavirus pandemic, nuclear arms controls and civil unrest--as both countries work to contain the spread of the COVID-19 outbreak and protests inflamed over civil rights abuses.
Former International Security Andrea L. Thompson, who served in the Trump Administration until October, told Newsweek earlier this month that the two countries still had time to work out diplomatic differences.
"Despite the war of words, and despite the cyber attacks and economic espionage and a whole range of issues, I think there is an opportunity to have discussions perhaps at the technical level," Thompson said. "I think that diplomacy takes time and you need to start somewhere and that needs to happen. China cannot continue to stand behind that closed door."