China Annoyed As U.S. Diplomats Seek COVID Evacuation From 'Safest Country'
China has aired grievances with the United States following reports that Washington is considering an evacuation of American diplomats and their families because of the country's strict public health measures.
A Reuters report said around one-quarter of U.S. embassy and consular staff would choose to leave "as soon as possible," amid concerns that Chinese health authorities could mandate hospital isolation and separate parents from children as part of a zero-tolerance COVID-19 policy. The U.S. government has failed to exempt American officials from the "intrusive pandemic control measures," sources told the news agency.
China's Foreign Ministry spokesperson Zhao Lijian told reporters in Beijing on Wednesday that the country's public health measures were rigorous and scientific, and its policies effective.
"They also protect foreign nationals in China," he said, adding that the measures "take into account the comfort and legitimate rights and interests of diplomatic and consular personnel.
"China is currently without doubt the safest country in the world. Evacuating from the safest place will only greatly increase the risk of infection among U.S. personnel," he said. "The logic behind the U.S.'s decision-making is incomprehensible and difficult to justify."
Zhao said Beijing had expressed its "serious concern and dissatisfaction" over the proposal to Washington, asking it to "carefully consider" whether or not to authorize the evacuation of American diplomats and their family members.
China's Global Times, a state-run newspaper, suggested the move was a deliberate attempt to undermine the country's strict but successful COVID policy. A headline on Wednesday called it a "dirty trick."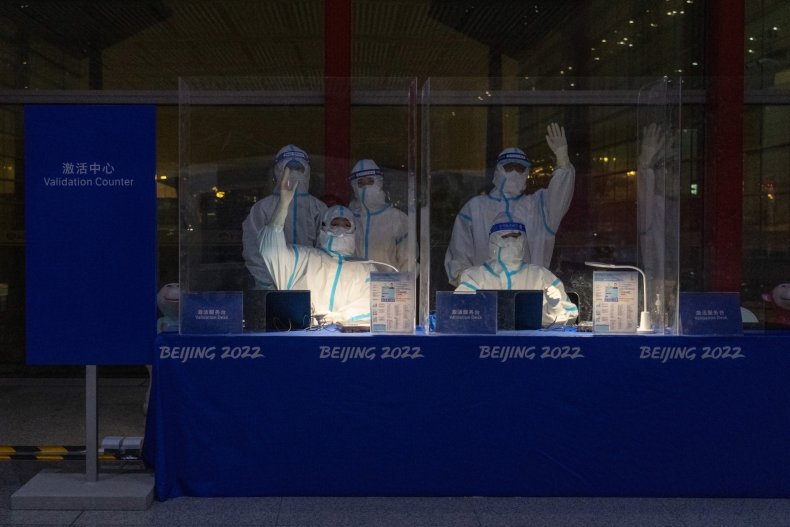 The U.S. has an embassy in Beijing and consulates in Shanghai, Guangzhou, Shenyang and Wuhan. According to Reuters, American diplomats are willing to accept home quarantine as a baseline requirement, but believe admission to medical facilities should be voluntary.
An internal survey conducted by the U.S. Embassy found 25 percent of staff and their families would choose to "leave China as soon as possible," said the agency's report. A request for formal approval of the proposal was reportedly sent to the State Department on Monday.
A department spokesperson told Newsweek on Wednesday: "The operating status at our mission in the [People's Republic of China] has not changed. Any change in operating status of this nature would be predicated solely on the health, safety, and security of our colleagues and their family members."
Despite recent clusters of Delta and Omicron cases in China, the country's total numbers for COVID infections and deaths are far lower than those recorded in the U.S. In Beijing, however, concerns remain over the spread of both variants just nine days before the Winter Olympics are set to open on February 4.
A number of residential neighborhoods are under lockdown in the Chinese capital, where new infections in the single or low double figures have been reported every day this week. On Wednesday, districts in the city began their third round of mass testing in the past month, straining the patience of several million residents.
Before the new year, a public messaging campaign urged Chinese citizens not to leave the country during the upcoming Lunar New Year holiday in order to reduce the risk of infection. China's "zero-COVID" strategy is expected to last until the end of the year.
Update 01/26/22, 7:55 a.m. ET: This article was updated to add a comment from the State Department.