A reported ban on Apple iPhones in government offices across China wiped millions of dollars off Apple's share price last week in the latest chapter of a tech war between the United States and the world's second-largest economy.
Yesterday, China said there is no ban.
That statement was followed some hours later by White House National Security spokesman John Kirby saying: "I don't want to get ahead of where we are right now. We're watching this with concern. Clearly, it seems to be a piece of the kinds of aggressive and inappropriate retaliation to U.S. companies that we've seen from the PRC in the past. That's what this appears to be.
"The truth is, we don't have perfect visibility on exactly what [China is] doing and why," Kirby said. "And we certainly would call on them to be more transparent about what they're seeing and what they're doing. We are—we're watching this as closely as we can. I'm not going to get into diplomatic conversations, but it's concerning."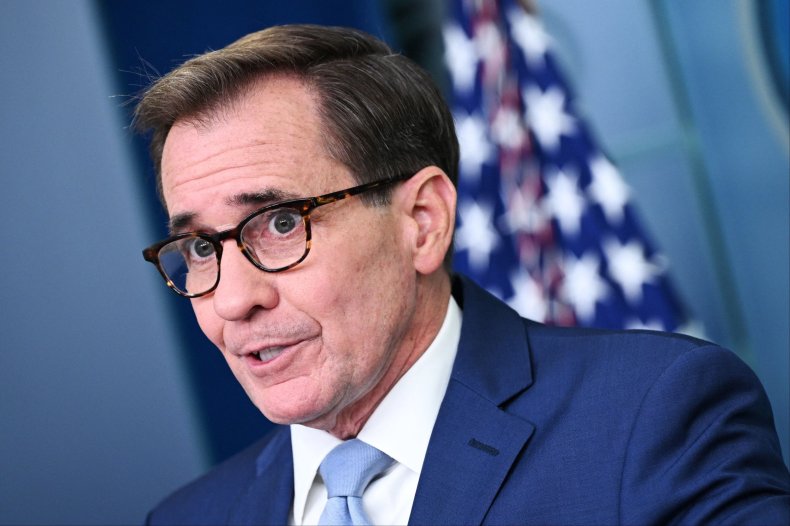 The launch of Apple's latest iPhone 15 on Tuesday came shortly after the launch of a new 5G handset from Chinese competitor, Huawei. The U.S. banned Huawei products in 2019. The company's latest domestic model, the Mate 60 Pro, sports a 5G chip that has led to questions over how the company came by the tech.
In 2019, U.S. companies were banned by the government from selling software and equipment to Huawei. The government also restricted international chipmakers from partnering with Huawei, citing perceived national security concerns.
Earlier Wednesday, in the daily Ministry of Foreign Affairs briefing in Beijing, spokesperson Mao Ning told reporters: "China did not issue any law, regulation or policy document that bans the purchase and use of cellphones of foreign brands, such as iPhone."
"However, recently we did notice media reports about security issues related to [the] iPhone. The Chinese government attaches great importance to cyber and information security and treats Chinese and foreign companies as equals," Mao said.
"We hope all cellphone companies operating in China will strictly abide by China's laws and regulations...China is committed to advancing high-level opening up. We protect foreign companies' rights and interests in accordance with the law and strive to foster a first-class market-oriented, law-based and internationalized business environment. We always treat foreign companies with openness and welcome them to seize the opportunities presented by China's development and share in the outcomes of China's economic growth."
The Chinese spokeswoman's briefing response came just hours after Apple launched its latest models in China.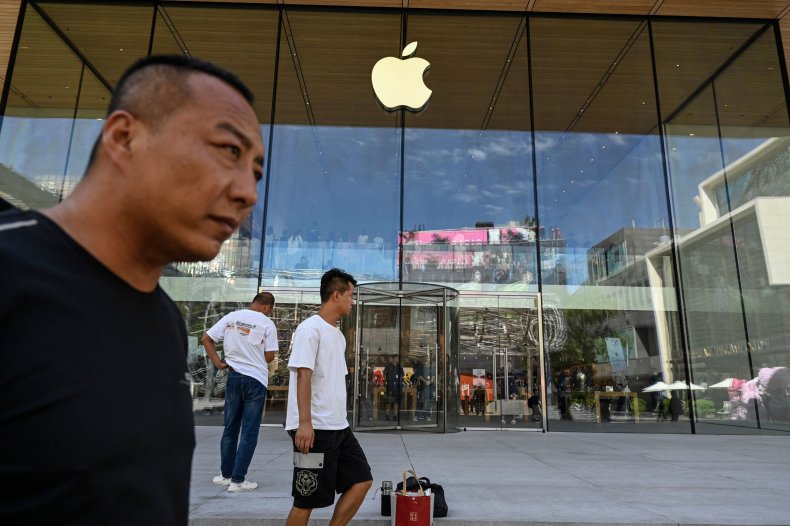 According to Statista, China accounts for about 20 percent of Apple's total sales. Since 2010, "Apple's sales in the region grew more than 20-fold within five years, peaking at $58.7 billion in 2015 before gradually falling back to $40.3 billion in 2020."
Many of the parts that make up Apple's iPhones are made in China and the market is worth an estimated fifth of the company's total business. But Huawei, with its latest Mate 60 launch featuring a new 5G chip, is playing catch-up.
Videos have been popping up on social media showing packed Huawei stores and empty Apple storefronts. The Chinese maker appears to be riding a wave of patriotism in the face of U.S. tech bans.
The alleged ban first revealed in the Wall Street Journal on September 6, was reportedly to reduce China's reliance on foreign technology and improve cybersecurity.
At a White House briefing on Tuesday, U.S. National Security Adviser Jake Sullivan said "more information about precisely its character and composition" was needed to assess whether U.S. companies broke any U.S. regulations by dealings with Apple's biggest Chinese competitor in the creation of the 5G chip.
Newsweek reached out to Apple and Huawei via email for comment.
In an editorial on Thursday, the Chinese Communist Party-run People's Daily said the U.S. "cannot deprive other countries of their right to development."
"The politicians in Washington claimed just a few months ago that Huawei's production of 5G smartphones had come to a halt as all channels for China to access advanced chips, as well as relevant devices and technologies to enable it to make the chips, are effectually blocked by the United States," the editorial said.
"If they truly think it is possible to thwart China's progress in technology through export controls, they will experience more such shocks as those caused by the launch of the Mate 60 Pro, Huawei's latest smartphone.
"Yet instead of reflecting on the unjustness and infeasibility of the US' export controls, these anti-China politicians organize security, technology and trade experts to analyze the new 5G Kirin 9000s processor of the device to try and determine how Huawei came by such a chip following the sweeping efforts by the US to restrict China's access to it.
"Regrettably, despite US Commerce Secretary Gina Raimondo's visit to China late last month, which was seen as a sign the Joe Biden administration was trying to ease tensions in bilateral trade relations, the US has conveyed an unmistakable message that it will further strengthen its China-targeted export restrictions."
Malik Saadi, Vice President at global technology intelligence firm ABI Research, told Newsweek: "Despite spending the past four years under U.S. restrictions banning its access to 5G technology, it is clear that there has been much technical progress by Chinese companies.
"Huawei Devices has made significant progress in bypassing US sanctions. The company still faces challenges to fully regain its position as one of the top global smartphone vendors.
"While it is unlikely to be sold outside of China owing to the company's blacklisting, it is seen to be fighting its way back into the local smartphone market with Chinese-made silicon, and has no doubt been trading on a 'Made in China' mantra.
"The tit-for-tat wrangling by the U.S. and China governments could mean that Apple will see its healthy share in the China market being eaten away over the next 12 months, facing much stiffer home-grown competition in the shape of Huawei, as it retrenches to the market with 5G, and other Chinese vendors, such as OPPO, vivo and Xiaomi, that are still aggressive with innovation and differentiation in smartphones but at lower price points."
Update 09/14/23 14:49 p.m.: This article was updated with comment from Malik Saadi.