China 'Arbitrarily Detained' 1 Million Uyghurs, Other Muslim Minorities, Labor Dept Report Finds
A new report from the Department of Labor found that China has arbitrarily detained more than one million Uyghurs—a predominantly Muslim ethnic minority in the East Asian nation, as well as other Muslim minories—and forced or coerced many to do work against their will.
"(1) It is estimated that 100,000 Uyghurs and other ethnic minority ex-detainees in China may be working in conditions of forced labor following detention in re-education camps. (2) Many more rural poor workers also may experience coercion without detention. (3; 4) China has been included on the List of Goods Produced by Child Labor of Forced Labor (TVPRA List) since 2009," the report published Tuesday morning said.
As a result, the Department of Labor added five additional goods to the list of items believed to be produced by Muslim minorities in China through forced labor. These items include textiles, hair products, thread/yarn, tomato products and gloves.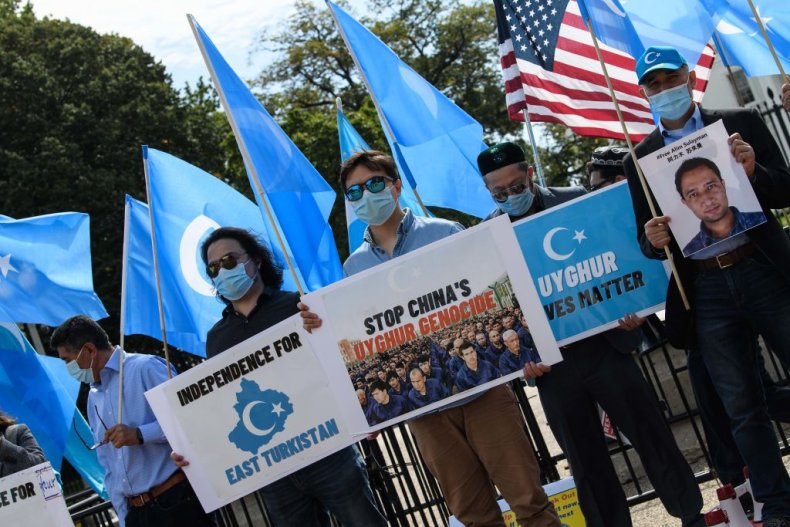 Newsweek reached out to the Chinese embassy in Washington, D.C. for comment on the report, but it did not respond by the time of publication. China has repeatedly dismissed concerns about its treatment of Uyghur Muslims.
But a United Nations reported in 2018 explained that the international body has credible evidence of a "massive internment camp that is shrouded in secrecy" in China. Gay McDougall, a member of the U.N. Committee on the Elimination of Racial Discrimination, said at the time that the camps were "political" and used "for indoctrination."
"We are deeply concerned at the many numerous and credible reports that we have received that in the name of combating religious extremism and maintaining social stability [China] has changed the Uyghur autonomous region into something that resembles a massive internment camp that is shrouded in secrecy, a sort of 'no rights zone,'" McDougall said.
The new Department of Labor report says that Uyghurs, with a population of about 10 million in China's western Xinjiang region, are forced to "endure dreadful conditions" in labor factories. "They receive little pay, are not allowed to leave, and have limited or no communication with family members. If family communication and visits are allowed, they are heavily monitored or cut short," it says.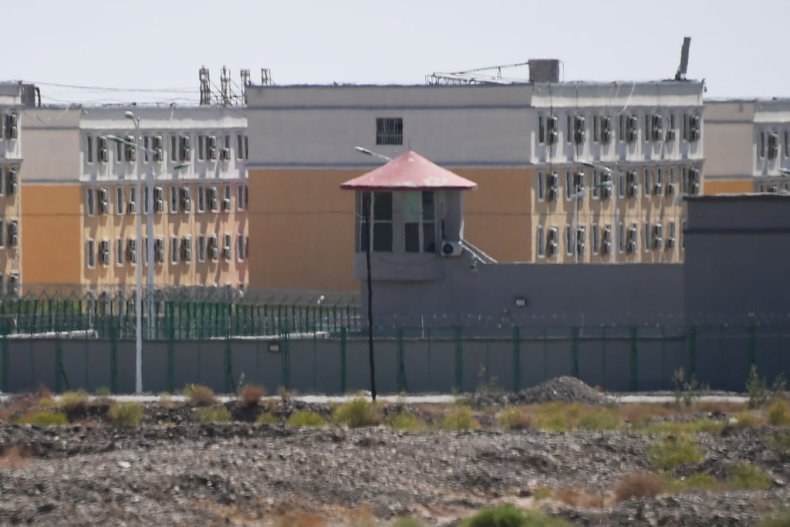 China has pushed back against such claims, arguing that the people detained in camps are extremists and that the programs aim to reintegrate them into society.
"The rights of all trainees in the education and training program, though their minds have been encroached by terrorism and extremism, have been fully guaranteed," Chinese Foreign Minister Wang Yi claimed in remarks at the French Institute of International Relations in August. "Now all of them have graduated, there is no one in the education and training center now. They all have found jobs."
The Chinese government has targeted the Uyghur community in draconian ways. In 2017, the Chinese government banned parents from giving their children Islamic names, such as "Muhammad" and "Jihad." They have also put in place stringent regulations against long beards and veils in public spaces.